Knitting My Way to a Solution for the Chills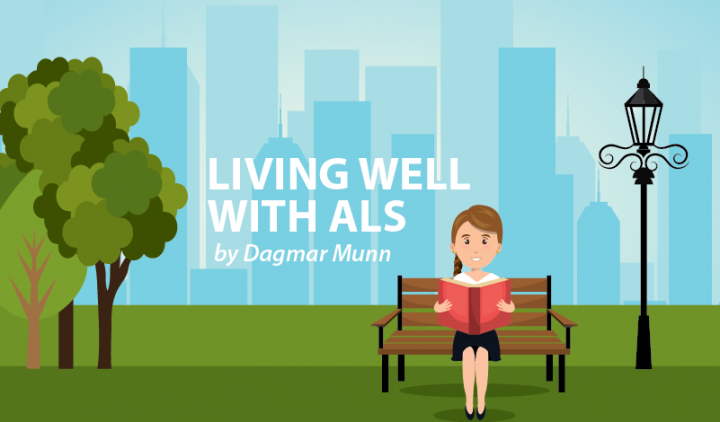 Last week, I had the pleasure of joining the Fox Valley/Lakeshore ALS Virtual Support Group in Wisconsin as their guest speaker. We had fun discussing ways to reduce stress during the ongoing crisis while we live with our ALS. During my presentation, I shared one strategy I use that's built around three simple questions: How do I feel? What do I need? Who or what can help me?
(I wrote about this strategy in the column, "How to Build Your Own ALS Stress Toolkit.")
Then, I told the following story about how this simple strategy helped me cope with one of my ALS symptoms.
My cold air challenges
Shortly after I was diagnosed, my body developed a sensitivity to sudden temperature changes, mainly cold drafts. I used to think that living in sunny southern Arizona, I'd never feel cold, but surprisingly, I did now.
For example, when at the grocery store, I'd pass by the refrigerated dairy case and suddenly feel I had been transported to the north pole. Or at a restaurant, no matter where I sat, I always ended up under the cold air vent!
My jaw would tighten and the muscles in my shoulders, arms, and torso quickly seized up. Trying to suppress top-to-toe shivers, I felt angry and frustrated.
Later, at home, I knew my options were either to avoid these situations altogether and never go out again, or use the three questions to find a solution.
Putting the strategy into action
How do I feel?
My physical reactions told me I felt cold.
What do I need?
I needed to shield my neck and shoulders from cold drafts. I needed a portable, easy-to-use neck-warmer.
Who or what can help me?
The solution? A scarf. A simple scarf. The next time I went out, I stashed a small scarf in my purse, and at the first sign of a sudden, cool draft, quickly wrapped it around my neck. Ahh, success!
But I didn't stop with just one scarf. Deciding I'd feel even better having a few scarves of different colors to choose from, I expanded my inventory — by knitting them myself.
It was easy to turn a single, colorful ball of yarn into a fun scarf, and 20+ scarves later, I was happy. Plus, I reasoned, it was therapeutic.
Knitting not only was beneficial exercise for my hands, I also used up leftover yarn lingering in my craft area, and I felt mighty proud of each one I finished and wore.
ALS brings us many challenges and often feels like a crash course in adaptability. But if you identify the problem, list your options, and create a plan, I believe you can find good solutions. Just don't give up.
Strangers who see me wearing a bright scarf in the grocery store might think I'm a goofy lady making a fashion statement. My friends know the real story: I'm just following my belief to live well while living with ALS.
***
Note: ALS News Today is strictly a news and information website about the disease. It does not provide medical advice, diagnosis, or treatment. This content is not intended to be a substitute for professional medical advice, diagnosis, or treatment. Always seek the advice of your physician or other qualified health provider with any questions you may have regarding a medical condition. Never disregard professional medical advice or delay in seeking it because of something you have read on this website. The opinions expressed in this column are not those of ALS News Today or its parent company, BioNews Services, and are intended to spark discussion about issues pertaining to ALS.