Gene Therapy SynCav1 Found to Extend Survival in ALS Mouse Model
Experimental therapy also delayed disease onset – regardless of underlying cause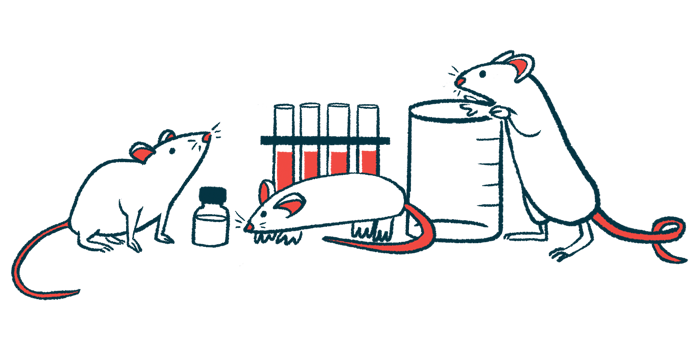 Treatment with gene therapy candidate SynCav1 delayed disease onset and extended survival in a mouse model of amyotrophic lateral sclerosis (ALS), according to a new study.
The experimental therapy aims to improve the survival of motor neurons in people with ALS irrespective of the underlying cause.
"These data suggest that SynCav1 might serve as a novel gene therapy for neurodegenerative conditions in ALS and other forms of central nervous system disease of unknown etiology [cause]," the researchers wrote.
The study, "Subpial delivery of adeno-associated virus 9-synapsin-caveolin-1 (AAV9-SynCav1) preserves motor neuron and neuromuscular junction morphology, motor function, delays disease onset, and extends survival in hSOD1G93A mice," was published in Theranostics.
Certain genetic mutations are known to cause ALS, and numerous research projects have explored whether gene therapies could be used to treat these cases — for example, by delivering a healthy copy of a mutated gene to a person's cells.
While these approaches could address the underlying cause of disease in some patients, in the vast majority of ALS cases there is no known mutation. Therefore, this therapeutic strategy is unlikely to be beneficial for many patients.
The overall aim of SynCav1, meanwhile, is to help keep nerve cells healthier, regardless of the underlying disease cause.
Investigating SynCav1 gene therapy in ALS
SynCav1 is an experimental gene therapy designed to deliver a copy of the gene encoding Caveolin-1 (Cav-1) to nerve cells using a specifically engineered viral vector. Cav-1 is a cell membrane protein that is important for maintaining the health of nerve cells.
Increasing the production of Caveolin-1 — specifically in nerve cells — was found in a previous study to preserve motor function in animal models of ALS. It also significantly extended survival.
Delivering the experimental gene therapy via a viral vector also showed promise in preclinical models of Alzheimer's.
Eikonoklastes Therapeutics acquired the license to SynCav1 earlier this year, with the company noting that the therapy had been found to delay neurodegeneration and cognitive deficits in an Alzheimer's mouse model.
Now, an international team of scientists, including several stockholders and consultants at Eikonoklastes, tested SynCav1 in a mouse model of ALS caused by a mutation in the SOD1 gene. Mutations in this gene account for about 12–20% of familial ALS cases and 1–2% of sporadic cases.
At eight weeks of age — before symptom onset in this model — the mice were given a single injection of SynCav1, administered via subpial delivery, or an injection through the spine and under the membrane that surrounds the spinal cord. Other mice were given sham surgery as a control.
In an initial set of experiments, the researchers tested several doses of the gene therapy, and determined that a dose of approximately 200 billion individual SynCav1 viral vectors could increase Cav-1 expression in the spinal cord by about fourfold.
The team then tested the therapeutic effect of this dosage. Disease onset, defined by the first sign of weight loss, occurred at around 15–16 weeks of age, on average, in untreated mice. Treatment with SynCav1 delayed disease onset by about 15%, with an average onset age of 18 weeks.
SynCav1 treatment also extended average survival times by about 10%, from 162 days to 178 days in male mice and from 165 to 181 days in females. The treated mice performed better on standardized measures of motor function, and analyses of their spinal cords indicated that the treatment helped preserve nerve health as intended. It also preserved neuromuscular junctions, the site of communication between nerve and muscle cells.
Generally, similar results were seen in both male and female mice.
The researchers also conducted some similar tests using a rat model of ALS caused by mutations in SOD1. Results showed the therapy candidate improved rats' grip strength, which "provides further direct evidence of the therapeutic potential properties afforded by SynCav1 in a larger ALS animal model," the researchers wrote.
Notably, the team said that these results are comparable to findings from studies in rodent models testing therapies that directly targeted the mutated SOD1 gene. In combination with previous findings in Alzheimer's models, the results broadly suggest that SynCav1 may have utility in treating neurological diseases even when the underlying cause is unclear.
"Because the neuroprotective efficacy afforded by SynCav1 occurred independent of targeting the known toxic monogenic protein (i.e., mutant [SOD1]), these findings suggest that SynCav1 may serve as a novel gene therapy for other neurodegenerative conditions in addition to ALS and [Alzheimer's disease]," Brian Head, PhD, a professor at the University of San Diego School of Medicine and co-author of the study, said in a university press release.
"However, it is essential for further studies to determine the effect of SynCav1 on disease progression at later stages of the disease," added Head, who invented the gene therapy technology and provided funding for this research.