First Patient Enrolled in Phase 2a Trial of Engensis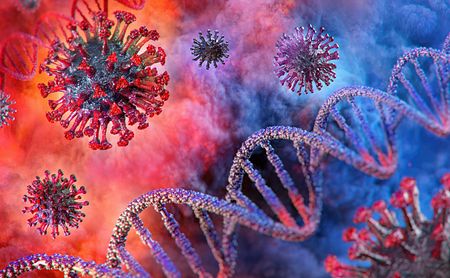 The first patient has been enrolled in a Phase 2a clinical trial investigating Helixmith's gene therapy Engensis (VM202) for the treatment of amyotrophic lateral sclerosis (ALS), the company announced.
The REViVALS-1A study (NCT04632225) intends to recruit 18 patients across four clinical sites in the U.S. Enrollment is open to adult ALS patients displaying motor symptoms in their limbs for four years or less.
The first patient was enrolled by Yessar Hussain, MD at the Austin Neuromuscular Center, Texas, the only center currently recruiting participants.
Engensis is a DNA-based therapy carrying the instructions to produce more of a protein called hepatocyte growth factor (HGF). HGF aids in the formation of new blood vessels, prevents muscle atrophy (shrinkage), and participates in the growth and survival of nerve cells, potentially promoting nerve regeneration.
By boosting HGF production, Engensis may help lessen the progressive loss of motor control that characterizes ALS.
This gene therapy is delivered via intramuscular (into-the-muscle) injections, and has been found to increase HGF production.
An earlier Phase 1/2 trial (NCT02039401) investigating weekly intramuscular injections of Engensis found the treatment to be safe and well-tolerated among 18 ALS patients, and with the potential to slow disease progression. This led the U.S. Food and Drug Administration to grant the medication orphan drug and fast track designations for ALS.
"Engensis represents a truly novel approach to treating neuromuscular diseases. We hope that it will provide a treatment option to patients who suffer from ALS," said Sunyoung Kim, CEO of Helixmith.
The REViVALS-1A, conducted by Worldwide Clinical Trials as part of a collaboration with Helixmith, now is expected to compare the safety and efficacy of Engensis to those of a placebo among people with ALS.
Participants will be assigned randomly to receive Ensensis, injected into muscles in the arms and legs, or a placebo. The treatment is repeated three times, with each cycle consisting of two days — with 128 injections each — spaced two weeks apart.
The study's main goal is to assess Ensensis's safety and tolerability. Secondary measures include changes in muscle function, muscle strength, quality of life, patient- and clinical-reported outcomes, respiratory function, and survival.
During the trial, muscle biopsies also will be collected to look for differences in muscle atrophy biomarkers.
Top-line data from the trial is expected in 2022. Pending positive results, Helixmith plans to conduct an expanded Phase 2b trial to continue investigating the treatment.