Want to Exercise? Webinar Gives a Resounding Thumbs-Up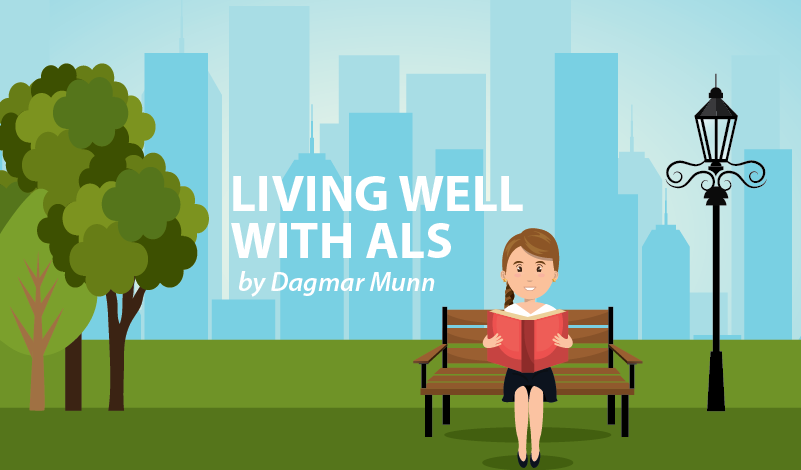 Last week, I had the opportunity to listen to an exciting and encouraging webinar on "Exercise and ALS: A Discussion of Research and Practical Recommendations."
Of course, I realize that exciting and encouraging don't always show up in the same sentence with exercise and research, but for me they do. That's because growing up in gymnastics, followed by many years teaching dance and fitness, my life was always filled with movement and exercise! Then, in 2010, I was diagnosed with ALS. I naturally searched for exercise guidelines and possible routines I could follow, but at that time information was quite limited. Some "experts" even warned against exercise, thinking it would make ALS symptoms worse.
I also discovered that many others were asking the same questions I had. Is exercise helpful or harmful? What types of exercises are best? How much is too much? In the end, I followed my gut instincts and developed a modified daily exercise program that fit my needs and abilities, something that felt good to do and kept my muscles and joints moving.
So, I had high hopes this webinar would shed much-needed light on this topic.
Physical therapist and research project manager Amy Swartz Ellrodt at Massachusetts General Hospital expertly presents an overview of existing research. She also shares specific exercise recommendations and offers simple guidelines for patients to follow. Her encouraging news was:
"Research indicates that moderate exercise can be safe and well-tolerated in patients with ALS, particularly early on."
The exciting part for me was learning that I had been on the right track all along!
Ellrodt recommended individualizing exercise programs for each patient's needs. ALS affects our bodies differently and with varying rates of progression. Plus, we each have a unique baseline fitness level.
For example, a program followed by an athlete with ALS would be quite different from one designed for a couch-potato who doesn't like to exercise at all.
In addition, you need to be ready to adjust your routine for ongoing physical changes and know your body's energy limits. How much is too much? A good rule to follow is that 30-60 minutes following your exercise you should feel like you could do it again, and the day after you don't experience sore muscles.
The goal of your exercise program should be focused on maintaining the strength of your unaffected muscles.

During my early years with ALS, I enjoyed lap swimming. Over time, that transitioned into water walking. I now use a small rebounder with a handy safety hoop that helps me keep balanced. Rather than attempt one long, tiring workout filled with exercise movements, as I could do in my younger days, I now break up sessions into several 15-minute routines scattered throughout the day.
I learned quite a bit from this webinar and recommend it if you are interested in starting or modifying your own exercise program. As always, do check with your physician first and consult with a physical therapist who is familiar with ALS.
And, let's all keep moving!
***
Note: ALS News Today is strictly a news and information website about the disease. It does not provide medical advice, diagnosis, or treatment. This content is not intended to be a substitute for professional medical advice, diagnosis, or treatment. Always seek the advice of your physician or other qualified health provider with any questions you may have regarding a medical condition. Never disregard professional medical advice or delay in seeking it because of something you have read on this website. The opinions expressed in this column are not those of ALS News Today, or its parent company, BioNews Services, and are intended to spark discussion about issues pertaining to ALS.