Join the ALS Boogie Board Club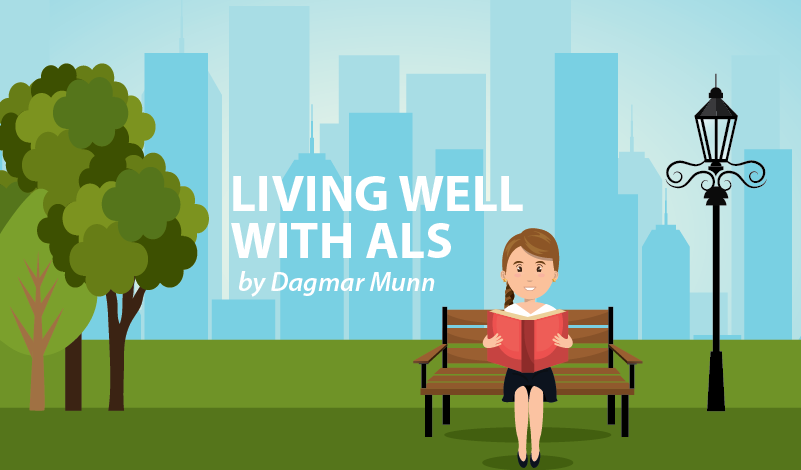 OK, so now I'm an official member of the ALS Boogie Board Club! No, it's not a club for surfer-dudes with ALS. I'm using a Boogie Board Jot 8.5 eWriter, a unique gadget that replaces writing with pen and paper. I received it during my recent visit to the ALS clinic, thanks to the ALS Association Arizona Chapter.
What is a Boogie Board eWriter?
It's a small, electronic writing tablet that I can write on with quick thoughts or notes to show to someone else. Then press a button and the screen is erased. For us old-timers, think Etch A Sketch. For you techies out there, it uses advanced liquid crystal technology. My Boogie Board is a handy size, 8.5 inches by 5.5 inches, only ¼-inch thick, and it comes with its own writing stylus.
The ALS connection
Besides being a device that keeps kids occupied with endless games of tic-tac-toe and hangman, Boogie Boards have been embraced by a variety of users. These range from schools, which give them to students to help reduce paper waste, to cancer patients following voice-box surgery, to ALS patients living with dysarthria.
Nanci Ryder, a Hollywood publicist who was diagnosed with ALS in 2014, had used a Boogie Board for several years. When Kent Displays, the company that makes Boogie Boards, found out in 2016, it became a key sponsor of the Los Angeles County ALS Walk, as well as sponsor of Team Nanci.
Filling in the gap
My own ALS-related dysarthria isn't so bad. Well, sort of. For instance, I know that when I concentrate on proper breathing, pronunciation and use my "Echo-voice," others can understand me. Well, sort of.
But put me in a crowded restaurant with people chatting, dishes clattering and background music, and there's just no hope of hearing me above the din.
At a recent meeting, while struggling to pay attention to the speaker, I casually leaned over and whispered in my friend's ear, "Are you as bored as I am?" Only I forgot I don't whisper anymore! My one-tone, single-volume voice growled the question loud enough to startle those seated two rows away. Immediately, I wished I had a button to press that would erase me!
So I'm hoping to use my Boogie Board to fill in the gap ― my speech gap. In restaurants, I'll use it to answer my table mates and write out simple instructions like "hold the onions and the pickles."
My Boogie Board will serve as my whisper as well as my yell.
Do you have ALS-related dysarthria or know someone who does? If so, consider using a Boogie Board. It might just be a new voice for you.
***
Note: ALS News Today is strictly a news and information website about the disease. It does not provide medical advice, diagnosis, or treatment. This content is not intended to be a substitute for professional medical advice, diagnosis, or treatment. Always seek the advice of your physician or other qualified health provider with any questions you may have regarding a medical condition. Never disregard professional medical advice or delay in seeking it because of something you have read on this website. The opinions expressed in this column are not those of ALS News Today or its parent company, BioNews Services, and are intended to spark discussion about issues pertaining to ALS.