ALS and My Hardly Mobile Phone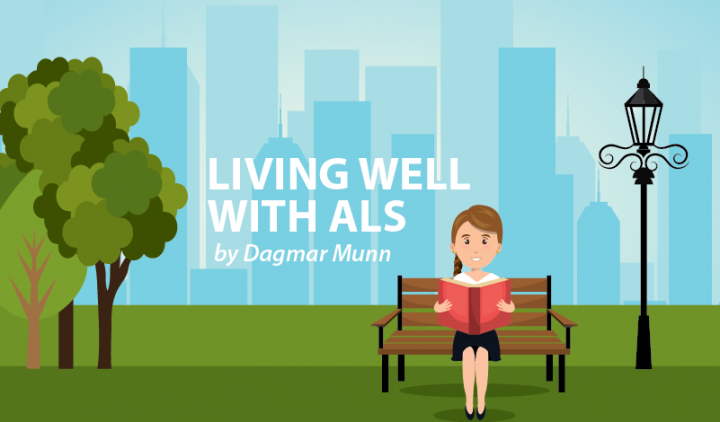 Would it surprise you to learn that I check my cellphone zero times a day?
All around me, people are texting, emailing, chatting, and checking social media. Me? Nada. My eyes are forward, watching the world. I'm embracing "the joy of missing out" — a state of mind caused by my ALS.
The value of emojis
When I was diagnosed with ALS in 2010, smartphones were a unique technology. As my symptoms progressed (including stiff, tight muscles), smartphone owners honed their texting and swiping skills. To me, their thumbs and fingers were tapping as fast as a line of Radio City Rockettes!
When my daughter sends me a text, I'm so slow with my one-finger typing that before I can finish my reply she has sent two more comments and is on to a whole new topic! I have learned the value of short words and lots of emojis.
My version of mobile
Although a cellphone is referred to as a mobile device, I can't get mine to be as mobile as everyone else's. Others carry their phone in one hand while shopping, ordering, or being out and about.
Mine sits on my rollator. I follow the same rules as for driving a car: "Two hands on the wheel, ma'am." Both of my hands firmly grip my rollator's handlebars. When a call comes in, the sequence is: full stop, lock handles, pick up phone, and then talk. Reply to a text? Add sit down to the previous sequence.
Who needs apps?
My little phone has so few apps it qualifies as a dumb phone. Texting, calling, and a camera are the only functions I need and use.
But I haven't nailed down how to take a selfie. It's that ALS-thumb-finger-coordination problem. Whenever I line up the perfect shot, my shaky hands delay hitting the button to produce interesting effects.
Oh, look! A photo of the ceiling. Oops, that's a foot. And I think that's a random, uh, blurry thing.
I've learned to ask someone else to snap the photo.
What can we do?
It's no secret that most people are addicted to their smartphones. Fear of missing out (FOMO) drives most of the checking and rechecking. Too much screen time can have negative effects on our mood and our social interactions. Last year, I took a month away from Facebook and felt great afterward. Plus, I still had my friends when I returned.
You could say that my current relationship with my cellphone has health benefits. Just like those in the digital minimalism movement, I'm reducing my attachment to unneeded apps and my FOMO.
So, what do I do while everyone around me is staring at their phone?
When riding in the car, I look out the windows and watch the scenery.
When at a restaurant, I notice the décor.
When outside, I enjoy nature.
I practice an eyes-open mini-meditation and focus on my breathing.
I knit.
I embrace the joy of missing out.
And I know that no matter the challenge, I can live well while living with ALS.
***
Note: ALS News Today is strictly a news and information website about the disease. It does not provide medical advice, diagnosis, or treatment. This content is not intended to be a substitute for professional medical advice, diagnosis, or treatment. Always seek the advice of your physician or other qualified health provider with any questions you may have regarding a medical condition. Never disregard professional medical advice or delay in seeking it because of something you have read on this website. The opinions expressed in this column are not those of ALS News Today or its parent company, BioNews Services, and are intended to spark discussion about issues pertaining to ALS.