Checking In on My Life With ALS During Lockdown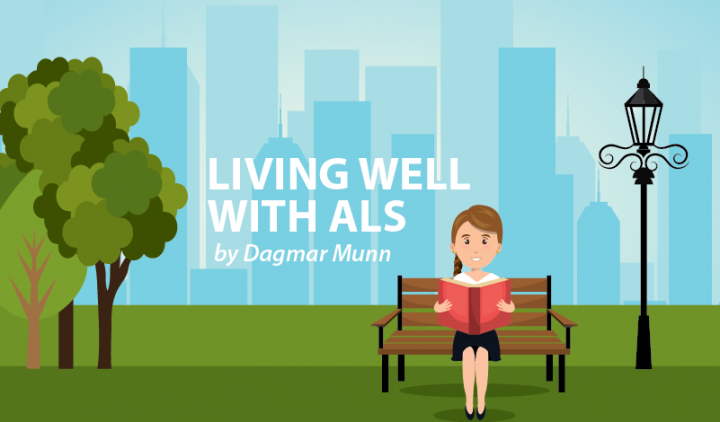 Oh my! We're still facing challenges brought on by the pandemic and most likely will continue doing so for some time. Right now I'm feeling the loss of being able to sit down with friends to chat and catch up on the little things in our lives. My many ALS friends and I do check-ins with each other but social distancing, email, and flat-screen video chats just don't feel the same. But they'll have to do for now.
Connections are important. So, let's have a virtual chat together right now! I'll start by answering four basic questions. Then, I invite you to share your answers in the comment section below.
How are you feeling?
I'm feeling pretty good. It took a little while to get used to the new sequence of things in order to follow the guidelines. But now, wearing a face mask, using hand sanitizer, and observing social distancing has become my new normal. I'm also trying to stick to a daily routine of activities, keep busy with projects, and have regular check-ins with family and friends.
What does your typical day look like during lockdown?
Living with ALS, my days are not much different now than they were before the pandemic. I still spend a lot of time at home and try to avoid situations that put my immune system at risk. Only now, I don't have in-person meetings or get-togethers with my fiber guild friends.
I enjoy writing my weekly column and ALS blog posts along with moderating the ALS News Today Forums. The forums give me a front-row seat to all the latest news about ALS and I get to meet and welcome new members.
During the day, I alternate my hours on the computer with short bouts of exercise. I use nearby chairs, the kitchen counter, my bed, and the floor as my workout areas.
After dinner, my husband and I like to watch a movie. Right now we're watching Netflix's sci-fi series "Dark," which involves time travel. The whole notion of traveling back in time to change events or go forward to warn our future selves is appealing. Especially now, with all the negatives surrounding the COVID-19 crisis, I harbor a secret desire to be a time traveler.
Any special projects you're working on right now?
I've been invited to be a guest speaker later this month for the Fox Valley/Lakeshore ALS Support Group in Wisconsin. They will be Zooming me in!
I'm creating a simple PowerPoint and will be sharing tips on living well with ALS during the COVID-19 crisis. I look forward to meeting the group's members and answering their questions.
What's the first thing you want to do when it's all clear again?
So many people are worried about gaining weight during the lockdown. I'm not. I worry about putting on pounds after this is all over because I really miss the restaurants. In fact, I'm beginning to have some crazy food cravings: barbecue ribs and side of cowboy beans, or a fluffy cheese omelet, or even a pizza with all the toppings — fresh out of the pizza oven. I think we'll all go a little bonkers once this is over!
Meanwhile, we need to support and cheer each other on. Together, we can survive this pandemic and live well with ALS.
I hope our little "chat" helped you learn more about me. I'm looking forward to reading your answers to these same questions and learning about you.
***
Note: ALS News Today is strictly a news and information website about the disease. It does not provide medical advice, diagnosis, or treatment. This content is not intended to be a substitute for professional medical advice, diagnosis, or treatment. Always seek the advice of your physician or other qualified health provider with any questions you may have regarding a medical condition. Never disregard professional medical advice or delay in seeking it because of something you have read on this website. The opinions expressed in this column are not those of ALS News Today or its parent company, BioNews Services, and are intended to spark discussion about issues pertaining to ALS.