My COVID-19 Vaccine Included a Shot of Positive Attitude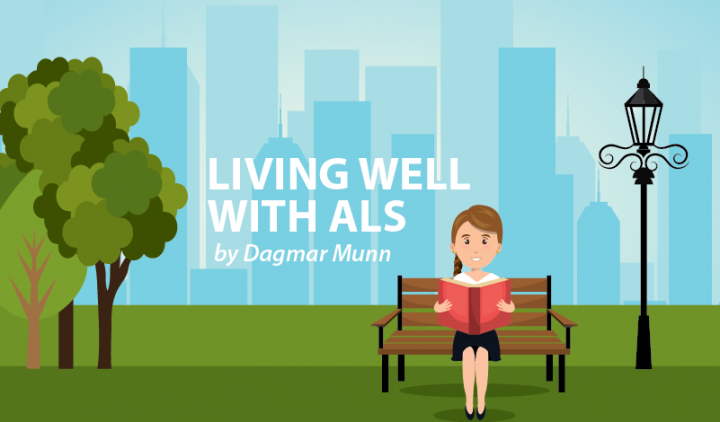 Although I was smack in the middle of a vast parking lot and surrounded by a hundred strangers, I felt genuinely hopeful for the first time in a long, long while.
I was in line for my first shot of the Moderna COVID-19 vaccine, so feelings of hesitancy and caution also were vying for my attention. Additionally, I wondered if having ALS would be a last-minute disqualification, and stories of possible vaccine side effects danced in my head.
Mostly, I was surprised by both how hard and easy it was to finally get to this point.
Looking back
We can all agree it's been a long, hard year since the pandemic began. Throughout it all, I've been careful, followed all the guidelines, and learned to use online options to keep and maintain connections with family and friends.
But what I miss most, it seems, is getting out and about and seeing people smiling again. Maybe they're smiling at me right now behind their face masks, but all I see are faces lacking expressions. The world feels stuck on grumpy.
And in this topsy-turvy year, being old suddenly has its benefits. I appreciate the privilege of being among the first of the designated groups to receive the vaccine.
The big day
Having successfully navigated the challenges of availability and online scheduling, my appointment day finally arrived. I needed to report to the Kino Sports Complex in nearby Tucson, Arizona, for a drive-thru event.
My husband and I arrived at the stadium and were greeted by an enthusiastic worker who checked us in. Everyone we encountered that day seemed mission-ready and happy.
I marveled at the fellow directing vehicles into various waiting lines. He swung a short orange pole with the confidence and swagger of an airport runway professional.
We rolled up to the area where nurses administered the vaccine. Suddenly, my stomach lurched, and I felt a moment of panic. It was just like those times I had been talked into riding a huge roller coaster and then realized at the last minute that I couldn't get off it.
My neurologist encouraged me to get the vaccine, but I urged my husband to check with the nurse anyway about contraindications with ALS.
"You have ALS?" she asked. "You'll be just fine."
I noticed she was "smizing" at me, which is a way of smiling with your eyes, and it had exactly the calming, reassuring, and comforting effect on me she had intended.
I barely felt the jab.
Another animated traffic worker led us to a line of vehicles already waiting their required 15 minutes before being released.
Relief and happiness
How do I feel after my first dose? I had a little arm soreness for one day, and now I feel fine. And I'm working on my "smize." I want to share the happiness I experienced that day and pay it forward.
I also feel immense relief, and I'm grateful for technology and the work of scientists and researchers around the world for giving us a vaccine.
I welcome the responsibility of doing my part to help the world become a healthier place and hope you will be part of the change as well. Because together, we can support each other to live well while living with ALS.
***
Note: ALS News Today is strictly a news and information website about the disease. It does not provide medical advice, diagnosis, or treatment. This content is not intended to be a substitute for professional medical advice, diagnosis, or treatment. Always seek the advice of your physician or other qualified health provider with any questions you may have regarding a medical condition. Never disregard professional medical advice or delay in seeking it because of something you have read on this website. The opinions expressed in this column are not those of ALS News Today or its parent company, BioNews, and are intended to spark discussion about issues pertaining to ALS.