My Face Mask Blocks More Than COVID-19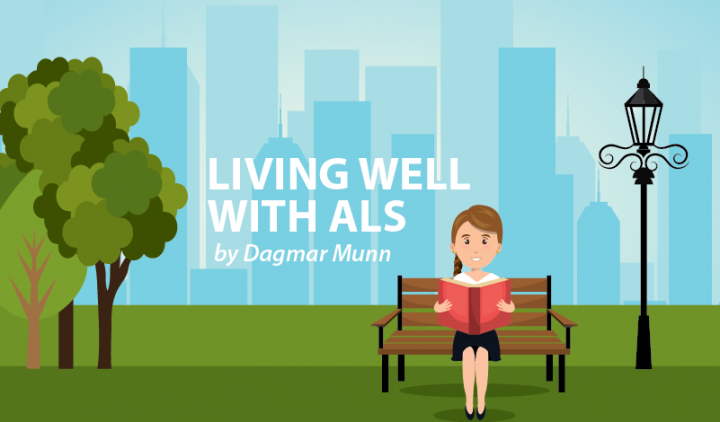 A large part of successfully living with ALS is to face each challenge with a positive mindset and find workable solutions so I can continue to move forward with my life. Lately, a 4-by-6-inch piece of cloth — yes, a face mask — is putting me to the test.
What's the backstory?
Although I have ALS-related dysarthria, I'm proud of the many ways I've managed to keep using my natural voice. For example, when my voice's volume became too soft to be easily heard, I solved the problem by using a portable microphone. Then, while waiting out the shelter-at-home guidelines, I have had a daily practice of speaking drills to help keep my voice primed and ready for fun post-pandemic conversations.
Recently, the governor of my state allowed hairdressers to open, and knowing my salon had all the safety measures in place, I jumped at the chance to finally get my hair cut. Plus, I looked forward to getting out, being around other people, and doing something normal again — even something as simple as a haircut.
My visit to the salon
Finally sitting in the hairdresser's chair, I felt positively giddy. Jazzy music played in the background, hairdryers hummed, and we quickly began chatting away with all the small talk that goes along with getting a haircut. We both wore masks.
About halfway through the haircut, I realized my hairdresser and I were having two different conversations! She was telling me a story about her granddaughter and I was babbling on about my husband's cooking.
Now I know I'm not easy to understand in the best of conditions, so putting a mask across my mouth only makes my mumbling even worse. No matter what I did — talking louder and slower, repeating sentences — nothing helped. The mask blocked my words from being heard.
Of course, I could just pull my mask down and talk, but that would defeat the purpose of wearing a mask. Face masks provide up to 80% protection against the virus, and like them or not, they are our new normal, for now.
Am I the only one?
Later at home, I searched the internet, wondering if anyone else had problems talking while wearing a mask. But all I could find were a few references about people with hearing aids having trouble understanding others and how masks prevented lip-readers and the deaf from understanding anything at all.
I needed help with having others understanding me.
My solution
I'll admit that not finding a ready-made solution was frustrating. I knew there were others like me who were experiencing problems talking through a face mask. But we're in challenging times and everyone is renegotiating pre-pandemic social habits, so a solution will come in due time.
Meanwhile, I'm falling back on the principles of good speech that I already know work:
Eliminate as much background noise as possible.
Face the person I'm talking to.
Relax and take time to enunciate every word.
Be ready to use alternate simpler words, or say the sentence in another way.
Plus, next time I'll try wearing my portable microphone along with my face mask. Who knows, I might even start a new trend!
By keeping a positive attitude and finding workable solutions, I believe we can learn to live well while living with ALS.
***
Note: ALS News Today is strictly a news and information website about the disease. It does not provide medical advice, diagnosis, or treatment. This content is not intended to be a substitute for professional medical advice, diagnosis, or treatment. Always seek the advice of your physician or other qualified health provider with any questions you may have regarding a medical condition. Never disregard professional medical advice or delay in seeking it because of something you have read on this website. The opinions expressed in this column are not those of ALS News Today or its parent company, BioNews Services, and are intended to spark discussion about issues pertaining to ALS.