How to Find Balance in an Unbalanced Life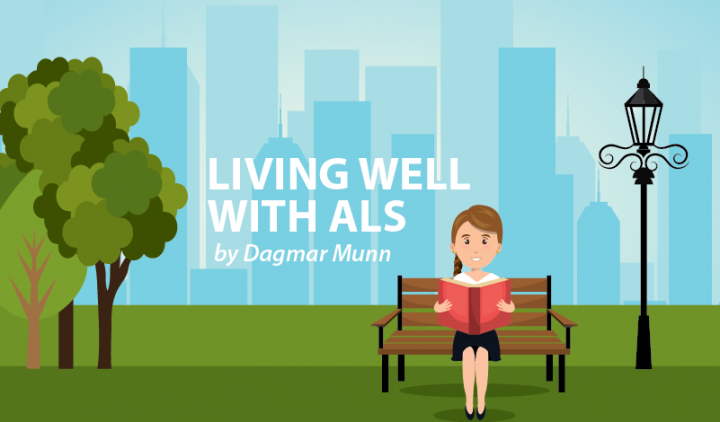 It's always gratifying to know what I write is helpful to others living with ALS. Recently, I wrote about how I periodically take the time to review my daily habits and set new goals for the month. While readers left many comments thanking me, others asked if I had a strategy to help when life has been upended by an ALS diagnosis. How does one put the pieces back together while feeling hopeless and helpless?
I remember how I felt in the days and weeks after I was told I had ALS. I was disappointed in both my body and my doctors. Feeling I had no future, I lacked a sense of purpose. I was trying to figure it all out while still trying to hold it together.
What did I do?
What finally helped me out of the gloom and doom was putting in place a strategy I used to teach in my wellness classes: how to find balance in our lives by balancing our well-being. Our version was adapted from what was first developed in 1976 by Dr. Bill Hettler, co-founder of the National Wellness Institute.
Simply put, our lives are made up of five dimensions: physical, emotional, intellectual, social, and meaningful activities. Even though there will be brief periods when one dimension overshadows the others, and some will blend with others, our goal is to have all five dimensions play an equal role in our life every day.
Because ALS draws so much focus to our physical needs, it's easy to spend weeks and months ignoring the other dimensions. For example, with little or no social or meaningful activities, we can easily lose our sense of self and give in to feeling isolated and defeated.
How does it work?
I began applying the strategy to my own life by taking small steps. First, I gave myself permission to think in terms of having a future — to make plans one month at a time.
Then, I tackled my five dimensions:
Physical: Instead of obsessing over the weakness in my legs and feet, I instituted a daily routine of range-of-motion exercises and gentle massage.
Emotional: Instead of wallowing in sadness, I initiated emotional self-care activities. I watched movies that made me laugh and spent time each day enjoying my favorite hobby: knitting!
Intellectual: Instead of overwhelming my brain reading every online article about ALS, I chose to learn new, different things from TED talks.
Social: Instead of avoiding people, events, and friends, I practiced "showing up."
Meaningful activities: Instead of being overwhelmed by what I can no longer do, I looked for easy, simple projects that gave me a sense of purpose.
Over time, as my confidence grew and I felt better, I reviewed my daily habits and set new goals for the month.
Having a balanced sense of well-being is important to everyone's mental and physical health. If you or someone you care for feels stuck and defeated by ALS, give this strategy a try.
Thank you, readers, for your comments and questions. Together we can help each other live well while living with ALS.
***
Note: ALS News Today is strictly a news and information website about the disease. It does not provide medical advice, diagnosis, or treatment. This content is not intended to be a substitute for professional medical advice, diagnosis, or treatment. Always seek the advice of your physician or other qualified health provider with any questions you may have regarding a medical condition. Never disregard professional medical advice or delay in seeking it because of something you have read on this website. The opinions expressed in this column are not those of ALS News Today or its parent company, BioNews, and are intended to spark discussion about issues pertaining to ALS.