Finding the Funny Moments in Caregiving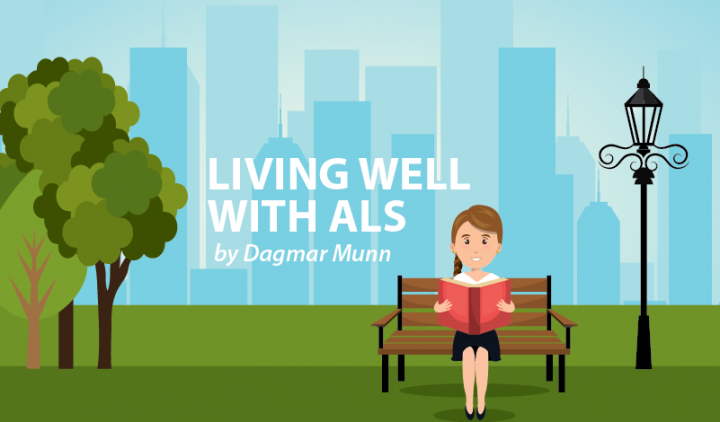 ALS is certainly a serious condition, and there is nothing funny about it, but many funny moments can happen. For my caregiver husband and me, holding on to a sense of humor is such an important part of our relationship that we can't imagine letting a day go by without sharing a laugh or two.
Given that November is National Family Caregivers Month, let's explore how laughter can benefit both the caregiver and care receiver.
Why laugh?
Laughing is quick, it's easy, and everyone can do it. Even though it may seem like an inappropriate reaction to a difficult situation, laughing helps us deal with our emotions rather than keeping them bottled up. A hearty bout of laughter may even lead to a good cry, both of which are cathartic and healing.
Health experts agree that even a case of the giggles can be a quick stress-reliever as well. When we laugh, our blood pressure drops and our immune response increases. Laughter can also reduce our perception of pain.
What do I laugh about?
My husband and I find humor everywhere we go, especially now that we deal with the challenges of my ALS. Following are a few examples:
Despite my ALS-related dysarthria, we (perhaps like most couples) sit at our computers in separate rooms and holler back and forth to each other. Mostly, we yell, "What?"
Often, funny situations happen when we're out and about, and many of our stories involve public restrooms.
I jokingly remind my husband that he's pushed open so many doors to women's restrooms (allowing me to scooter in) that he should be on a police report!
Another series of restroom mishaps led to my column "Laugh on Down the Road." In it, I also share our experiences with hotel rooms and how the term "accessible" differs widely in interpretation. I invite you to read the full story if you need a good chuckle.
And then there was the hot day we spent in the parking lot of our local drugstore as my husband wrestled with an uncooperative van ramp. Let's just say my column's title, "'In a Short Time, This Will Be a Long Time Ago,'" sums up the situation perfectly.
Are you getting the picture? Humor can be found everywhere.
You might be a caregiver if …
Maybe you and your caregiver don't have many opportunities to go out. Certainly, the current health crisis forces most of us to spend more time at home. But that doesn't mean humor is at a standstill. You can invent it!
Below is a fun, short video from AARP that features comedians Peter Rosenberger and Jeff Foxworthy playing a game of "You might be a caregiver if …"
Take up their challenge: Can you and your caregiver think of a few more funny quips to finish the sentence "You might be a caregiver if …"?
Give yourself permission to laugh
Even in the midst of these challenging times, the funny moments are there. I urge you to recognize and appreciate those moments.
Together, we can learn to laugh and live well while living with ALS.
***
Note: ALS News Today is strictly a news and information website about the disease. It does not provide medical advice, diagnosis, or treatment. This content is not intended to be a substitute for professional medical advice, diagnosis, or treatment. Always seek the advice of your physician or other qualified health provider with any questions you may have regarding a medical condition. Never disregard professional medical advice or delay in seeking it because of something you have read on this website. The opinions expressed in this column are not those of ALS News Today or its parent company, BioNews, and are intended to spark discussion about issues pertaining to ALS.