How My AFOs Helped Me Learn to Live with ALS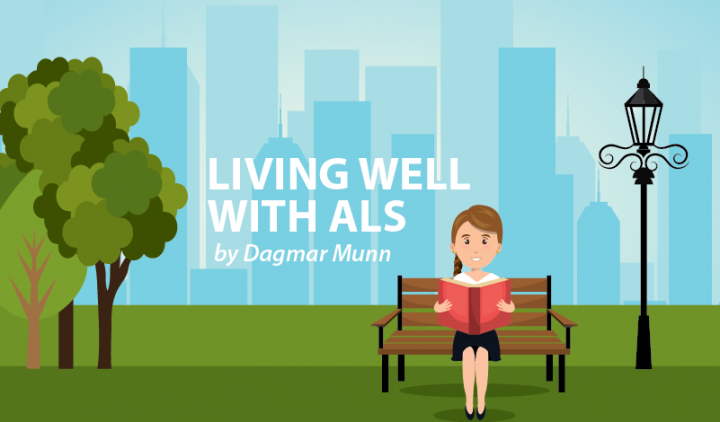 Sometimes we need a nudge to help us get over a mental funk and back into the swing of life.
My nudge came from a pair of white ankle-foot orthoses (AFO) with whom I had been having a love-hate relationship. Love 'em or hate 'em, they did end up becoming an important part of my ALS journey.
Meet your new AFOs
One year had passed since my diagnosis of ALS, and try as I might, adopting a positive attitude was a daily challenge. My mind often wandered off, sometimes replaying the doctor's words: "You have ALS." Or, I'd catch myself dwelling on the unknowns that might be waiting in my future.
Additionally, walking took great effort. Although a rollator kept me balanced, the toe of one foot continued to drag with each step. I feared the next stage for me was an electric wheelchair.
"Let's try a pair of AFOs," my neurologist suggested before referring me to a specialty orthotic and prosthetic clinic.
My initial visit included having plaster castings made of my lower legs, and within two weeks, I was wearing a pair of custom-made AFOs.
Staring at the wall in front of me, I stood balanced and tall. My feet felt fantastic! Each ankle was fully supported, arches lifted, and my toes felt snug. My mind visualized a pair of high-quality, European hiking boots.
But looking down, I saw a pair of tough, white, polypropylene tubes encasing both lower legs. The tubes extended down into my shoes and were held in place by two double-wide Velcro straps. My brain flashed the words: "Big Foot! Robot-feet! Ortho-peeed-ICK!"
All whining aside, the AFOs balanced my gait, eliminated the toe drag, and allowed me to walk without becoming tired.
Unfortunately, wearing them required a pair of shoes a full size longer and wider than what existed in my closet. A trip to the "We Specialize in Odd Sizes" shoe store went sour when after glancing at my AFOs, the clerk led me to a rack of black and white shoes that must have been in fashion during the Dust Bowl era!
The situation only became worse when I test-walked a white pair and overheard my husband say, "Gee, from the back you look just like one of those stormtroopers in the Star Wars movies!" The look I gave him silenced any further comments.
At home, I sadly pondered all the different ways I could camouflage my lower legs. Maybe floor-length bell-bottom pants? What if I painted the AFOs? Painted my shoes? How about not going out in public?
Seeking to redeem his earlier slip-up, my husband searched online and found a business in the U.K. that sold flat, stylish shoes in large and extra-wide sizes — with free shipping to boot!
I promptly ordered a pair
When the shoes arrived, they were a perfect fit, so I ordered three more pairs in assorted colors.
Elated at how the shoes transformed the look of my AFOs, I decided to shorten a few of my favorite slacks and began wearing bright, colorful, knee-high "happy socks." Rather than being an embarrassment, my AFOs and socks told the world, I own this look!
Over dinner, my husband and I shared laughs while recounting the entire adventure. "And to think, the process took almost four whole months," I observed.
"Yes, but," he replied, "what I noticed most during those four months was that you stopped stressing out about having ALS. Instead, you were more concerned about how you looked with ALS!"
I had to admit he was right
My AFOs help me walk into restaurants, attend meetings, and get out and about. They help me continue to participate in life and focus on my projects. Those four months were a good example of how learning to adapt led me to accept my AFOs and learn to live with ALS.
If you wear AFOs, join us at the ALS News Today Forums, where we have an ongoing discussion on this very topic.
Remember, we can live well while living with ALS.
***
Note: ALS News Today is strictly a news and information website about the disease. It does not provide medical advice, diagnosis, or treatment. This content is not intended to be a substitute for professional medical advice, diagnosis, or treatment. Always seek the advice of your physician or other qualified health provider with any questions you may have regarding a medical condition. Never disregard professional medical advice or delay in seeking it because of something you have read on this website. The opinions expressed in this column are not those of ALS News Today or its parent company, BioNews Services, and are intended to spark discussion about issues pertaining to ALS.