Hooray! You Can Hear Me Now!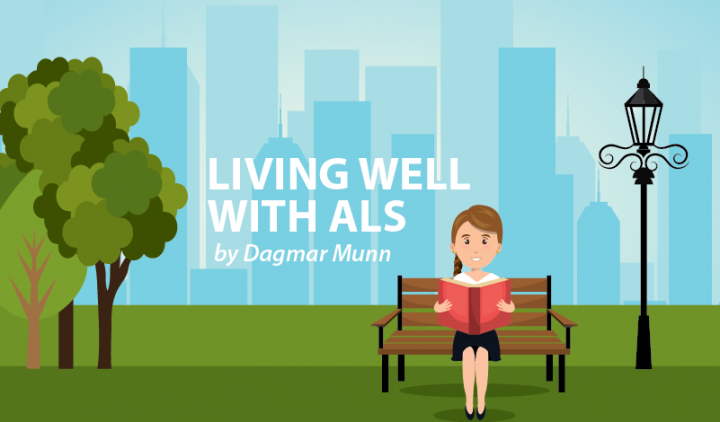 Sometimes you get lucky and life gives you a break, which is not always the norm for someone living with ALS. The past two weeks have been rather fun for me, thanks to a suggestion that I begin using a portable microphone.
I have written about my challenges with being heard in noisy environments. Turns out, there is a solution.
The back story
At a recent visit to my ALS clinic, the speech-language pathologist acknowledged that my pronunciation and the number of words I spoke with each breath were acceptable. When I shared my frustration that people had a hard time understanding me, she explained the reason.
She told me that the pitch of my voice was in the lower range and that I spoke in a typical ALS monotone. My voice was at the same frequency as the low hum of many home appliances, and the human ear is less sensitive to low sounds at low volumes. "No wonder your husband doesn't hear you very well at home," she said. "You're in competition with the refrigerator in your kitchen!"
She suggested I turn up the volume of my voice by using a personal amplification device. I went home and promptly ordered a simple model.
A test run
When the amplifier arrived, I quickly tried it on. The headset and microphone plug into a small speaker worn around the waist with a clip-on belt.
My husband and I needed to run a quick errand in our van. The route would take us onto a short stretch of highway that usually produces enough road noise to make me shout to be heard. As we traveled, my new gear proved its worth. With the volume up, I could chat without straining and my words were heard!
During the next few days, I used my portable microphone in a few voice-challenging situations at home.
First, my husband went into another room and confirmed that he could hear me talking to him. At full volume, I think the neighbors could hear me talking!
Next came TV time. Ahhh! Football games and news programs no longer drowned me out!
The ultimate triumph happened when I directed our Echo Show to give me the weather forecast, turn up the volume, and stop. Each command was dutifully obeyed in order.
The final test
Recently, my little microphone had its final challenge and passed with flying colors. I was at a large social gathering with lots of milling about, chatting, and a noisy environment.
Headset on and volume up, I maneuvered my mobility scooter through the crowd, surprising more than one acquaintance with my hearty "Hi!" We could talk and they could hear me. I received many compliments on taking the big step to use a microphone.
When the event concluded, 12 of us gathered at a long table for our club's board meeting. When it was my turn to talk, I nearly scared myself hearing my voice carry to the far end of the table. Previously, I had to add body language to help others understand me. This time, I relaxed my shoulders and pronounced the words.
A few cautions
Volume doesn't improve my speech; it only makes it louder. I still have to pay attention to my pronunciation and how fast I talk.
There's also basic microphone etiquette. I turn it off before laughing loudly, letting loose a big yawn, during a case of hiccups, and before using the restroom. I'll kindly spare you the details of those hard-learned lessons.
I'm convinced that good things can happen when we're willing to try something new. And new things are being invented every day to help improve our lives. We can live well while living with ALS.
***
Note: ALS News Today is strictly a news and information website about the disease. It does not provide medical advice, diagnosis, or treatment. This content is not intended to be a substitute for professional medical advice, diagnosis, or treatment. Always seek the advice of your physician or other qualified health provider with any questions you may have regarding a medical condition. Never disregard professional medical advice or delay in seeking it because of something you have read on this website. The opinions expressed in this column are not those of ALS News Today or its parent company, BioNews Services, and are intended to spark discussion about issues pertaining to ALS.