Rebuilding My Confidence and Avoiding Life's Banana Peels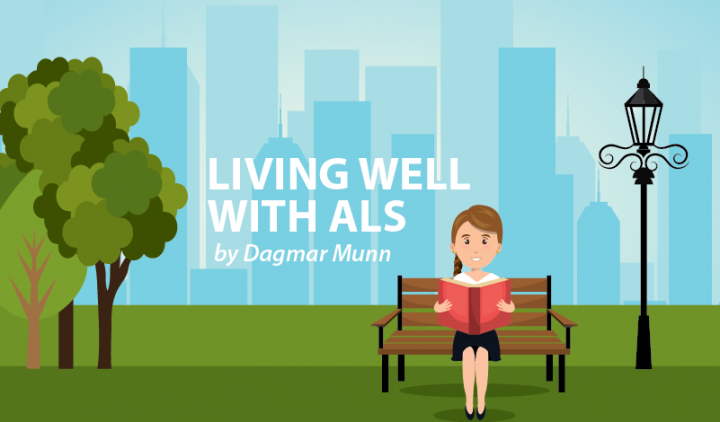 One of the first symptoms of ALS I experienced was a sudden weakness in my legs and feet. This meant that without warning, whenever I walked I felt as if I had stepped in a hole, and more than once I ended up taking a nasty fall.
Even when I finally agreed to use a rollator to help with my balance, every step was tense — I just knew I would fall. My self-confidence was in tatters.
As I sat wondering what to do, memories of my early lessons learning how to ice skate as a kid in Iowa bubbled up in my mind. There I was, an absolute beginner, gingerly stepping onto an outdoor ice-skating rink with dozens of skaters skillfully whizzing by.
Rather than relaxing, sinking into the movements, and focusing on one glide-step at a time, my knees wouldn't bend, my arms waved wildly, and I had an absolute fear of falling. So, of course I fell. Then a friend skated up to me and offered to help.
She told me not to compare myself to the other skaters, to expect to make mistakes for a while, to break down the movements of skating, and best of all, to be able to laugh at myself.
What she taught me turned out to be the fundamentals of building confidence. I decided to apply the same strategies to my new situation: rebuilding my confidence in walking.
My strategy
It's important to understand that rebuilding confidence is different from simply building confidence. In building confidence, we're trying to do something we've never been good at before. Like my attempts at ice skating.
Rebuilding confidence means we once were good, but now we're not. So, I needed to adjust my expectations, especially since I wasn't just learning to walk again, I was learning to walk with my new normal of ALS.
First, I promised myself I'd let go of worrying about what others thought of me using a rollator, or even my awkward movements. And I could follow my own timeline in learning this new way of walking. No preset goals of "in eight weeks" or "by next month." I'd go at my own pace.
Then, I broke down the most challenging movements when using a rollator. This included everything from getting up from sitting, taking my first step, navigating obstacles, coming to a stop, and sitting down again.
And yes, I made mistakes: I got stuck and couldn't turn around, almost tipped over, and still gripped the handles a "wee bit" too tightly. But I accepted these and knew they were all part of the learning process.
Finally, I laughed — a lot.
Find the funny
Most of my "laugh out loud" moments were the result of wheels getting stuck in brick walkways, trudging through deep gravel, or noticing a shoelace was untied and having nowhere nearby to sit and fix it.
That's when I'd remember my friend's favorite saying. She is living with cancer, and whenever we visited and I asked how she was doing, she'd belt out, "Oh, I'm still just one banana peel away from dropping the other shoe! So, hide the bananas!"
I've found that having an optimistic mindset is key to rebuilding and keeping my self-confidence.
We all know that change is inevitable, especially with ALS. Try my strategies with other challenges you face. Confidence is a state of mind, and cultivating it will help you live well while living with ALS.
***
Note: ALS News Today is strictly a news and information website about the disease. It does not provide medical advice, diagnosis, or treatment. This content is not intended to be a substitute for professional medical advice, diagnosis, or treatment. Always seek the advice of your physician or other qualified health provider with any questions you may have regarding a medical condition. Never disregard professional medical advice or delay in seeking it because of something you have read on this website. The opinions expressed in this column are not those of ALS News Today or its parent company, BioNews, and are intended to spark discussion about issues pertaining to ALS.