Want to Slow Down Your ALS? Try Smiling!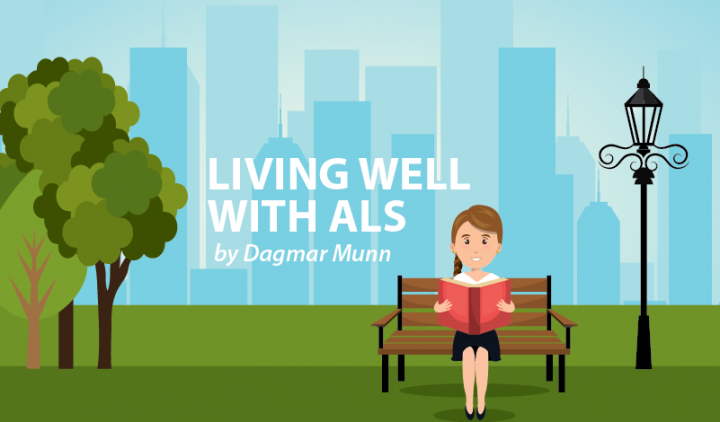 What does smiling have to do with ALS? Or happiness, contentment, or feeling positive? These expressions of our sense of well-being are important to those of us living with ALS.
According to a study of 224 ALS patients, participants who had good emotional well-being experienced a slower progression of their disease.
I know, I know. The words "emotional well-being" and "ALS" don't usually show up in the same sentence. And we don't often read about things we can do to slow the progression of our ALS symptoms. This IS big news.
What is well-being?
My professional career included nearly 30 years of running a hospital-based wellness center. In 2010, when I was diagnosed with ALS, I intuitively tapped into the wellness principles I had taught others and applied them to my new situation.
I began with managing my stress by practicing mindfulness, meditating, reading motivational books, and starting each day with a positive mantra. I scrutinized my meals, increasing healthy foods and nutrients that would help maintain my energy.
I continue to exercise daily, but have made changes in what I do and the time of day I do it. Add in quality sleep, proper medication, and finding a new life purpose. All contributed to my sense of well-being.
Nine years later, I feel validated by a study that shows I was on the right track. I'm also motivated to help you learn how to boost your own emotional well-being.
How to improve your well-being
I invite you to read through my past columns. A few to begin with are:
In addition, these habits have been shown to manage ALS symptoms and improve quality of life:
Follow your doctor's advice: Take the recommended medications.
Attend an ALS clinic: Ask questions and follow the advice offered by the medical team.
Use assistive devices: Look ahead to what devices might be helpful.
Stay informed: Learn about medical advances by keeping in touch with online ALS groups, and attend an ALS support group.
Discuss concerns and options: Be open to the advice and suggestions of your caregiver, family, and friends.
Happiness, contentment, and feeling positive contribute to our well-being. I know I'll keep smiling. It might slow things down and give me more time to live well while living with ALS.
***
Note: ALS News Today is strictly a news and information website about the disease. It does not provide medical advice, diagnosis, or treatment. This content is not intended to be a substitute for professional medical advice, diagnosis, or treatment. Always seek the advice of your physician or other qualified health provider with any questions you may have regarding a medical condition. Never disregard professional medical advice or delay in seeking it because of something you have read on this website. The opinions expressed in this column are not those of ALS News Today or its parent company, BioNews Services, and are intended to spark discussion about issues pertaining to ALS.