Translating the Talking Boxes at the Drive-thru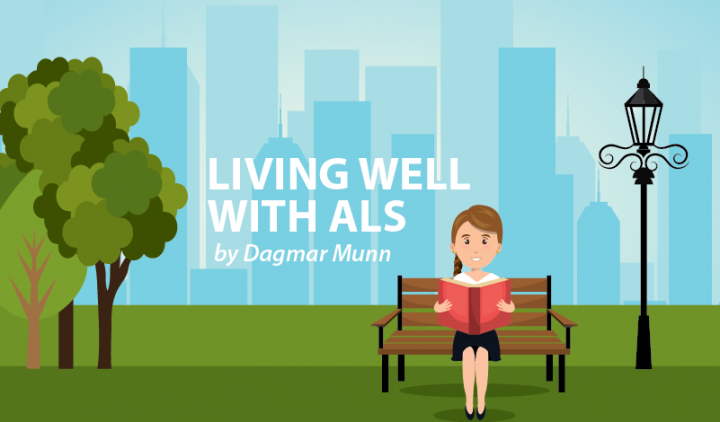 If you've ever used the drive-thru lane to order a meal, then you know that the experience can range from easy to downright annoying. My husband and I have suffered through fast-talking order-takers with squeaky voices, but when we encounter the dreaded malfunctioning speaker, we know that we're in for a real challenge.
However, now that I live with dysarthria — a symptom of ALS that affects my speech — I find that I have more patience when dealing with those squawking boxes. Their garbled and slurred words sound like mine — and I can understand what they're saying.
Like a well-trained U.N. translator, I calmly relay the conversation back to my frustrated husband. "Schee ZED, do we wand da orda to-go or to ead in da caa?"
Oh well, I tried to help.
Soon the absurdity of the moment hits and we break into giddy laughter, leaving the order-taker on the other side of the box wondering if we're just a couple of rowdy teenagers out for a good time.
Every sentence is a challenge
Navigating the world while having speech issues is, for me, a lot like placing a drive-thru order. From having to prepare what I want to say before I say it, to hoping the listener understands me, I go through an elaborate sequence of steps during every conversation.
For example, before I reply to a question, I pause and:
Think of my answer as a full sentence.
Calculate whether I might have trouble pronouncing any of the words and quickly think of substitutes.
Sit tall, relax my shoulders, and inhale using my diaphragm.
Finally, I'm aware of my delivery. I go easy on the volume, keep the intensity low, and vary the tone of the words. Oh, and if needed, add gestures and body language.
If all goes well, I'm understood and the conversation moves along.
But there's a 50–50 chance that the other person didn't understand me, so I go through the steps again. And it's possible that by the time I'm ready to speak, the conversation has moved on to a new topic.
Fortunately, my friends and family understand the challenges I face and accept our off-rhythm conversations.
A better drive-thru experience
Recently, I read that McDonald's wants to improve and speed up order-taking at the drive-thru by replacing humans with voice-based ordering technology. According to Apprente, which developed the technology, it uses "sound-to-meaning," which enables it to simplify "complex, multilingual, multi-accent, and multi-item conversational ordering."
As an optimist, I don't think of my way of speaking as a hindrance, but as having a strong accent. I call it my "ALS accent." So learning about new technology and artificial intelligence that might understand me is exciting.
Even though McDonald's isn't doing this for altruistic reasons — the company is motivated by the prospect of increased sales — at least they see me as a potential customer. I'll gladly put them to the test and place my order, "A cheez-burga and fwiez, pleez."
When I pull up to the pick-up window and find that they got my order right, I'll say, "Thank you, you made my day!"
Remember, I believe that we can live well while living with ALS.
***
Note: ALS News Today is strictly a news and information website about the disease. It does not provide medical advice, diagnosis, or treatment. This content is not intended to be a substitute for professional medical advice, diagnosis, or treatment. Always seek the advice of your physician or other qualified health provider with any questions you may have regarding a medical condition. Never disregard professional medical advice or delay in seeking it because of something you have read on this website. The opinions expressed in this column are not those of ALS News Today or its parent company, BioNews Services, and are intended to spark discussion about issues pertaining to ALS.