Zooming Past My Previous Predictions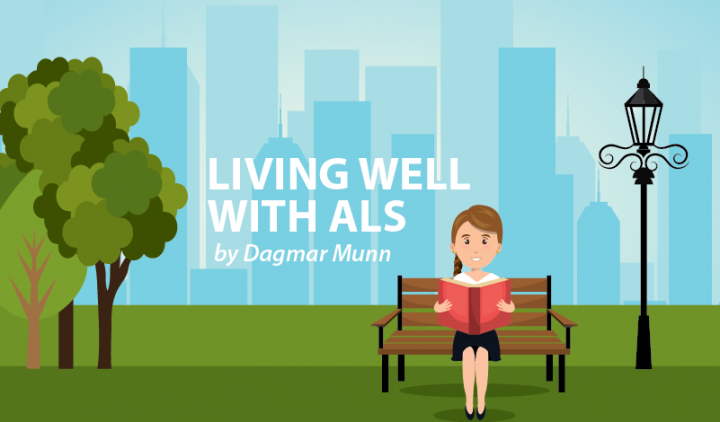 During these final weeks of 2020, I've been reflecting on the various ways this world health crisis has affected the ALS community. One evolving activity that has held my interest ever since I included it in my post-pandemic predictions in a column last April is online ALS support groups. So, let's see how my predictions panned out.
I predicted that the ALS community would go online, and in a big way, using Zoom, Skype, and other videoconferencing platforms.
TV newscasters set the trend
Late last spring when TV news stations scrambled to follow new social distancing mandates, correspondents and their guest "experts" reported the news from inside their homes. And I'll admit, I really liked the change.
Appearing on screen while in their kitchens, dens, or home offices, these VIPs suddenly became more human and affable. A background of bookshelves, plants, and even pets kept my attention far longer than a generic TV studio ever would. I hope this trend continues long after the social distance rules have been lifted.
ALS support groups followed suit
Over the summer months, in-person ALS support groups across the country transitioned to holding their meetings on Zoom. And to make another confession, I like the online meetings much better than in-person groups.
In my opinion, online meetings offer many advantages. Besides helping me feel more independent and not rushed or stressed, I don't have to deal with parking lots!
You can read about my humorous complaint with parking lots in this recent column, but let me tell you about a few more benefits I've since discovered.
Zoom meetings mean I don't have to coordinate the date with my husband, whom I depend on to drive me to and from the meeting. Sitting in the comfort of my home, I just log on and join the group.
Instead of being unable to see or hear everyone in a classroom setting, I have a screen full of smiling faces looking directly at me. And I can control the volume. Plus, I get to see them in their homes, with windows, fireplaces, bookshelves, and pets, helping us all to feel more relaxed.
No one is self-conscious about how they happen to move or speak, or about the assistive device they use.
Support group coordinators benefit, too
From the perspective of the person who had to arrange a meeting room, send directions to the speaker, bring refreshments, set up AV, and stay afterward to help clean up, Zoom meetings make life a breeze!
Better yet, the choice of speakers expands when even they don't have to travel. And let's all admit that online slide shows are preferable to staring at presentations projected on a portable screen.
Looking forward
Yes, 2020 will soon become 2021, and it looks like we may all be living our lives in this new way for a while longer.
If you have the opportunity to attend an online ALS support group, show up, participate, suggest topics, and give feedback to the group's coordinators. They are working hard to meet all of our needs and will appreciate suggestions.
When we help each other, we enhance our ability to live well while living with ALS.
***
Note: ALS News Today is strictly a news and information website about the disease. It does not provide medical advice, diagnosis, or treatment. This content is not intended to be a substitute for professional medical advice, diagnosis, or treatment. Always seek the advice of your physician or other qualified health provider with any questions you may have regarding a medical condition. Never disregard professional medical advice or delay in seeking it because of something you have read on this website. The opinions expressed in this column are not those of ALS News Today or its parent company, BioNews, and are intended to spark discussion about issues pertaining to ALS.