Amydis Developing Test to Measure TDP-43 Biomarker in Eye's Retina
The protein forms clumps outside of nerve cells in ALS and is suspected of contributing to their dysfunction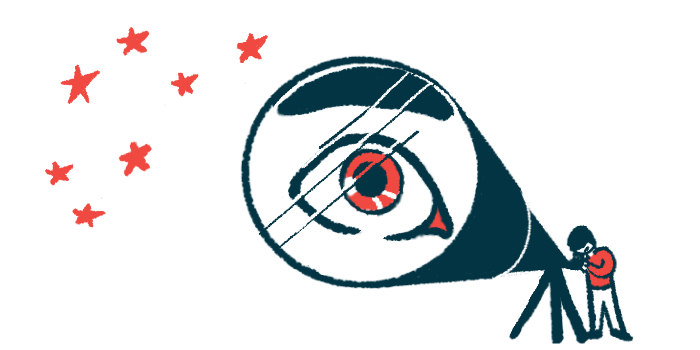 Amydis is developing a test to monitor the buildup of TDP-43 in the eye's retina of people with amyotrophic lateral sclerosis (ALS), which could offer a noninvasive way to diagnose the neurodegenerative disease sooner and better monitor its progression.
The research will be conducted with support from a grant awarded by the National Institute of Aging, a part of the National Institutes of Health (NIH). The funding amount was not disclosed.
"We are thrilled to have gained the support of the NIH for our ALS/FTD program," Stella Sarraf, PhD, founder and CEO of Amydis, said in a press release. "Amydis is the only company dedicated to exploring a broad spectrum of biomarkers in the eye to improve patient outcomes with our novel platform."
Due to clinical overlap between neurodegenerative diseases and a lack of disease-specific diagnostic tests, definitively diagnosing ALS can be challenging and take a long time. New ways of diagnosing the disease sooner and with more precision are needed.
The TDP-43 protein is normally present inside a cell's nucleus, where DNA is housed. But in ALS and FTD patients, it forms abnormal clumps outside the nucleus of nerve cells in a region called cytoplasm.
TDP-43 accumulation occurs in almost all — about 97% — of ALS cases and is thought to contribute to nerve cell dysfunction. This buildup also occurs in about half of people with frontotemporal dementia (FTD), a neurodegenerative disease that has considerable overlap with ALS.
TDP-43 is thus positioned as a promising disease biomarker, but no technologies are currently approved to detect it directly in central nervous system (CNS) tissues, or those in the brain and spinal cord.
The retina is the back part of the eye that contains cells that sense light and nerves that transmit signals to the brain. This part of the eye is increasingly being recognized as a "window into the brain" with changes that happen there often reflecting what's taking place in the brain.
Specifically, toxic protein clumps that mark neurodegenerative diseases in the brain are also observed in the retina where they can be more easily measured.
Amydis will leverage this idea by developing a tracer that will measure TDP-43 deposits in the retina with the notion that buildup of the protein there may broadly reflect its accumulation in the brain. The small molecule tracer will bind selectively to TDP-43 in the retina and then emit a strong fluorescent signal that can be detected with commercially available and widely used diagnostic cameras, and then quantified to determine TDP-43 levels.
Such a tracer could also be used to guide therapeutic choices and monitor disease progression with potential use as an outcome measure in future clinical trials, the company stated.
The test is intended to be easily accessible and affordable, according to Amydis, which late last year announced plans to launch a Phase 1/2a clinical trial that would test the TDP-43 tracer in the first half of this year. No updates on that trial have been announced.
"The ability to detect and monitor TDP-43 at micron-level precision in CNS tissue could significantly facilitate regenerative medicine research focused on slowing progression of ALS and FTD," Clive Svendsen, PhD, executive director of the Regenerative Medicine Institute at the Cedars-Sinai hospital in Los Angeles, said. Svendsen is also a consultant on the NIH grant.
Amydis is also developing retinal tracers to detect levels of other toxic proteins implicated in Parkinson's disease, Alzheimer's disease, and other neurodegenerative conditions.