CNM-Au8 slows disease progression and extends life, RESCUE-ALS finds
Global Phase 3 trial of nanocrystalline gold suspension therapy possible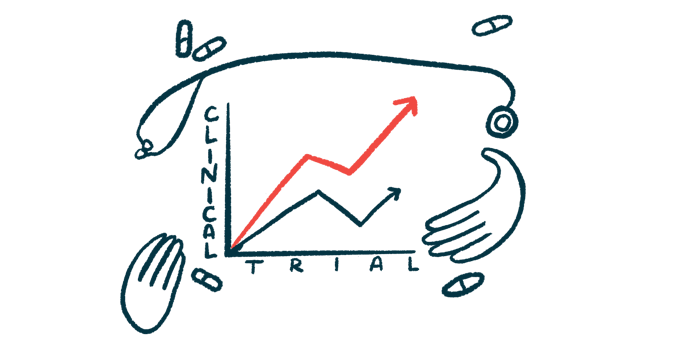 CNM-Au8 extended long-term survival and slowed disease progression in adults with early stage amyotrophic lateral sclerosis (ALS) compared with a placebo, according to final data from the RESCUE-ALS clinical trial and one-year findings in its open-label extension (OLE).
Patients treated initially with CNM-Au8 in the main trial experienced significantly slower progression than those who switched to CNM-Au8 from a placebo eight months later in the OLE.
"Results from RESCUE-ALS study were important because they provided the first insights about the clinical benefits of CNM-Au8 in ALS patients and the duration of treatment required to detect them," Steve Vucic, PhD, a neurology professor at the University of Sydney and a RESCUE-ALS co-investigator, said in a press release.
Details are in the study, "Efficacy and safety of CNM-Au8 in amyotrophic lateral sclerosis (RESCUE-ALS study): a phase 2, randomised, double-blind, placebo-controlled trial and open label extension," published in the journal eClinicalMedicine. The study was funded by a grant from FightMND, as well as Clene Nanomedicine, the therapy's developer.
CNM-Au8 failed at the trial's main and key secondary goals
ALS is marked by the progressive loss of motor neurons, the nerve cells in the brain and spinal cord that facilitate movement, breathing, speaking, and swallowing.
CNM-Au8 is a nanocrystalline gold suspension that aims to prevent motor neuron death and slow ALS progression. It is thought to promote nerve cell function and survival by increasing energy production while protecting these cells from oxidative stress, a type of cellular damage associated with ALS.
The Phase 2 RESCUE-ALS trial (NCT04098406) enrolled 45 adults (19 women, 26 men) with early ALS at its two sites in Australia. Participants were randomly assigned to a liquid suspension containing 30 mg of CNM-Au8 or a placebo, given each morning for 36 weeks (about eight months), plus standard care.
Most patients (91%) were on riluzole (sold as Rilutek, generics available), and 2% received Radicava (edaravone) as their stable standard-of-care treatment.
After completing the main trial, most patients (90%) entered the trial's open-label extension (NCT05299658), in which all received CNM-Au8 once daily. It is due to conclude at year's end.
As previously reported, data spanning both studies indicated that early treatment with CNM-Au8 showed a potential to slow disease progression and reduce the risk of death.
Researchers now report full RESCUE-ALS data and OLE findings through mid-January 2022.
The trial failed to meet its main goal of improving Motor Unit Number Index (MUNIX) scores after 36 weeks, which measured motor neurons' number, function, and health. The mean MUNIX change was similar between CNM-Au8 and placebo (−31.8% vs. –39.6%).
However, researchers noted that people with bulbar-onset ALS — a disease form marked by initial symptoms of muscle weakness in the head and neck, affecting 27% of patients in the trial — did not experience any decline in MUNIX scores regardless of treatment, which could account for the lack of differences between groups.
In a key secondary measure, the treatment also failed to slow lung function decline, even after accounting for potential confounding factors.
Exploratory analyses support CNM-Au8 slowing disease progression
Yet, exploratory analyses showed that CNM-Au8 treatment slowed ALS disease progression by 55% compared with a placebo through week 36. Disease progression was defined as the first occurrence of breathing tube insertion, the need for noninvasive breathing support, feeding tube placement, or death. At the end of the main trial, more CNM-Au8-treated patients went without such events relative to those on a placebo (78% vs. 23%).
Likewise, fewer patients on CNM-Au8 experienced a six-point or greater decline in ALS Functional Rating Scale-Revised (ALSFRS-R) scores, indicating more difficulty in daily life functions, than those given a placebo (18% vs. 48%).
Treatment also slowed a worsening in quality of life, as assessed by the ALS Specific Quality of Life–Short Form (ALSSQOL-S) questionnaire.
Deaths through week 36 also were less frequent with CNM-Au8's use compared with a placebo (4% vs. 9%). This trend became more pronounced during the OLE, with a statistically significant 60% reduction in all-cause mortality over one year of follow-up. Overall, seven patients on continuous CNM-Au8 and 15 of those originally assigned a placebo have died.
"These preliminary survival results should similarly be evaluated prospectively in an appropriately powered Phase 3 study," the researchers wrote.
After 48 weeks, early treatment with CNM-Au8 continued to result in a significantly lower rate of disease progression compared with an eight-month delayed treatment start — a 2.6 point difference in ALSFRS-R scores.
Those findings were somewhat expected, because placebo patients would not yet have achieved effective bloodstream concentrations of the therapy. After offsetting the OLE analysis to account for the slow absorption of CNM-Au8, significant differences in ALSFRS-R decline still were seen in patients who started the treatment early. These patients declined by 0.397 fewer points per month between weeks 60 and 120 than those who started treatment at week 36 with OLE entry.
This finding may suggest that "participants originally randomised to placebo had much worse decline overall and could not overcome the initial decline of [ALSFRS-R] … compared to participants originally randomised to active treatment," the researchers wrote.
Fewer ALS progression events also were recorded in OLE patients on continuous, 120-week use of CNM-Au8 compared with the initial placebo group (46.2% vs. 15.3%). The researchers noted that these events may be underestimated, because some placebo-group patients who did not enter the OLE died within months of finishing the main trial.
"The treatment effect demonstrated a clear survival signal associated with CNM-Au8 treatment and evidence for delayed clinical worsening morbidity events such as tracheostomy and initiation of feeding tube during the double-blind placebo-controlled period," Vucic said. "Additional functional benefits such as decreased worsening of ALSFRS-R scores are emerging later through the long-term open-label extension."
"The long-term OLE data through a minimum of 52-weeks of CNM-Au8 treatment (for participants originally randomised to placebo) provided additional signals of potential CNM-Au8 treatment benefit," the researchers wrote.
RESCUE-ALS results in line with findings in CNM-Au8 arm of HEALEY study
CNM-Au8 was well tolerated, with treatment-emergent adverse events (TEAE) and serious adverse events balanced between CNM-Au8 and placebo groups. The most common events related to CNM-Au8 treatment were nausea, bruising, abdominal discomfort, and aspiration pneumonia (airway inflammation caused by inhaled liquid or food). Standard lab tests did not show any clinically abnormal findings.
Survival data also aligned with top-line results from the CNM-Au8 arm (NCT04414345) of the HEALEY platform trial (NCT04297683). Although the study failed to meet its primary outcome of slowing disease progression, six months of treatment reduced the risk of death by about 90%.
Plans for a global Phase 3 trial of CNM-Au8, called RESTORE-ALS, are underway. Pending positive results, data from this trial may support regulatory requests to approve CNM-Au8.
The company also plans to discuss next steps for its ALS program with the U.S. Food and Drug Administration (FDA) later this year.
"We are pleased that CNM-Au8 results in RESCUE-ALS were concordant with the larger Phase 2b HEALEY ALS Platform Trial," said Ben Greenberg, MD, head of medical at Clene. "We plan to report long-term follow-up data from this program later this year and meet with the FDA in the third quarter to identify next steps for our ALS program."