CNM-Au8 Extends Survival, RESCUE-ALS Study Suggests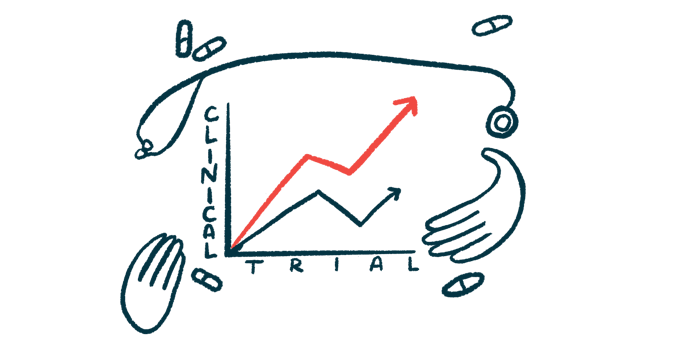 Treatment with the experimental gold nanocrystal therapy CNM-Au8 decreased the risk of mortality by 64% among people with early amyotrophic lateral sclerosis (ALS), compared to what would be expected without treatment, according to new analyses from the RESCUE-ALS clinical trial.
The findings were presented by Clene Nanomedicine, the company developing CNM-Au8, at the 2022 European Network to Cure ALS (ENCALS) Annual Meeting, held earlier this month in Edinburgh, Scotland.
"These emerging data highlight the significantly reduced risk of mortality following early and sustained treatment with CNM-Au8," Rob Etherington, Clene's president and CEO, said in a press release.
"The magnitude of the effect, more than 60% reduction in risk versus delayed treatment, provides hope for people with ALS and their caregivers," Etherington added. "Based on these emerging survival data, the RESCUE-ALS open-label has been extended indefinitely, and we are excited to understand how CNM-Au8 treatment may continue to keep people with ALS alive and with stable quality of life."
The RESCUE-ALS trial (NCT04098406) enrolled 45 people with early-onset ALS, who were assigned randomly to take CNM-Au8 (30 mg/day) or a placebo for 36 weeks (about nine months). Participants then had the option to enter an open-label extension study in which all were given CNM-Au8.
Top-line results released late last year failed to show evidence that CNM-Au8 preserved the function of motor neurons (nerve cells controlling movement that are lost in ALS). However, additional trial analyses have indicated that the experimental treatment may have slowed motor neuron loss by 45% over the 36-week study.
In one poster at ENCALS, "Evidence for a Potential Survival Benefit in ALS with CNM-Au8 Treatment: Interim Results from the RESCUE-ALS Trial Long-Term Open Label Extension," researchers conducted statistical analyses to analyze the relative risk of mortality for RESCUE-ALS participants originally given CNM-Au8, compared with those who started on a placebo.
Results showed early and continuous treatment with CNM-Au8 reduced mortality risk by 62% compared to delaying treatment. This difference did not quite reach statistical significance, but it was close.
In a separate analysis that compared survival outcomes for CNM-Au8-treated patients against predicted outcomes based on the patients' characteristics at the study's start, the treatment reduced mortality risk significantly — by 64%.
"CNM-Au8 treatment impacts long-term survival with decreased mortality risk" by more than 60%, both compared with the placebo group and with a predicted median survival, the researchers concluded.
RESCUE-ALS findings related to disease progression were presented in a separate poster, "RESCUE-ALS Trial Results: A Phase 2, Randomized, Double-Blind, Placebo-Controlled Study of CNM-Au8 to Slow Disease Progression in ALS."
At the trial's start, scores on the ALS Functional Rating Scale Revised (ALSFRS-R) — a standardized measure of ALS severity — were similar among patients given CNM-Au8 or a placebo. After 36 weeks, however, scores were significantly lower (worse) for patients given the placebo, indicating CNM-Au8 slowed disease progression.
Another poster, "Evidence for Continuing Quality of Life Benefit Following CNM-Au8 ALS Treatment: Preliminary Analyses of the RESCUE-ALS Long Term OLE," detailed trial results related to quality of life, as measured with the ALS Specific Quality of Life questionnaire (ALSSQOL-SF).
During the initial 36-week study, ALSSQOL-SF scores gradually declined for patients given a placebo, representing a continuous worsening of life quality. In  contrast, for participants treated with CNM-Au8, life quality scores were largely unchanged after 36 weeks.
Data from the open-label extension showed that ALSSQOL-SF scores remained stable in patients given ANM-Au8 out to at least 84 weeks. For patients initially given placebo who started on CNM-Au8 in the open-label extension, life quality scores were generally stable during the extension study while they were on active treatment.
Biomarker data from RESCUE-ALS showed that, compared with a placebo, CNM-Au8 reduced levels of two markers of nerve damage: plasma ubiquitin C-terminal hydrolase L1, and urinary neurotrophin receptor p75 extracellular domain.
Levels of neurofilament light chain (NfL), another marker of nervous system damage, were generally stable among trial participants, regardless of whether they were given CNM-Au8 or placebo. These results were detailed in a poster titled, "Preliminary Biomarker Findings from the RESCUE-ALS: A Phase 2 Double-Blind, Placebo-Controlled Study of CNM-Au8 to Slow Disease Progression in ALS."
"As we continue to perform preclinical experiments in collaboration with academic partners and analyze the enriching dataset from RESCUE-ALS, the data consistently highlight CNM-Au8 as an emerging therapeutic option for people with this devastating disease," said Robert Glanzman, MD, chief medical officer of Clene.
An ongoing platform clinical trial called HEALEY (NCT04297683) is testing the effectiveness of CNM-Au8 alongside several other potential ALS therapies. Results are expected later this year.
"We look forward to the next major data readout from the HEALEY ALS platform trial that is expected in the third quarter," Glanzman said.