First Patients Dosed in Eye Study of Tracer for ALS Diagnosis
PROBE clinical study looks to recruit up to 36 patients in California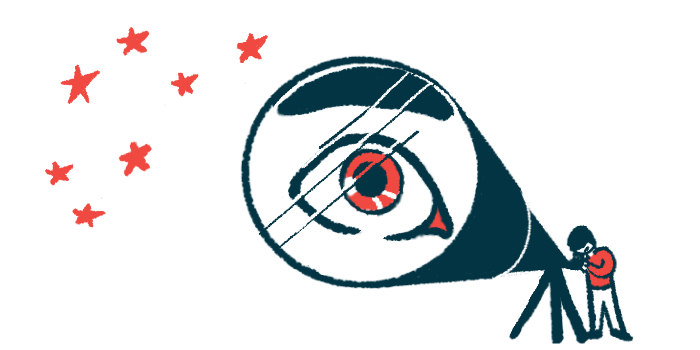 The first patients have been dosed in a Phase 1/2a clinical study that's testing AMDXP-2011P for its ability to trace disease-associated toxic protein clumps in the eyes of adults with amyotrophic lateral sclerosis (ALS) and Parkinson's disease, which may allow earlier diagnosis.
The study, dubbed PROBE (NCT05542576), expects to recruit up to 36 patients at the Eye Research Foundation in Newport Beach and at California Eye Specialists, Pasadena, both in Southern California.
"This is an important step forward in the field of ALS," Merit Cudkowicz, MD, chief of neurology and director of the Healey & AMG Center for ALS at Massachusetts General Hospital, said in a press release from Amydis, the developer of AMDXP-2011P. "To my knowledge, exploring a diagnosis of ALS through the eye is a novel and unique approach which may help us identify people at risk earlier in the disease and potentially help with drug development."
Cudkowicz is also a member of PROBE's safety and monitoring committee.
A feature of ALS is the progressive loss of motor neurons, the nerve cells in the brain and spinal cord that control muscle movement. As a result, muscles waste away and become tighter and weaker.
It can be difficult to diagnose ALS in its early stages because there's no single test for it. People often receive a diagnosis after they undergo a series of neurological exams to rule out other neurodegenerative diseases with overlapping symptoms.
The exact causes behind ALS are unclear, but a protein called TDP-43 folds into an abnormal shape and builds up as toxic clumps inside motor neurons of most people with the disease. This toxic accumulation happens even when there is no mutation in the gene that codes for the protein and it is thought to contribute to neurodegeneration.
Tracking down the toxic TDP-43 clumps could help tell whether the disease is about to develop, but there is currently no test to detect it in the tissues of the central nervous system (CNS; the brain and spinal cord).
Amydis is developing a way to track TDP-43 aggregate buildup in the retina, the innermost, light-sensitive eye layer that sends vision signals to the brain.
Some cells in the retina connect directly to the brain and changes happening there often reflect those taking place in the brain. Since the eye is translucent, it can be visualized easily and in a noninvasive manner.
AMDX-2011P is a contrast dye (called a retinal tracer) designed to bind to and "light up" toxic clumps associated with neurodegenerative diseases: TDP-43 in people with ALS and alpha-synuclein in Parkinson's. By "lighting up" these abnormal clumps, the retinal tracer allows them to be measured.
"AMDX-2011P is the first imaging agent to be investigated for direct visualization of [alpha-synuclein] and TDP-43 biomarkers in the retina, an accessible part of the CNS that can be imaged non-invasively," Stella Sarraf, PhD, CEO and founder of Amydis, said.
The retinal tracer has the potential to be a tool to help in diagnosing and monitoring ALS and Parkinson's, as well as the response to treatment, during a standard eye exam.
The main goal of the PROBE trial is to evaluate how safe AMDXP-2011P is when given as a one-time infusion directly into the bloodstream of people who've already been diagnosed with ALS or Parkinson's.
The study requires two visits to the clinic. On the day of dosing, participants are asked to stay in the clinic for at least eight hours. The next visit may be shorter.
All participants will be randomly assigned to receive one of four doses of AMDXP-2011P (25, 50, 100, or 200 mg). A first group will receive the lowest dose and if no major side effects occur, the dose will be increased for the next group of participants, and so on.
The researchers will take note of any side effects occurring within a week after dosing. The study will also evaluate the presence of "lighted up" protein clumps in the retina, AMDX-2011P levels in the blood eight hours after dosing, and the tracer's pharmacokinetics, or movement into, through, and out of the body.
"Beginning clinical evaluation of the first compound from our broad portfolio of ocular tracers marks a significant milestone in our efforts to serve the unmet needs of people with [Parkinson's] and ALS," Sarraf said.