Acts of Kindness are Meaningful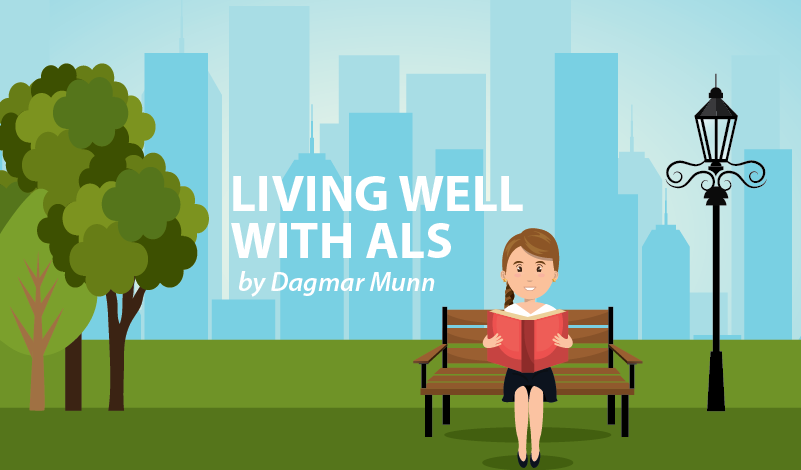 Even though November is National Caregivers Month, I think we also should include Good Samaritans and caring strangers. Everyone who opens a door or helps carry a bag, hands us items off the top shelf or points us in the right direction; a big thank you to all!
Now that I live with ALS and am on the receiving end of these kind gestures, I have come to appreciate these random acts of kindness more and more.
I'm reminded of a time some 30 years ago, before my ALS, when I received an act of kindness that was truly needed.
It happened on a Saturday morning in my early years of working with a hospital wellness program. We were holding a community fun-run on the outdoor track of a nearby college. Balloons, streamers, prizes and even the hospital's mascot, "Lovey Bear," were among the day's festivities. But the day before, a panicked phone call from the hospital's public relations director brought a change of plans. The volunteer scheduled to wear the bear costume had called in sick. "Would you be willing to do it?" She asked me, "It'll only be for two-hours, it's easy and I know you'll have fun."
Well, what could I say? Wanting to be a team-player, I agreed,.
So early Saturday morning I reported to her office. While zipping me into the bulky, padded, very pink suit, she recited "the rules." Rule #1: Lovey Bear never speaks; everything is done through pantomime. This was to keep the bear's gender generic. Rule #2: Never, ever take the head off while in public. "Too traumatic for young children to see," she intoned while plopping the over-sized bear head onto my shoulders.
She walked me to the outer hallway and waved me off with a cheery, "See you in two hours!"
Lumbering along, I found the suit's restricted mobility a bit of a challenge. Nevertheless, I shuffle-walked out of the building and successfully negotiated the employee parking lot. I just had to cross the one street ahead of me and I'd be on the college campus.
It was a simple one-way street. Traffic came from the left and was supposed to halt if anyone waited in the crosswalk. To my surprise, even though a big, pink bear wobbled at the curb, nobody stopped!
Inside the suit, my view to the outside world was through only the mesh of the big smiling mouth — forward only. Improvising, I used my paws to twist the entire head left, gauged the traffic, twisted it forward and looked down to see where my big feet were stepping.
But my timing was way too slow. Either I'd have to break Rule #2 and remove the head to see, or risk ending up a big pink splotch on the front grill of a pick-up truck.
As my mind raced, the warm sun heated the foam enveloping me. I felt my whole body sweating. Sensory deprivation began closing in. I stood frozen … stuck.
Just then, a small hand grasped my right paw. Another small hand slipped into my left. Twisting my body in each direction, I peered through the mesh. A young girl and boy were smiling up to me. They must have been 10 or 12 years old and their faces exuded the happy, earnest, nurturing feelings of youth. Proudly they called out, "We'll help you, Lovey!"
I did my best bear pantomime of "Yes," put my faith literally in their hands, and when they counted down, "One, two, three … now!" we stepped off the curb in unison.
I could hear car engines idling as traffic waited for our odd little parade to cross; two children with a big pink bear in tow. Reaching the half-way point, feelings of relief and gratitude flooded through me. I was awash in appreciation for these two children coming forward and their offer of help.
Reaching the other side, we shared big bear hugs of thanks all around. And just as quickly as they had appeared they were gone, disappearing into the crowd already gathering at the track.
The rest of the day remains a blur to me, but I always will remember that gesture of kindness.
An act of kindness, no matter how small, will always have a positive impact.   
So, this month, as we give thanks and feel gratitude, don't forget to include those who have offered their help and made a difference in our lives.
***
Note: ALS News Today is strictly a news and information website about the disease. It does not provide medical advice, diagnosis, or treatment. This content is not intended to be a substitute for professional medical advice, diagnosis, or treatment. Always seek the advice of your physician or other qualified health provider with any questions you may have regarding a medical condition. Never disregard professional medical advice or delay in seeking it because of something you have read on this website. The opinions expressed in this column are not those of ALS News Today, or its parent company, BioNews Services, and are intended to spark discussion about issues pertaining to ALS.