I'm Learning to Heed My 'Aha' Moments While Living with ALS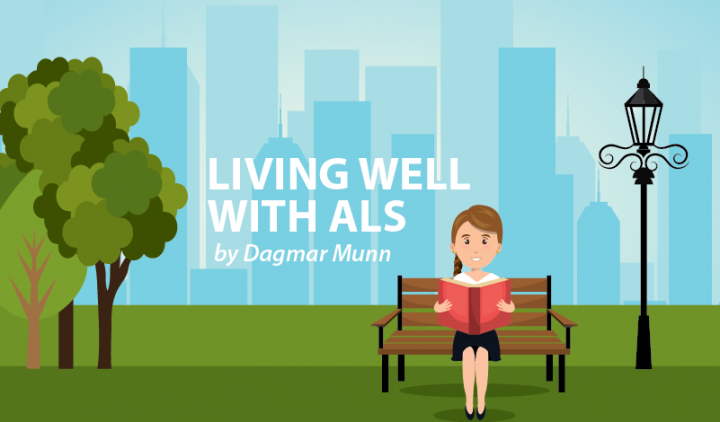 I've always believed that I was open to new ways of doing things, but having ALS has put me to the test. My pride and a little denial have often gotten in the way of my seeing the obvious solutions to a problem. Thank goodness an "aha" moment came to my rescue and helped to point me in the right direction.
Safety, safety, everywhere!
Two years after my ALS diagnosis, I was feeling smug about having implemented some safety measures throughout our home. For example, I used a wheeled walker to steady my balance, the bathroom had several strategically placed grab bars, and I even had a chair near my closet so I could sit down while getting dressed.
But on this particular morning, as I stood in the shower, I found myself in a losing battle, attempting a one-handed shampooing of my hair while my other hand held the grab bar in a "death grip." Meanwhile, both of my legs had tensed up and needed to bend. But I was afraid to move. As water swirled around my feet, I knew I was just one soapy misstep away from a nasty fall.
Suddenly a voice in my head said, "This is why people use shower chairs. Duh!"
I'll be the first to admit that for a long time, I was resistant to buying and using a shower chair. Oh, I had all the excuses: I didn't need one, getting one meant I was giving up, and shower chairs are for old people!
Later, while talking with my husband, I could sense his relief at my decision. We immediately searched online and ordered a shower chair that met my standards.
Did it help?
Once I began using my new shower chair, I wondered why I didn't get one sooner.
Sitting gave me full use of both my hands, my body felt relaxed, and the chair gave me the luxury of time to enjoy taking a shower.
Did I need a shower chair? Most definitely, yes. I had been in denial about my abilities.
Was I giving up? No. I am staying in control of how I function in my environment.
Are shower chairs only for old people? No, smart people of all ages use them.
Have more 'aha' moments
Practicing mindfulness and being "in the moment" will help increase your awareness of your daily habits and environment, and of change. When an "aha" moment happens, follow the three steps I wrote about in a previous column, "The Art of ALS Adaptability": assess, adapt, and accept.
Assess: Look at the situation realistically, not emotionally.
Adapt: Keep an open mind.
Accept: Stay positive and focus on the goal.
Heed your "aha" moments and learn how to live well while living with ALS.
***
Note: ALS News Today is strictly a news and information website about the disease. It does not provide medical advice, diagnosis, or treatment. This content is not intended to be a substitute for professional medical advice, diagnosis, or treatment. Always seek the advice of your physician or other qualified health provider with any questions you may have regarding a medical condition. Never disregard professional medical advice or delay in seeking it because of something you have read on this website. The opinions expressed in this column are not those of ALS News Today or its parent company, BioNews Services, and are intended to spark discussion about issues pertaining to ALS.