ALS, Before and After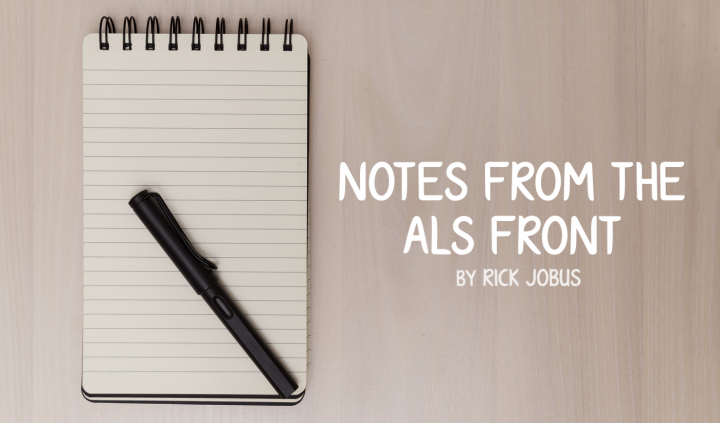 Author T. H. White's collection of novels titled "The Once and Future King" depicts the legend of King Arthur. While the title suggests a symmetrical before and after, in reality, it is rare that such a balance is observed.
Advertisers capitalize on differences in pre- and post-buying decisions. Commercials for hair restoration, cosmetic flaw removal, weight loss, and teeth whitening all demonstrate uncanny, nearly-beyond-belief deltas. 
HGTV has a portfolio of home improvement programming that begins with a property in relative shambles and culminates in "the big reveal," accompanied by a cacophony of "wows."
The visual news media has a similar affection for stark before-and-after contrasts, only typically in reverse. If a seemingly idyllic setting is transformed to uninhabitable rubble — by weather, geology, or war — odds are it will be the lead story.
ALS has imparted numerous before-and-after changes upon me. Some, of course, have been profoundly detrimental. Others have been surprisingly positive, in a subtle and nuanced way.
The painful ones have been obvious. Prior to ALS, I could talk, walk, sing, dance, and swim. Now, all are impossible. At the drop of a hat, I could choose to do anything my economic means would allow. My current activity menu is infinitesimally smaller, and spontaneity a distant memory.
Whereas prior to ALS I judged myself to be the epitome of self-sufficiency, after it I find myself a poster child for dependency. Physically speaking, I felt equal to the task of at least attempting every new and different thing that piqued my curiosity. Now my existence is predicated on zealously adhering to a carefully scripted routine, governing safe function within my arm's-length radius of activity.
As alluded to, there have been compensatory gains. I am a better listener and problem solver now. I find beauty all around me. I am wiser. 
Prior to ALS, though wanting for nothing, I subliminally desired more of everything. Now, I am thankfully content with much less. In part, I would value people by what they brought to the figurative table. Now, I am tickled to just be together at the table — the gift of community is priceless.
Before ALS, I was apt to apply protagonist-antagonist logic to situations. Naturally, I would favor my preconceived notion of right and wrong in making such distinctions. The risk in viewing through that type of lens is that given ideological polarization, one unilaterally dismisses the input of half of the population, or worse yet, convicts them. The physical idleness that ALS imposed has afforded me the time to refine my optics. I now make the effort to, in the words of Joni Mitchell, "look at clouds from both sides now."  
Another factor in the filtering of my worldview has been the concept of heaven. I suppose that's to be expected, since ALS has accelerated my arrival at the only truly critical "Checkpoint Charlie."
In religious thought, heaven is characterized as freedom from hunger, thirst, pain, deprivation, disease, ignorance, and strife, affording complete contentment, everlasting rest, ineffable peace, communion with God, and rapturous joy. Most cultures possess images of heaven, and entrance is an equal opportunity.
My pastor, whom I would not have met if not for ALS, unerringly reinforces the promise that invitation to heaven is universal. He frequently points out that every human is a potential heavenly neighbor.
With that in mind, I look forward to getting to know George Floyd in paradise. At the same time, I hope to enjoy the company of the four repentant and redeemed Minneapolis police officers as well. Those two statements were mutually exclusive for me before ALS.
In her analysis of "The Once and Future King," Jane Smiley opines that Arthur "recognises before he dies that he has not succeeded in creating the kingdom he hoped for, owing, of course, to the effects of his own sins. But he is the once and future king. The novel ends with the implication that upon his return, he will try again, with better results."
Perhaps Arthurian heaven. Just like I would experience if my before-ALS body could be merged with my after-ALS mind.
***
Note: ALS News Today is strictly a news and information website about the disease. It does not provide medical advice, diagnosis, or treatment. This content is not intended to be a substitute for professional medical advice, diagnosis, or treatment. Always seek the advice of your physician or other qualified health provider with any questions you may have regarding a medical condition. Never disregard professional medical advice or delay in seeking it because of something you have read on this website. The opinions expressed in this column are not those of ALS News Today or its parent company, BioNews Services, and are intended to spark discussion about issues pertaining to ALS.