How I Use 'Showing Up' to Help Me Live with ALS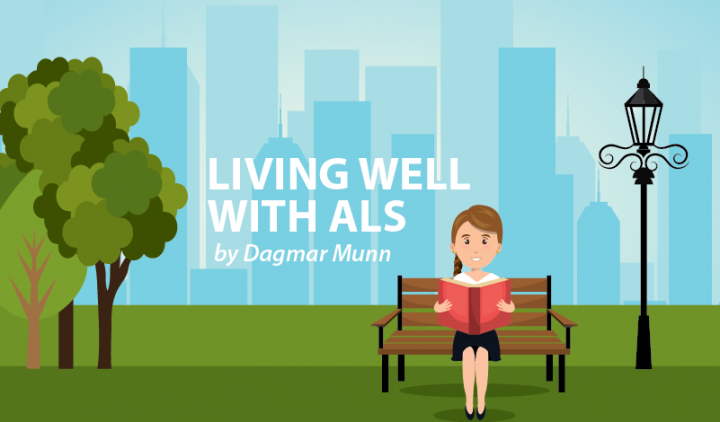 I experienced quite a few emotional dips during my first year of living with ALS. Dips in the way of full-on mental funks, feeling a loss of purpose, being disconnected from others, and worrying about the future. To help me climb out of those dark dips and even avoid them altogether, I relied on an old wellness strategy called showing up.
Showing up is a mental tactic I learned in the 1980s when I set a personal goal of jogging three miles daily. I kept the jogging habit for a number of weeks but hit a snag when the weather became miserable, then quit altogether while recovering from a cold. Starting back up again was a challenge. That's when a fitness friend shared the concept of showing up.
The key was to treat my daily workout as a scheduled appointment, one that never gets canceled. However, if factors such as the weather or illness interfered, I could change what I did during that hour — but I had to keep it related to jogging. For example, if the weather was bad outside, I'd stay in and stretch. If I was sick, I still needed to put on my workout togs but could use the hour to read fitness magazines or books. During the hour, I could give myself permission to change it up, but never give it up.
Fast forward to my first year with ALS, when my moods dipped and mental funks had me disappearing beneath blankets. In desperation, I decided to give showing up a try. This time, my goal was simply to get up, get dressed, and go sit in the other room! Every morning, I put myself through all the motions of getting ready to go out. To ensure I didn't cheat, I even added a personal rule: no comfy lounging clothes.
"You're a little dressed up for a day at home," my husband commented as I walked into the living room.
"Yup," I replied. "I'm showing up!"
Of course, there were days when I actually did go out: to monthly club meetings, lunch with a couple friends, or with my husband for errands around town. In all cases, I knew that showing up was the goal and that, once there, just being among friends and around people would keep my spirits lifted.
And it worked! Getting up and going tricked my mind into feeling better while my improved attitude influenced how my body felt. Showing up is so ingrained into my life now that I can call it a true daily habit. I especially enjoy pausing and reflecting on how grateful I am to not miss special moments with friends, family, or fun activities.
Give showing up a try and join me in living well with ALS.
***
Note: ALS News Today is strictly a news and information website about the disease. It does not provide medical advice, diagnosis, or treatment. This content is not intended to be a substitute for professional medical advice, diagnosis, or treatment. Always seek the advice of your physician or other qualified health provider with any questions you may have regarding a medical condition. Never disregard professional medical advice or delay in seeking it because of something you have read on this website. The opinions expressed in this column are not those of ALS News Today or its parent company, BioNews Services, and are intended to spark discussion about issues pertaining to ALS.