A Clinical Trial that's Just My Style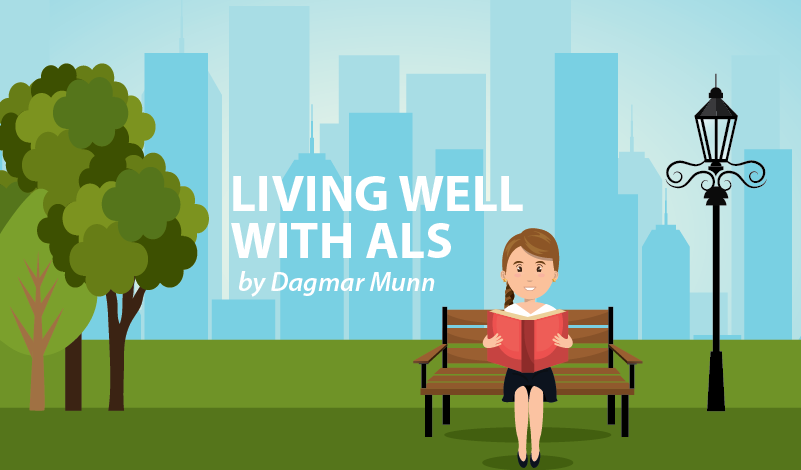 During my last visit to the ALS clinic, my neurologist surprised me with an invitation to be a participant in a clinical trial that she was conducting. It was open to 50 of her patients, it could be completed in our own homes, and only it required 30 days of our time.
Who, me? I protested. I've had ALS way too long to be in any clinical studies!
Why too long? Well, having been diagnosed in 2010, I've since learned I'm considered over-the-hill by most ALS researchers' standards. The ideal enrollee for them is someone who has had ALS for three years or less. Why? They base it on statistics. Beyond the three-year mark, most ALS patients have either accrued multiple serious symptoms or their demise is fairly imminent. It's a sobering rationale, and one of the contributing reasons why clinical trials with ALS patients are so difficult to conduct.
ALS has stymied the scientific community for over 100 years. Not only is patient recruitment and retention a challenge, so is discovering a remedy! To date, over 60 formulas and molecules have been proposed and studied, with the majority failing to produce results. But hope and perseverance continues and is a motivator for researchers around the world.
My neurologist's study involved the measurement of body temperature and was based on ALS patients reporting difficulty sleeping and feeling hot all the time. The study would look for disturbances in core body temperature that may be a part of the disease process, like chronic inflammation.
She explained that I would be wearing a small, 1″ x 2″ body temperature recording device with an adhesive bandage taped onto an area near my armpit. The only disqualification was having a body mass index over 30 or an allergy to adhesive — of which I had neither.
Easy-peasy! I thought. No traveling, nothing to ingest, no needles or weird side-effects to worry about.
Besides, this just might reveal the answer to a life-long problem I've endured: I've always felt cold. Growing up in Iowa, wintertime for me was a constant feeling of being chilled all the way from November to April. In restaurants, I'm that woman wearing a scarf to ward off air-conditioning and I even sleep with socks on — year-round. So, sign me up!
Soon a small package arrived in the mail containing instructions, the device, extra bandages, and some spare batteries. All I had to do was download the assigned app and sign in. Then insert a battery, tape the little device to my body, and sync everything up.
As I write this sentence, I am at day 15, with only 15 more days to go.
What have I learned so far? That my body temperature goes down a little when I eat and it goes up a little when I exercise. So-called normal body temperature is 98.6 degrees, with all of us falling somewhere between 97 and 99. Mine hovered around 97.2 degrees. So much for my theory of not being warm enough!
I also learned that ALS-challenged fingers don't do so well handling small objects requiring thin, dime-sized batteries that more than once ended up on the floor. The new adhesive used on bandages nowadays prefers to stick to fingers, clothing, counter-tops, and even itself before finally submitting to the area intended. And finally, I have deemed the wild contortions I perform while aiming and applying the bandaged device to my underarm area, which I fondly call "Seated Flamenco Dance," as a valid part of my daily exercise routine.
Seriously, I confirmed my belief that participation in and doing something for the good of all not only feels good, but also is a good thing to do. Rather than discount ourselves as having nothing to contribute, be open to the possibilities. Reach out and connect with others who have ALS. Share your experiences, opinions, and advice or offer a kind word.
Together we will keep hope alive. Together we will move closer to a cure.
***
Note: ALS News Today is strictly a news and information website about the disease. It does not provide medical advice, diagnosis, or treatment. This content is not intended to be a substitute for professional medical advice, diagnosis, or treatment. Always seek the advice of your physician or other qualified health provider with any questions you may have regarding a medical condition. Never disregard professional medical advice or delay in seeking it because of something you have read on this website. The opinions expressed in this column are not those of ALS News Today, or its parent company, BioNews Services, and are intended to spark discussion about issues pertaining to ALS.