'In a Short Time, This Will Be a Long Time Ago'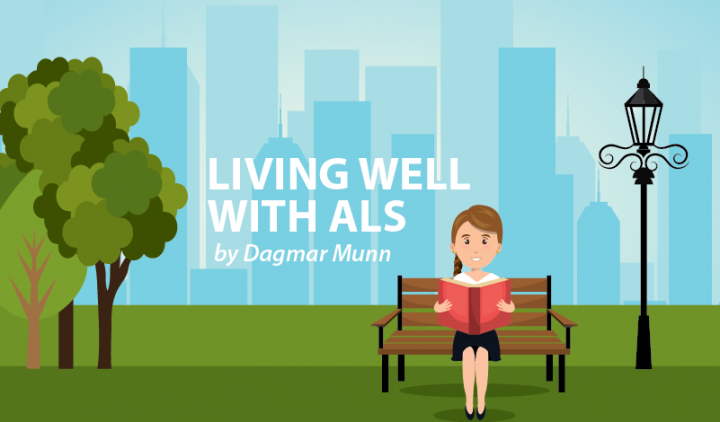 For those of us living with ALS, every day can have a stressful event. The key, I believe, is to move through the event and, if possible, remember it with humor. I recently came across a quote from the movie "Slow West" that reminds me that no matter how stressful a particular event may seem at the time, I should let it go:
"In a short time, this will be a long time ago."
For example, a few days ago my husband and I experienced a uniquely stressful event while on our way to get our annual flu shots. Rather than going to the doctor's office, we get ours at the local drugstore. It's convenient, quick, and we're in and out in no time.
When we pulled into the parking lot, we could see that nearly all the accessible parking spots near the store's entrance were full. All but one. That one, unfortunately, had the extra loading space on the wrong side for our van's automatic ramp to unfold.
But it wasn't a problem for us! My husband takes pride in his driving skills, and while I added helpful comments, he deftly maneuvered the van around and backed the van into the open stall. Once parked, our special disembarking routine began.
I simply push a button on the dashboard in front of me, the van door slides open, and the ramp unfolds to the ground. By this time, my husband has exited and come around to the ramp side of the van. He then walks up and inside and backs my electric scooter out. That's my signal to press the button again. The ramp retracts, the door slides shut, and my scooter is moved forward and parked at my open door. Finally, I disembark feeling much like Princess Dagmar alighting from my carriage to mount my trusty steed and ride off into the sunset!
Only today, when I pushed the button to retract the ramp nothing happened.
Naturally, I pressed it again.
In spite of multiple pushes, the ramp remained motionless.
"Did you push the button?" My husband asked.
"Yes," I replied, rolling my eyes.
"Well, push it again!" He urged.
I did. The ramp still didn't respond.
In a clear demonstration of what I call "husband logic," he reached in and pushed the button himself. Nothing happened.
Perched on the edge of the seat and leaning out my open door, I watched my husband valiantly fiddling with the ramp's cable and hinges while muttering. My thoughts raced forward.
I thought about spending the whole long, afternoon waiting inside the drugstore counting sunglasses and vitamin bottles. I imagined a repairman finally showing up, only to announce that he had to send off for a missing part.
I felt the heat of the afternoon Arizona sun beating down — all 95 degrees of it! The odor of hot asphalt beneath me wafted up. An elderly man parked next to us paused loading bags into his car sensing a possible entertaining moment happening in front of him.
On a hunch, I opened the glove box and began digging through its collection of booklets.
"Wait, there might be instructions!" I called out.
"This didn't come with instructions!" He answered. More husband logic!
My digging miraculously produced a booklet labeled, "Van Conversion Owner's Manual." Shuffling through the pages, I found a section titled "Ramp." Extending the manual out the door toward my husband, I held the page open to a diagram with stick figures, labeled, "When the power goes out."
"Ha!" I exclaimed.
Now my husband rolled his eyes at me. Nevertheless, he followed the instructions, and to the obvious delight of a few passersby, he grabbed the far end of the ramp and lifted it up high over his head. From my vantage point, it looked like a castle drawbridge closing. It then magically folded in half, tucking itself back into position on the inside of the van!
The rest of my story has a happy ending. I rode my mighty scooter into the drugstore. I emerged victorious with a bandage on my upper right arm. We even bravely tested the button and the ramp's response two more times before driving off.
Who knows why or what happened? Blame it on modern technology.
On the drive home we chuckled, reminding each other that, in a short time, this will be a long time ago. And I'll remind you that you can learn to live well while living with ALS.
***
Note: ALS News Today is strictly a news and information website about the disease. It does not provide medical advice, diagnosis, or treatment. This content is not intended to be a substitute for professional medical advice, diagnosis, or treatment. Always seek the advice of your physician or other qualified health provider with any questions you may have regarding a medical condition. Never disregard professional medical advice or delay in seeking it because of something you have read on this website. The opinions expressed in this column are not those of ALS News Today or its parent company, BioNews Services, and are intended to spark discussion about issues pertaining to ALS.