Robots, Technology, and A.I. — 'Oh My!'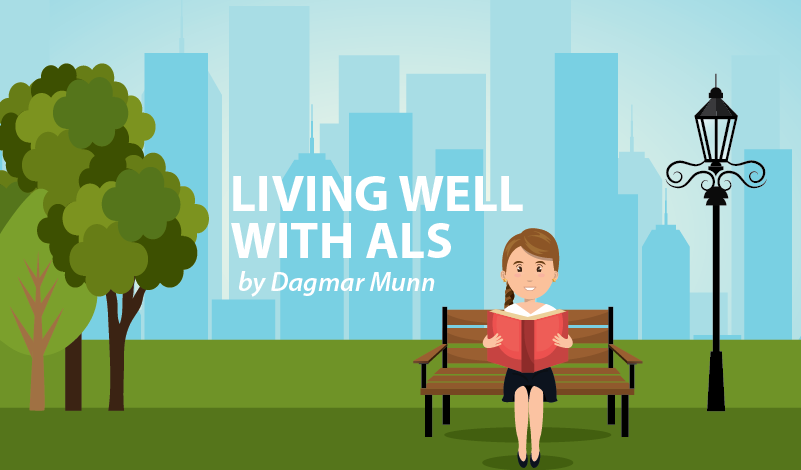 It seems to me that learning to live with ALS now requires a crash course in Technology 101. Gone are the days of having to rely solely on other human beings for essential daily living needs. Today, both the ALS patient and their caregiver are receiving help from assistive technology by way of apps, robotics, and smart appliances that only a decade ago were the dreams of science fiction.
Although some of the new technology was initially marketed to the luxury crowd, gadgets like robotic vacuum cleaners, automatic toilet bidets and home appliances remotely controlled by a single cellphone app are finding additional value in the homes of those with ALS.
Modified electric wheelchairs and enhanced eye-gaze computers are joined by a myriad of other innovations such as:
Obi: A robotic arm that scoops food from a dish to help patients eat independently;
HAL for Medical Use: A wearable robotic support that assists in walking;
Exo-Glove: A robotic glove that assists with hand movements.
Yes, all this assistive technology contributes to improved quality of life for those with ALS, while giving caregivers some much-needed relief. Dependence on technology is giving us newfound independence. But in reality, we'd rather not depend on them at all — because we'd rather not have ALS. But we do.
Learn as you go
For many of us, adapting to all this new technology is a matter of learn as you go.
My own "Human vs. Automation" experience occurred earlier this year when an Amazon Alexa arrived at our home. Since I've had dysarthria (trouble speaking due to ALS) for a couple years now, I've already been through a few less-than-satisfactory experiences with voice activation software.
For example, I'll ask my cellphone, "Whads the bes bah-bee-cue wes-wrandt in too-son?" (What's the best barbecue restaurant in Tucson?) My cellphone answers: "Here are your selections for Venice bars in Tulsa…"
However, I'd read comments online that an Alexa could learn to understand certain accents, so I had hope we could find a way to communicate.
My husband said, "Alexa …" Success as the blue ring of light lit up. Then came my turn. "Ahh-lek-sha," I carefully pronounced. No response.
I tried speaking slow, fast, with a high pitch, a low pitch; all had no response from Alexa.
Then I tried the option of changing its name to Echo. I figured that for me to articulate only two syllables and eliminate the "x" and "s" sounds would help. Over the next few days my husband and I would share a laugh as I'd slowly recite, "Ehh-koh! Ick-koh! Ehk-khohhh!" in all variations that I could think of. Still nothing.
Finally, a light bulb went off in my head. I grabbed my cellphone and opened the "text-to-speak" app and typed, "Echo, what time is it?" Pointing my phone toward Echo, I pressed play. A monotone synthesized voice emanated from my phone and … the blue ring of light lit up on Echo! "The time is 2:15 p.m.." Echo answered.
OK, so it wasn't an "E.T. phone home" moment — but they did talk to each other! And I've been using my cellphone proxy voice to give my commands to Echo ever since. Score one point for human ingenuity!
Computers seeking a cure
But here's something I'm really excited about. It proves we've turned the corner from making software that simply assists us, to software that's focused on our future well-being and finding a cure for ALS!
In this recent article in Reuters, How AI Robots Hunt New Drugs for Crippling Nerve Disease, Ben Hirschler describes how new powerful computers are sifting through all the available information on ALS. The goal is to find new leads for possible treatments and drugs, producing unbiased and thorough analysis of every data point possible.
Using this method, the Sheffield Institute of Translational Neuroscience has identified a potential drug that had "promising results in preventing the death of motor neurone cells and delaying disease onset."
Last year in Arizona, five new genes linked to ALS were found by IBM's Watson super-computer, reducing an effort from several years to only a few months.
In the end, assistive technology, robots and super-computers are working for us all, from helping us eat and talk to hopefully finding the cure for ALS. A goal that I'll happily be the one to push the "on" switch and let 'em run!
***
Note: ALS News Today is strictly a news and information website about the disease. It does not provide medical advice, diagnosis, or treatment. This content is not intended to be a substitute for professional medical advice, diagnosis, or treatment. Always seek the advice of your physician or other qualified health provider with any questions you may have regarding a medical condition. Never disregard professional medical advice or delay in seeking it because of something you have read on this website. The opinions expressed in this column are not those of ALS News Today or its parent company, BioNews Services, and are intended to spark discussion about issues pertaining to ALS.