Closing the Gap Between Self and Care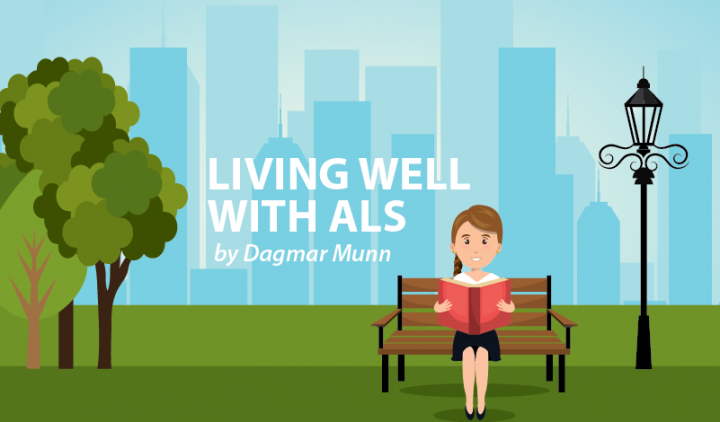 Just mention the term self-care in any conversation and you'll soon have many different definitions. It can be medical, describing how patients with a chronic disease are taught to self-manage their illness. Or self-care can mean the pursuit of personal wellness and a healthy lifestyle. And we've all seen those endless self-care lists that focus on topics like how to take a break from stress and get re-energized.
But now that I live with ALS, I've learned that self-care has one more meaning. For me, self-care is more than just doing things; self-care is an attitude I take toward myself — my inner self.
During the 1980s, I had the opportunity to be a part of the growing wellness movement. I taught students at our Center for Health & Well-Being that wellness was going beyond taking care of one's basic needs to survive. Our version of self-care included good nutrition, exercise, meaningful work, social connections, and spiritual values. It was a balancing of body, mind, and spirit.
And that same wellness philosophy continues to be a priority in my life today. But now I've made room for one more dimension of self-care.
With ALS there are two kinds of self-care
The first is used by our caregivers, who follow the well-founded advice of "take care of yourself before taking care of others." Caregivers avoid burnout and compassion fatigue by taking time off, following self-care tips, or by taking advantage of respite care.
On the other hand, for patients, ALS is 24/7; there are no mini-breaks or weekends off from the disease. Our challenge is to avoid feeling overwhelmed, and coping is no longer possible.
My first symptom showed up as a weak right foot that dragged with each step. I called it "my stupid foot" and felt anger that my once fit body was letting me down. Later, as both legs were affected and my speech declined, I looked for something — someone — to blame, and my thoughts pointed right back at me.
Deep down, I knew I didn't cause my ALS, and negative thinking wasn't healthy for my well-being.
How do I care for my inner self?
I decided to add one more dimension to my self-care: attitude.
I practice mindfulness and have made a New Year's resolution to own the moment. While I am being present, I extend loving kindness to myself.
Self-care IS care of our self — our inner self. For anyone with ALS, maintaining a sense of self is a priority. We do that by honoring our needs and working within our limitations. Self-care is vital for our well-being.
We have a choice: to simply live with ALS or to live well while living with ALS.
I choose the latter and invite you to join me.
***
Note: ALS News Today is strictly a news and information website about the disease. It does not provide medical advice, diagnosis, or treatment. This content is not intended to be a substitute for professional medical advice, diagnosis, or treatment. Always seek the advice of your physician or other qualified health provider with any questions you may have regarding a medical condition. Never disregard professional medical advice or delay in seeking it because of something you have read on this website. The opinions expressed in this column are not those of ALS News Today or its parent company, BioNews Services, and are intended to spark discussion about issues pertaining to ALS.