With Apologies to Ian Fleming: Squaring Off with ALS and COVID-19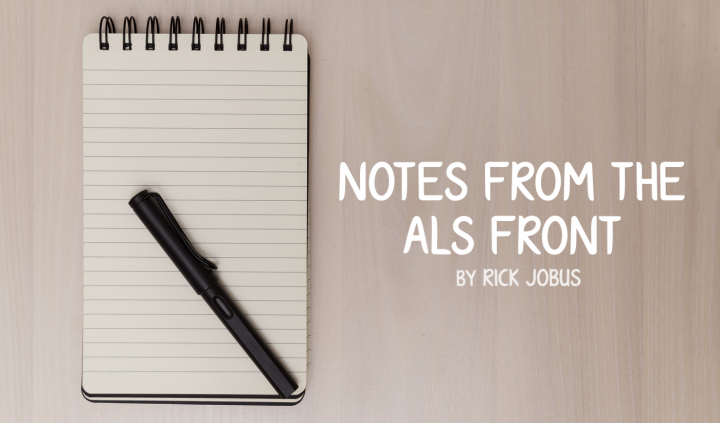 "The mind ought sometimes to be diverted that it may return to better thinking." –Phaedrus (Plato)
During these surreal times that shake us to our core, a mindless diversion is welcome: Have you heard the one about the three professional killers who walked into a bar …?
As the story goes, three figures independently ambled into an establishment. Two were shadowy characters, nearly silhouette-like. The third was a nattily attired man, with a cut of athletic jib. The bartender encouraged banter among her new patrons. She then wandered off.
Following their surprise, in learning they shared the same line of work, introductions were forthcoming.
The first shady character began. "I'm Amyotrophic Lateral Sclerosis, or ALS for short. Those letters strike paralyzing fear in all who hear them." 
The impeccably tailored gentleman offered that his name is "Bond … James Bond. Or 007 if you prefer. Those numbers mean I'm licensed to kill."   
"I've got you both beat," boasted the third member of the conversational troika. "I am known as COVID-19, a heinous combination of numbers and letters. That alphanumeric sequence means death to some, financial troubles for many, and panic for all."
COVID-19 went on: "I began my spree in China late last year, but have since extended my rampage to all corners of the globe. I've engaged well over a million innocent victims, shuttered businesses, handicapped the education process, choked the supply chain, rendered government intervention feeble, and I'm just getting started. What's more, my kill tally is in the tens of thousands."
ALS smiled. "I've been at this for a long time, and that is quite impressive, particularly your massive scope. However, I take issue with your kill percentage. It pales next to mine. And why announce where you come from? My origin remains a mystery, as does virtually all else about me. I want to keep it that way. I'm convinced that my inexplicable nature is a key factor in keeping my mortality rate near 100 percent. As an aside, much like you, I am a world traveler, and my casualties have done nothing to merit their fate."
Bond, having listened intently to both soliloquies, was convinced that he was sandwiched between demons. The two fiends now silently stared at him. He supposed that it was presently his turn. "I hail from Scotland. My passport has been stamped a fair bit. You are both quick to point out that you target the undeserving. Who's to say who is innocent among humankind? We are all guilty of more infractions than is possible to comprehend. But, as opposed to you two, my prey is always pure evil, meaning I've had far fewer opportunities to display my skill set. That said, when I set my sights on someone, they always perish."
"That's a bold claim," ALS observed. "Have anything to back it up?"
"My proof is I am here today, and I will be tomorrow," 007 responded. "My adversaries are viciously ruthless murderers in their own right. If any had survived, I'd be dead. Obviously, I am alive."
"I can change that." countered COVID.
"Actually, you can't," Bond calmly rebutted. "Now that we know your reach, I'm OK as long as a 6-foot perimeter is maintained. Much like George Foreman experienced when Muhammad Ali employed his rope-a-dope strategy, you'll tire of throwing ineffectual punches. In the meantime, scientists will discover offensive and defensive mechanisms, insulating the masses from your advances. You'll be yesterday's horrific news."
With that, COVID dejectedly left.
Bond then turned to ALS and remarked, "There. I've washed my hands of that."
ALS nervously replied, "I won't be that easy."
"Perhaps not," Bond retorted. "But your days are numbered as well. Once COVID is arrested, similar resources and assets will be directed against you. The world wants you out. In countless locations, across many nations, your secrets are being revealed. Clues are coming in at an accelerated pace. Countermeasures are being rigorously pursued. Soon you'll be swatted like a harmless house fly."
"Enough!" ALS demanded. "Does that license of yours include buzzes? Because you've killed mine. I'm outta here!"
Just then the barkeep returned. "Why did the gruesome twosome leave?"
"They crapped out, figuratively rolling an unwanted seven ….double oh seven. Oh well, here today, gone tomorrow," was Bond's reply.
"Good riddance!" exclaimed the barmaid. "Your next drink is on the house. What'll it be?"
Bond ruefully requested "a martini, drunk in advance celebration of those two disappearing forever." 
In keeping with the story's theme, I'll seek a diversion from social distancing and have a "quarantini," with an "ilive" — happy to remain, however shaken, not fatally stirred. 
"No matter what the siren voices say
Tomorrow's gonna be a better day
We're going to make it that way."
***
Note: ALS News Today is strictly a news and information website about the disease. It does not provide medical advice, diagnosis, or treatment. This content is not intended to be a substitute for professional medical advice, diagnosis, or treatment. Always seek the advice of your physician or other qualified health provider with any questions you may have regarding a medical condition. Never disregard professional medical advice or delay in seeking it because of something you have read on this website. The opinions expressed in this column are not those of ALS News Today or its parent company, BioNews Services, and are intended to spark discussion about issues pertaining to ALS.