Black Tie Optional: Dressing for Success with ALS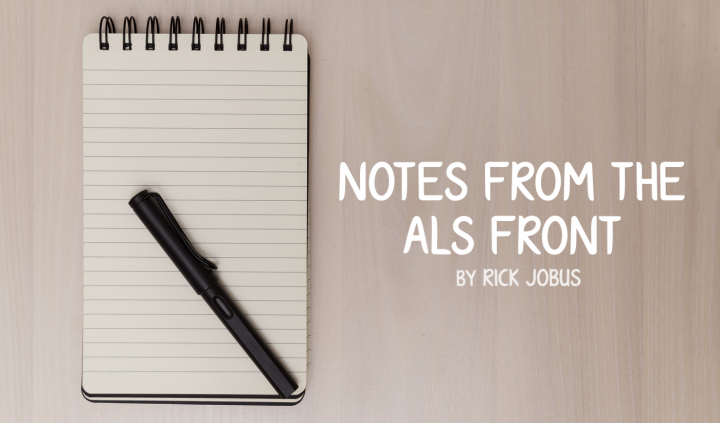 In Mark Twain's book, "A Connecticut Yankee in King Arthur's Court," the protagonist, Hank Morgan, is ridiculed during a roundtable assemblage for his strange appearance and dress. He is subsequently sentenced to burn at the stake. 
Except for literal immolation, I had the same fear as the implications of my rare attendance at a social event dawned on me. In last week's column, I shared my presentation at a local MDA fundraiser. I had enthusiastically accepted the invitation before digesting the fine print. The attire for the evening was semi-formal. Say what?
I had not worn a suit since 2010. The last time I wore long pants was 6 ½ years ago. My shoe collection consisted of a stained and scuffed pair of gladiator sandals. My stay-at-home default fashion statement is two T-shirts — one worn in the traditional manner and one draped over me, Tarzan-like, effectively a frontal loincloth. Semi-formal? At my best, I do well to appear semi-human.
Anticipating my anxiety-ridden dilemma, the event's coordinator kindly offered me special dispensation in the form of a dress code waiver. I considered invoking that privilege until I perused photos from last year's gala on the organization's Facebook page. Some men came sans tie; a few eschewed a sport coat. But no one, not even a child, attended in their version of my "Sunday best." My pride quickly became the mother of necessity — and the grandmother of invention.
Wardrobe challenges for someone like me are about more than style, fit, and budget. I can no longer dress myself. I can't independently move my legs. I exhibit minimal core strength and have limited manual dexterity and range of motion in my arms. Consequently, factors such as caregiver ease, positional dynamics, and toileting strategies become mission-critical considerations. Even nuances such as hem, seam, and tag placement become relevant when taking into account pressure-sore onset.
Thankfully, an adaptive clothing industry has emerged. Online and in-store options abound. One supplier has a portion of its website dedicated to ALS clothing. Not only did I find suitable alternatives, but the browsing process got me thinking creatively about modifications to my existing closet contents to render some of them ALS-friendly.
Ultimately, after some due diligence, my sartorial strategy was finalized. Because I couldn't fathom a "semi-formal" way to gracefully fumble with a plastic urinal, the cornerstone was my first-ever male adult diaper. Over it would be a pair of black, bilateral side-snap pants, whose donning and removal were exactly that — a snap. 
To prevent the hulkish size and complexion that my feet and ankles take on when left unelevated for extended periods, I chose black, easy-on/easy-off, CopperFit compression socks. They would be encased in black leather and mesh slip-ons, which on close inspection resemble slippers, but from a distance are indistinguishable from dress loafers. The shoes were intentionally ordered a full size larger to counteract my feet's tendency to spasm into hammertoe mode.
My shirt was a black pullover, again one size larger to accommodate my reduced range of motion. Had I opted to sport a necktie, it would have been of the clip-on variety. The ensemble was to have been capped off by a coffee and white herringbone pattern jacket. But alas, I had to forgo this final piece as I had miscalculated the compensatory size required, and it proved too much of a strain to put on.
The result was a relatively hassle-free dressing process. No one's body, feelings, or ego were bruised. Nearly as important, my wife and I were punctual. We spent more time deliberating over the container I should bring to transfer my event-supplied adult beverage of choice into, than on any step in preparations. While the omission of the sport coat might have cast me as the man in black, it was much preferable to experience the occasion as Johnny Cash in King Arthur's Court as opposed to Johnny Weissmuller.
Incidentally, owing to my clumsiness with utensils, and wanting to enjoy the meal in a safe and timely way, I consumed the entree in Camelot style. I ate chicken breast, roasted potatoes, asparagus, and garlic carrots by hand. What's more, the chocolate pie dessert was fork-fed to me, in the style of King Arthur, by my wonderfully patient wife.
And in the unlikely circumstance that anyone judged my appearance or table manners to be in poor taste, there's this from former Vogue editor-in-chief Diana Vreeland: "A little bad taste is like a nice splash of paprika. We all need a splash of bad taste — it's hearty, it's healthy, it's physical. I think we could use more of it." 
Call me papri(c)ka. Ain't life grand! 
***
Note: ALS News Today is strictly a news and information website about the disease. It does not provide medical advice, diagnosis, or treatment. This content is not intended to be a substitute for professional medical advice, diagnosis, or treatment. Always seek the advice of your physician or other qualified health provider with any questions you may have regarding a medical condition. Never disregard professional medical advice or delay in seeking it because of something you have read on this website. The opinions expressed in this column are not those of ALS News Today or its parent company, BioNews Services, and are intended to spark discussion about issues pertaining to ALS.