Lessons I Learned From My AFOs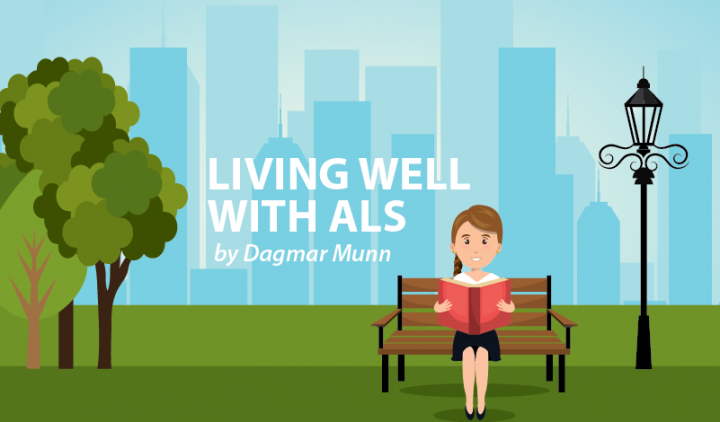 I'm happy to announce I've finally resolved a love-hate relationship — with my AFOs. It took persistence, but I can now step into my white, molded plastic ankle-foot orthoses and walk pain-free. That's important to me because I want to keep walking for as long as possible, and my AFOs help me do just that.
The backstory
Like many ALS patients who need to wear assistive devices, right from the get-go it was difficult to accept them into my life. My objections? They made me feel awkward, I needed larger shoes, they clashed with my clothing, and would people stop and stare? Fortunately, several creative solutions helped me get past all the mental blocks and learn to live with my AFOs.
But two issues remained
A few years later, I found myself struggling with two problems. Although the AFOs allowed me to walk without becoming tired, they started feeling heavier and heavier. And, ouch! My toes hurt.
Every step I took felt as if my feet were dragging heavy cement blocks. "Why would my doctor make me wear such heavy footwear?" I'd lament. So, I decided to weigh them. It turns out they weighed only 1.5 pounds each — less than a pair of typical winter boots!
This was around the same time I lost the ability to sit down in a chair and get up again without someone's help. My solution was to design a program to improve my leg strength. Starting with several small knee-bends or air squats, I eventually graduated to full-fledged chair squats: 40 a day.
And surprise, surprise: As my leg muscles strengthened, my AFOs felt lighter and lighter.
Next, came my aching toes
Utilizing my skills as a homecrafter, I cut and glued padding to the footbed of the AFOs. It didn't help. Neither did gluing padding to the insides of my shoes. All that padding squished my toes even more.
Noting my frustration, my husband joined in and pointed to an ad in an AARP magazine for little gel toe covers. My smile was all he needed to quickly place an order online.
When they arrived, I ripped out all the padding, carefully slipped a gel cover on each toe, and … aah, relief!
My story has a happy ending. But I know many ALS patients might let their frustrations take over and give up altogether. ALS throws many challenges our way, and I urge you to take the time to discover what works best for you.
Lessons learned
Change your perspective and look at your problem from all angles.
Be willing to try new approaches and listen to the suggestions from your caregivers, family, and friends.
Because I believe we can live well while living with ALS.
***
Note: ALS News Today is strictly a news and information website about the disease. It does not provide medical advice, diagnosis, or treatment. This content is not intended to be a substitute for professional medical advice, diagnosis, or treatment. Always seek the advice of your physician or other qualified health provider with any questions you may have regarding a medical condition. Never disregard professional medical advice or delay in seeking it because of something you have read on this website. The opinions expressed in this column are not those of ALS News Today or its parent company, BioNews, and are intended to spark discussion about issues pertaining to ALS.