Lessons Learned from Echo Show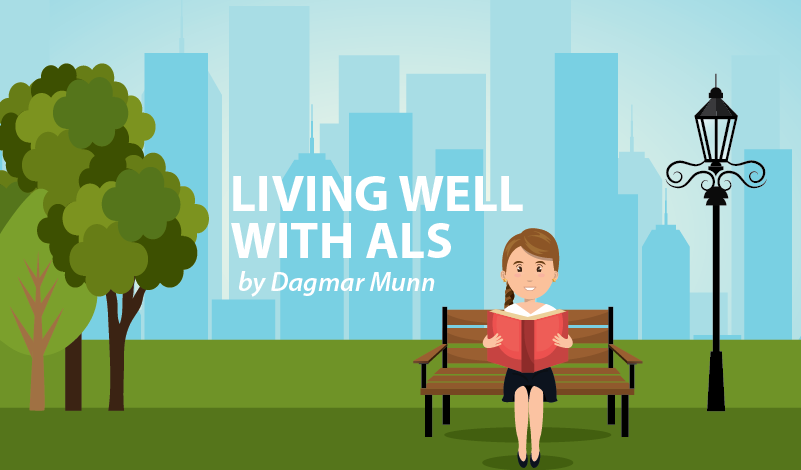 Recently, thanks to my ALS News Today publisher, I had the exciting opportunity to test out an Echo Show. Why would I rate that as exciting? Well, we already owned an Amazon Echo (tower-type) device, but with my ALS-affected voice, I was batting zero activating it. I had high hopes the touch-screen feature on the Echo Show would be more helpful. What I learned surprised me. It became a story of serendipity and how new uses for technology can be discovered when we least expect to find them.
Arrival and set-up
The Echo Show is a voice-activated tablet from Amazon Alexa. It can play music, podcasts, videos, news briefings and even look things up online. Set-up was easy. Just plug it in, log onto our Wi-Fi, and begin.
I lost an entire afternoon fiddling with the touch screen, which sadly wasn't that functional at all. Then, only three days into my new ownership, Amazon deleted all access to YouTube videos! "Oh well," I thought, "at least I still have music and news."
But the BIG "elephant in the room" was voice-activation. Like 80% of all ALS patients, I have dysarthria — an "ALS-voice." It's a slurred, slow speech with a nasal tone and an imprecise pronunciation of consonants. And no amount of repetition, variation in tone, or cajoling on my part would activate the blue light on the Echo Show. Eventually, I gave up trying and relied instead on the work-around I'd already devised for my other devices. Using the Text-to-Talk app on my cellphone, I simply directed one automated voice to speak to another.
A few weeks later, Amazon announced a new feature, voice profiling for family members. Halfheartedly, I downloaded the app and read aloud 10 sample sentences that flashed across the screen of my Echo Show. Echo! I called out. No response. So I went to bed and forgot about the whole thing.
Finding my voice
The following morning, my husband reminded me of the voice training from the night before and suggested I give it a try. Since our old tower Echo had been moved into the bedroom, I rolled over and called out "…Echo!"
The blue ring of light lit up!
In disbelief, I called out once more. Again, a blue light! For the next 10 minutes, I was perfectly happy just calling out and activating the blue light. Never mind following up with a question or command!
I continued to call out as I slowly sat up. But this time nothing happened. I lied down, called out — again the blue light. After a few more attempts, I realized that speaking with a relaxed body, a calm demeanor, and soft voice was the secret. Sitting or standing created tension in my voice. Aha! My wellness training kicked-in. It's all about posture, relaxation and not forcing my voice. I created mental cues: drop shoulders, sit, or stand in good alignment, breathe slowly — and only then, speak with a calm voice. Bingo! Blue light! (I imagine speech therapists everywhere collectively nodding in agreement!)
We often hear parents tell children to use their indoor voice, not their outdoor voice. Well, I named my new speaking technique: my Echo-voice.
Echo Show's feedback became my personal voice coach. And a strict one at that! Calm voice = blue light. Speak with tension = no response.  What followed were days and days of me calling out: Echo! Echo! Echo! Echo! My husband searched for ear-plugs!
Over time, I progressed to adding questions and commands. Each time, Echo Show rewarded my calm voice with jokes, morning news, weather reports and, yes, music.
I know I'm not curing my dysarthria. But I believe the visual feedback from Echo Show is teaching me how to better manage and hopefully save what little voice I have.
I've even begun applying my new voice skill to everyday conversations with others. Before speaking, I pause to mentally cue my body to be in good posture, relax, drop my shoulders, and breathe.
Using my new-found Echo-voice means I expend less effort speaking, I feel less tension and don't have to repeat words as often as before.
Lessons learned
Will this innovative use of Echo Show work for others living with ALS and dysarthria? I don't know, but I hope it might help some.  This unique experiment with an Echo Show taught me that technology not only can provide valuable assistance to those of us living with physical disabilities. But if we keep our minds open to possibilities, technology can also teach us how to live better — despite those physical disabilities.
***
Note: ALS News Today is strictly a news and information website about the disease. It does not provide medical advice, diagnosis, or treatment. This content is not intended to be a substitute for professional medical advice, diagnosis, or treatment. Always seek the advice of your physician or other qualified health provider with any questions you may have regarding a medical condition. Never disregard professional medical advice or delay in seeking it because of something you have read on this website. The opinions expressed in this column are not those of ALS News Today, or its parent company, BioNews Services, and are intended to spark discussion about issues pertaining to ALS.