How We'll Find That Perfect Ending to the ALS Story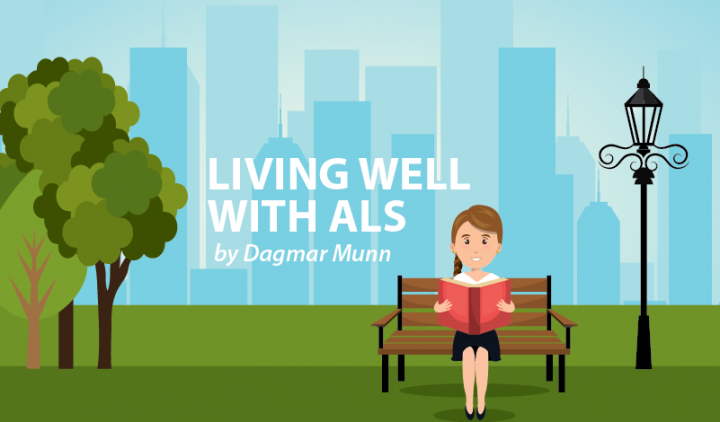 Last week, I caught up with a friend I hadn't seen in a while. After we chatted a bit about the challenges of the past year, she suddenly asked, "Isn't it strange that they haven't found a cure for ALS yet? I wonder what's holding them back?"
My mind flashed through a thousand reasons, then finally settled on a response: "Awareness. We just don't have enough people in the world aware of what ALS is. That means less money for research, and that limits potential medical breakthroughs."
Later, I mentally kicked myself for not picking up on the opportunity to encourage her to learn more about ALS and tell her about upcoming events for ALS Awareness Month in May.
First, a story
I was reminded of a story shared by a speaker at a National Wellness Conference I attended many years ago. At the time, the story didn't have the same impact on me that it has now that I live with ALS.
It's a story about an imaginary town located at the very bottom of a steep cliff. On top is a large, flat plateau with gorgeous views of the surrounding vista. Many people hike to the top to take photos. But every once in a while, someone steps too close to the edge and falls off, bumping and tumbling their way to the bottom.
Down below, concerned groups have elaborate systems in place to catch the "fallen," soften their landings, and even rush them directly to the local level five trauma center. Once there, physicians and therapists are ready to evaluate, diagnose, and provide helpful medications. Volunteer centers nearby coordinate support group meetings, home visits, and even loan out wheelchairs and walkers.
But when family members ask why people fall over the edge in the first place, the physicians can only scratch their heads and respond, "That's the hard part: We just don't know. We send up researchers, but they don't have enough money to stay and find out why. If we had the whole town aware and interested in our problem with the cliff, and giving funds and support, we could solve the mystery much faster."
But here is where the story diverges from that of ALS.
A perfect ending?
The tale continues with friends and family members of the "fallen," business owners, neighbors, and even the "fallen" themselves talking to anyone who would listen about the change they wanted to see. They talked about the problem and about the solution. They captured the community's attention, raised the funds, and sent teams to the top of the cliff. And in a perfect world, the ending to this perfect story is that they discovered the answer!
All it took was determination and building awareness.
Can we do it, too?
We hope that our "ALS story" will have a perfect ending, too. It can. It will. But how soon depends on everyone's participation. And the perfect time to start is May, for ALS Awareness Month.
 At ALS News Today, we're planning a few exciting activities to help promote ALS Awareness Month. For example, I'm helping to highlight several of our members in the ALS News Today Forums. We're even planning a Zoom "Meet & Greet" for our forum members and a special "IG Live" event at the end of the month. Be sure to check our Facebook and Instagram pages every day for announcements.
Although I'm still amazed when I encounter well-meaning friends who, when they learn that I have ALS, ask, "Why can't they fix that?" I know that opportunities to raise awareness are everywhere. Simple conversations happen all the time. This May I'll be sharing my story, the story about the current state of ALS, and I invite you to do the same.
Let's all join in. Let's keep the pressure on so that we can live well without having to live with ALS.
***
Note: ALS News Today is strictly a news and information website about the disease. It does not provide medical advice, diagnosis, or treatment. This content is not intended to be a substitute for professional medical advice, diagnosis, or treatment. Always seek the advice of your physician or other qualified health provider with any questions you may have regarding a medical condition. Never disregard professional medical advice or delay in seeking it because of something you have read on this website. The opinions expressed in this column are not those of ALS News Today or its parent company, BioNews, and are intended to spark discussion about issues pertaining to ALS.