A Night of Heroes: I Was Humbled to Speak at an MDA Fundraiser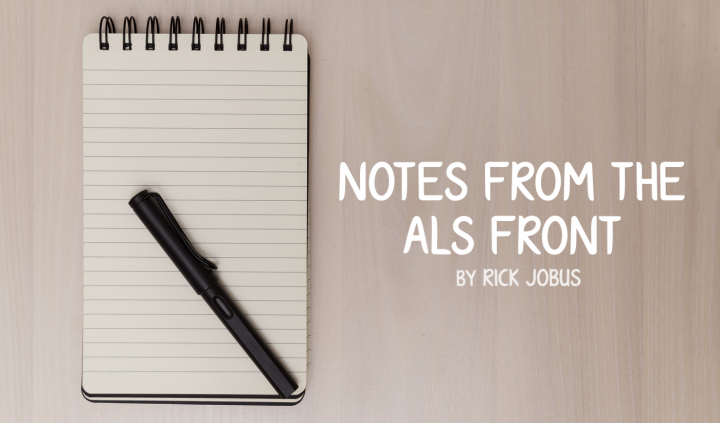 "I think of a hero as someone who understands the degree of responsibility that comes with his freedom." —Bob Dylan
Recently, I had the pleasure of participating in the annual Southwest Florida Muscular Dystrophy Association fundraising gala, "Toast to Life." 
Over 300 philanthropic folks attended. At $250 per ticket, the crowd was populated with individuals already invested in supporting MDA's mission. Additionally, numerous corporate sponsorships were sold. Besides the cost to attend, other contributions were solicited in the form of vocalized pledges, live and silent auctions, and raffles.
This year, MDA wanted to shed more light on the plight of those living with ALS. I was asked to prepare some remarks. The following is what I delivered via my stepson who read on my behalf:  
"While most of us would describe their existence as being composed of multiple chapters, I now have two distinctly different lives. Prior to January 2007, I had led an unremarkable life, largely characterized by good fortune. Some successes turned out better than they might have, and many of my mistakes not nearly as bad as they could have been. My career challenged me appropriately and rewarded me fairly.
"My leisure time was filled with enough activity, in the form of travel, golf, and basketball, that a fulfilling balance was maintained. My health — as evidenced by my weight, blood pressure, and critical blood analysis — predicted many robust years ahead. Upon being diagnosed, that prediction was, of course, invalidated, and my second life commenced.
"It began with infrequent, random stumbling. My left foot might get caught on a transition from tile to carpet, or maybe while climbing stairs, it would hit the riser before clearing the top of it. 
"It culminated with a neurologist's pronouncement: 'I'm afraid you have amyotrophic lateral sclerosis.'
"ALS is an incurable, catastrophic, rapidly progressing disease, leading to death in half of the people diagnosed within three years and 80 percent within five years. It is an indiscriminate serial killer. With no known root cause, ALS spares no demographic. You can't exercise, diet, medicate, relocate, or vaccinate yourself out of being at risk. You are left spending your remaining days in a prison cell of ever-shrinking walls, watching an uncalibrated, upside-down time glass.
"I am one of the lucky ones. Although ALS has literally rendered me a mute, figuratively chopped off my legs, and placed a piano upon my chest, I am still breathing. Through God's mercy, I have defied its cruel math.
"Thankfully, there are elements of one's essence that escape its reach. ALS cannot vanquish the spirit. It cannot cripple love. It cannot stifle courage. It cannot arrest faith. It cannot penetrate the soul. Most importantly, ALS cannot impact eternal life. Priceless gifts, indeed.
"That awareness may have escaped me if not for ALS. In that regard, it has been a blessing to me. I am a better man for this unwanted journey. That is not rationalization in search of a silver lining. That is fact. I pray for the wherewithal to pay that blessing forward until the last grain of sand in my hourglass has dropped.
"Several years ago, I was asked to prepare some words to be read at one of MDA's meetings. I realize that at tonight's gathering, the theme that I chose for that occasion is completely transferable to all of you.  
"That you are heroes to every individual and family that MDA serves, there can be no doubt. But in a larger sense, your intent is not to be heroes. Your aim is to make us, the afflicted, heroes. And make no mistake, any time someone is playing dodgeball with death and the ball misses them, a hero is made. Your support facilitates that. 
"Further, you are critical catalysts to us occasionally entering a disease-free zone. I have never in my life been more moved by existence, more awed by God's creation, and more thankful for the gift of life than I am when temporarily unshackled from the preoccupation of my own demise. You are part of that for everyone that MDA serves. And that is heady, heroic stuff.
"Of course, the ultimate goal is not to live longer and better with our neuromuscular diseases, but rather to live without them. The harsh reality is that the sources of misery often outpace the resources necessary to conquer them. However, once conquered, lives are spared. Self-sacrifice leading to saving a life? That is poster material for heroism.
"Thank you, and may God bless you all."
Based on feedback afterward, my comments were well-received, although I don't know if they moved the fundraising needle. I was grateful for the opportunity to heighten ALS awareness, and both humbled and encouraged to be in the midst of such a heroic cast.
***
Note: ALS News Today is strictly a news and information website about the disease. It does not provide medical advice, diagnosis, or treatment. This content is not intended to be a substitute for professional medical advice, diagnosis, or treatment. Always seek the advice of your physician or other qualified health provider with any questions you may have regarding a medical condition. Never disregard professional medical advice or delay in seeking it because of something you have read on this website. The opinions expressed in this column are not those of ALS News Today or its parent company, BioNews Services, and are intended to spark discussion about issues pertaining to ALS.