Adding MDA's Vast Resources to My ALS Arsenal and Giving Back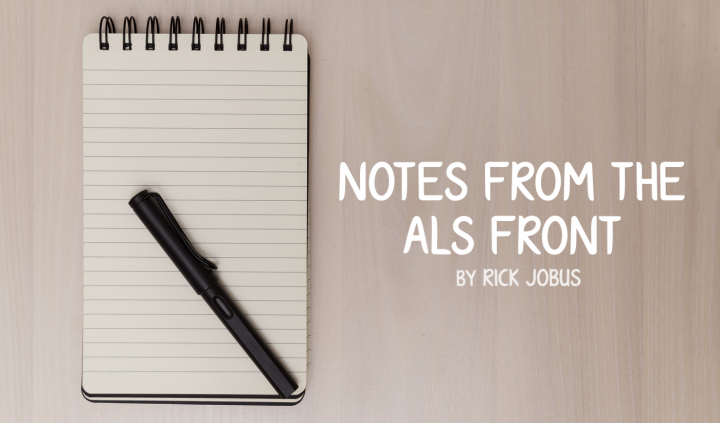 About a week after my initial ALS diagnosis, the crippling fog that it had produced lifted enough for me to seek a second opinion.
The appointment took place at the neurology department at the University of North Carolina, Chapel Hill. This location is one of more than 150 Care Centers in the Muscular Dystrophy Association (MDA) network. ALS is one of the dozens of neuromuscular diseases that fall under the MDA umbrella. Thus began an association and friendship that remains vibrant to this day.    
The medical community is baffled by some like me who remain "long-term" survivors. One factor that contributes to my quality of life — and fuels survival — is the MDA and the services it provides. For me, out of multiple offices and across states, they have:
Provided transportation to clinic appointments

Provided referrals for contractors compliant with the

Americans with Disabilities Act

Negotiated with insurance and healthcare providers on my behalf


Acted as advocates during clinical study participation

Acted as an intermediary with pharmaceutical companies for information on experimental treatments


Always answered the phone

Visited me periodically to check in
Beyond my experience, I have witnessed the profound impact that MDA has on many children and adolescents with debilitating, and often fatal, muscle diseases. Among its services, the organization:
Directs research funding

Hosts free summer camps

Runs patient/family support groups

Sponsors patient/family social events

Pays uninsured/copayment amounts for multidisciplinary clinic appointments

Loans durable medical equipment

Assists with durable medical equipment purchase and repair
Until I received my ALS diagnosis, I did not appreciate that muscle disease takes away the abilities we take for granted, such as hugging, smiling, walking, dancing — even breathing. Until I began partnering with MDA, I hadn't thought about the hundreds of thousands of children across this country with muscular dystrophy and related diseases.
That's why I support MDA's mission "to create more hope and answers for families living with muscular dystrophy and related diseases." As an enthusiastic participant in MDA's fundraising efforts, I'm determined to be a part of the progress that's saving and improving lives. 
I've written the following verse to explain the genesis of my sponsorship:
When I first learned I had ALS,
my life began to quickly compress.
To forestall loss of all mobility,
I began to do physical therapy.
As I entered the gym, to my surprise,
I saw muscle loss of all ages and size.
Seeing the kids smile, though in pain,
instant perspective I did gain.
While stricken at commencement of their life,
they cheerfully belied any hint of strife.
Despite long odds and a tortuous path,
they refuse to yield to the disease's math.
To see these brave warriors ever so gritty,
what right did I have to wallow in self-pity?
The fight I have waged against a cruel foe,
began when I saw true valor 10 years ago.
Led by the example from brethren so small,
they taught me to rise and laugh after each fall.
When I raise money, it's about them,
kids that share their intrepid emblem.
Of course, I have other more peripheral reasons to hoist a flag on behalf of MDA:
The association's tenacity in extending and maintaining a lifeline is exemplary. I try to give back whenever I can. 

I remain hopeful that its contributions to research will help to find a cure for all neuromuscular diseases. While I am not happy to attend fundraising events from the confines of a wheelchair, it breaks my heart when I see that children in wheelchairs outnumber the disabled adults present. Selfishly, I pray and hope for a cure for ALS in my lifetime, but we have to eradicate muscle disease for this and future generations of children. 

A communal aspect unites the stricken and their caregivers, in one beautiful show of force. 

Fundraising provides me with a placebo effect, produced by the benefit of doing something with purpose in retaliation against ALS.
However, my primary motivation for participating is the children. I realize that other worthwhile causes exist behind which I could throw my efforts. Some are specific to ALS, and I have acted on their behalf. But in a world where the sources of misery far outpace our resources to arrest them, one has to prioritize. When the benefits for innocent children is factored in, I believe that MDA provides more bang for each figurative and literal buck spent.  
For those who are unaware, like I was, of MDA's scope and reach, I recommend that you familiarize yourself with the services that it offers. I further advocate availing yourself of its services, as necessary. And as your wherewithal and mood dictate, assist them financially. After all, with an adversary like ALS, you need all the weapons you can get.

***
Note: ALS News Today is strictly a news and information website about the disease. It does not provide medical advice, diagnosis, or treatment. This content is not intended to be a substitute for professional medical advice, diagnosis, or treatment. Always seek the advice of your physician or other qualified health provider with any questions you may have regarding a medical condition. Never disregard professional medical advice or delay in seeking it because of something you have read on this website. The opinions expressed in this column are not those of ALS News Today or its parent company, BioNews Services, and are intended to spark discussion about issues pertaining to ALS.