Mission Impossible? The Quest for Perpetual ALS Awareness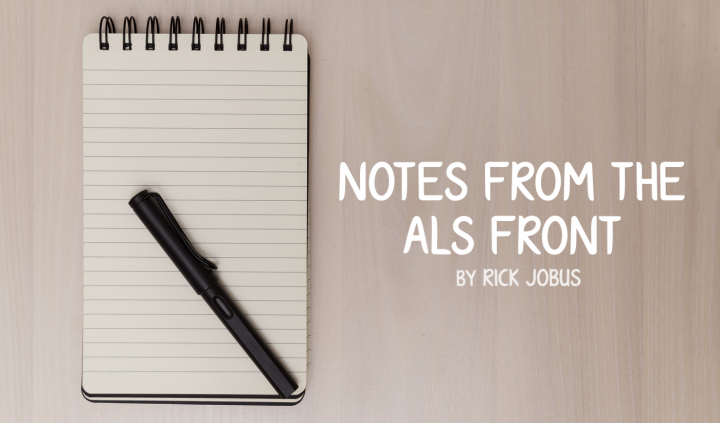 In 1992 the 102nd U.S. Congress declared, via joint resolution 174, that May become National ALS Awareness Month. Part of the text speaks to "finding the causes of, and the cure for, ALS will prevent the disease from robbing hundreds of thousands of Americans of their dignity and lives … raising public awareness of this disease will facilitate the discovery of a cure."
Since its enactment, the observation has sought to spotlight the tremendous challenges faced by individuals with ALS. The hope is that personalization of the struggle will inspire heightened donations, thus accelerating worldwide research for mitigating treatments and an eventual cure.
Under ordinary circumstances, given the many worthwhile causes that seek charitable contributions to address sources of misery, it's a competition for a finite pool of discretionary contributions. Complicating that, our culture's attention span is ever-decreasing due to seemingly nonstop distractions.
This year, with the ominous pall cast by COVID-19, fundraising may approach an exercise in futility. How can empathy be engendered when the entire planet is suffering? 
The pandemic will pass. After normalcy is restored, will ALS awareness be remembered? Perhaps a better question: Is there a way to subtly influence its endurance?
Toward that end, I'd like to make a proposal to any published author of fiction — or any aspiring one — who chances upon these words. Please consider creating a serialized character. Consistent with many protagonists of the thriller genre, the lead should possess both uncommon physical prowess and estimable mental acuity. Inherent to their makeup should be a sprinkling of sufficient foibles to make her or him relatable. Their line of work will occasionally thrust them into adversarial relationships relative to sinister conspiracies against the greater good.
The initial plot would find the hero embroiled in just such a conflict. Two steps forward, one step back, progress would be had. But along the way, the main character will have a nagging sense that something was off in their performance. They invoke the rationalization that it is merely Father Time being territorial … until a nearly mission-critical incident forces medical consultation.
After a battery of tests, to include three electromyographic ones, the game-changing news is delivered: the best bet to thwart the current malevolent threat has ALS. Somehow our champion regroups, compartmentalizing the horrific knowledge, and the good guys win.
Subsequent entries to the series would depict the protagonist's physical function steadily eroding. That decline necessitates a variety of ingenious adaptations, each described in vivid detail. A cascading reliance on cutting edge — often prototype — assistive devices enables continued impactful participation on the front line. However in later books, due to symptom progression, the mainstay's presence would have to be relegated to behind-the-scenes orchestration. Yet, in defiance of a failing body, the cognitive process becomes sharper and the central figure remains vital. She or he always emerges victorious.
Common subplots will be carried throughout the series.
Relationships will be cultivated and maintained among the ALS community. Through interaction with this expanding network of PALS, the reader is afforded glimpses into the comprehensive tragedy of ALS. The systemic hopelessness will be illustrated. In the lead's downtime advocacy issues will be advanced.
Owing to the protagonist's societal value, early access to any promising therapeutic intervention will be granted to her or him. Condition improvement and lengthy plateauing — whether real or imagined — will be perceived. A side reader benefit will be the exploration of the prevailing research frustration, drug development mystery, and regulatory quagmire that encapsulates ALS.
In this fictional world, the star's notoriety will compel a greater influx of private philanthropic investment targeting a cure, and keener government focus in support of one. Illuminating scientific strides will be made.   
Of course, every book run is limited. Even the prodigious Sir Arthur Conan Doyle and Agatha Christie did not have their respective Sherlock Holmes and Hercule Poirot carry on forever.
I envision a series finale in which the central figure, facing their most daunting foe, experiences a major health breakthrough. It's not immediately known whether the effect is the result of a singular treatment or the combination of multiple distinctly different ones, but a good portion of the icon's strength returns. That reversal proves absolutely essential in vanquishing a diabolical menace. In epilogue fashion, the exact medical protocol responsible for the resurgence of function will be isolated, confirmed for widespread application, and made available for sufferers of ALS worldwide.
I admit that it's A Long Shot. But in the hands of a Louise Penny, Dan Brown, David Baldacci, Patricia Cornwell, et al., the premise potentially has some legs. It's a welcome, future example of life imitating art.
***
Note: ALS News Today is strictly a news and information website about the disease. It does not provide medical advice, diagnosis, or treatment. This content is not intended to be a substitute for professional medical advice, diagnosis, or treatment. Always seek the advice of your physician or other qualified health provider with any questions you may have regarding a medical condition. Never disregard professional medical advice or delay in seeking it because of something you have read on this website. The opinions expressed in this column are not those of ALS News Today or its parent company, BioNews Services, and are intended to spark discussion about issues pertaining to ALS.