The Monster That ALS Is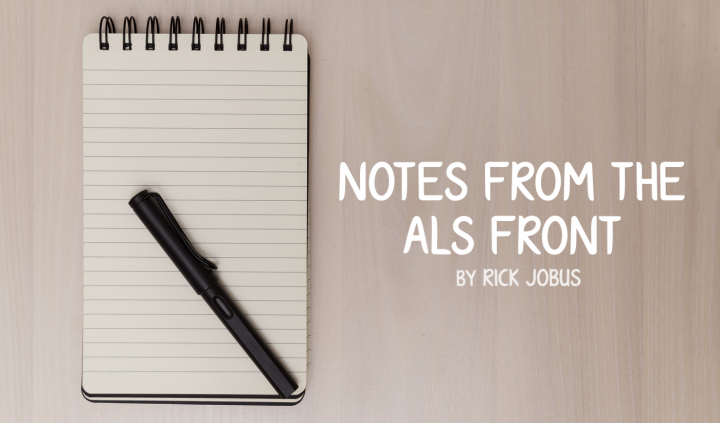 Donald Rumsfeld, the former U.S. Secretary of Defense, once stated at a Defense Department briefing in 2002 that, "There are known knowns. There are things we know that we know. There are known unknowns. That is to say, there are things that we now know we don't know. But there are also unknown unknowns. There are things we do not know we don't know."
Confoundingly, that is a picture-perfect characterization of ALS. In terms of scientific command, ALS awareness is an oxymoron.
What is known are the grim statistics. Based on U.S. population studies, on average, 15 people are diagnosed with ALS in this country each day. Just under half of these will die within three years of diagnosis. ALS is 100% fatal. The financial toll can be excruciating. An estimate of the cost in the advanced stages of progression puts the tally at $200,000 a year. Military veterans are nearly twice as likely to develop ALS.
As dire of a portrait as that is, the list of what is known to be unknown is maddening. It is not known why a person gets ALS. We don't know how to stop it. And we certainly don't know how to make it go away. In baseball parlance, a "perfect game" is said to have occurred when a team allows their opposition no hits and no runs, and has committed no errors. ALS enforces a similarly stringent mandate: no cause, no cure, and no hope.
Beyond that summary statement, hundreds of initiatives focus on a plethora of known ALS unknowns. Typically, they yield more questions than answers. One such study is examining the claims of ALS reversals. When discussing the topic with my neurologist, she offered the possibility that the identified patients were initially misdiagnosed. Maybe ALS was not the original culprit. A copycat perpetrator? That would be a huge unknown.
When it comes to not knowing what is unknown about ALS, it's impossible to gauge the size of that submerged iceberg. Judging by the frequent flow of heretofore double unknown research nuggets that bubble up, it may be sizable. A sampling of ALS News Today's recent articles reveals some serendipitous knowledge breakthroughs. Findings like the early diagnostic potential of blood biomarkers, the role that TDP‐43 mislocalization and aggregation may play, the surprising counterintuitive dual impact of the TBK1 protein, and the notion that abnormalities in cell lipid metabolism may be linked to disease onset, were all of the "aha!" variety.
The inscrutable nature of ALS renders it impossible even to lampoon. The comedy troupe Firesign Theatre enjoyed pockets of popularity in the late 1960s and early '70s. In their darkish "Beat the Reaper" sketch, a mock game show is played in which the contestant is injected with a terminal disease. If the contestant is able to guess what it is, based on the arising symptoms, the prize is the antidote. If the contestant fails to self-diagnose, they are sent home with the disease. With symptoms varying from person to person, a protracted diagnosis by exclusion, and no remedy, ALS is exempted.
Truly ALS is an unassailable monster on all fronts.
Among readers and moviegoers alike, horror remains an ever-popular genre. Its most successful content creators achieve a notoriety that spans generations. Their monsters embody unfathomable evil. Yet, if through the magic of time travel, an assembly of Mary Shelley, Bram Stoker, Edgar Allan Poe, Rod Serling, Anne Rice, and Stephen King were to be convened, collectively they could not concoct a force exhibiting such indiscriminate malevolence as ALS does.
Continuing the horror villain metaphor, suppose that "Alien" and "Predator" mated and produced an offspring. Further suppose that their progeny was exponentially advanced genetically beyond them in both its appetite for heinous butchery and otherworldly, inherited indestructibility. If that master-race-engendered monster encountered ALS, it would be crushed. 
I am currently in the ALS torture chamber awaiting my fate. If you are reading this and not under the maniacal grip of ALS, I am compelled to offer a word of warning. There is a diabolical serial killer on the prowl for unwitting victims. Through no apparent fault of your own, you can fall prey. Until the siege is ended, please be aware.
***
Note: ALS News Today is strictly a news and information website about the disease. It does not provide medical advice, diagnosis, or treatment. This content is not intended to be a substitute for professional medical advice, diagnosis, or treatment. Always seek the advice of your physician or other qualified health provider with any questions you may have regarding a medical condition. Never disregard professional medical advice or delay in seeking it because of something you have read on this website. The opinions expressed in this column are not those of ALS News Today or its parent company, BioNews Services, and are intended to spark discussion about issues pertaining to ALS.