Could Thinking Outside the Box Lead to a Cure for ALS?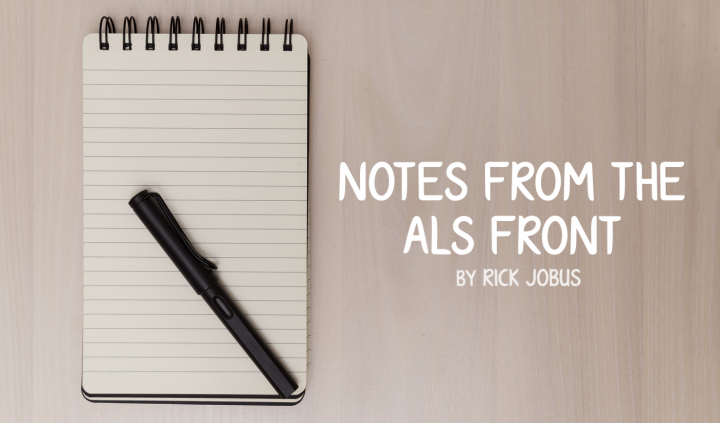 Shortly after emerging from the stupor that culminated in my ALS diagnosis, I was consumed with a zeal to learn all that I could about the millstone dangling heavily from my neck. Toward that end, I read everything I could lay my eyes upon, though some material was light-years over my head. I was insufferable with my endless list of questions for my care team, and my participation in all ALS-related webinars was unflagging.
Eventually, I reached a supersaturation state with respect to data intake capacity, the tiresomely exacting approach to disease arrest, and my fanaticism with the command of subject matter. As a result, I backed off my frenetic effort to take in every nuanced aspect of ALS-related current events. For example, I now only sit in on webinars if the content piques my curiosity and my mood dictates it.  
Last week, both factors registered in the affirmative, so I participated in the webinar "Postcards from the Edge: Updates on Six Unusual ALS Projects." I thought the title hinted at something different. Organized by the Northeast ALS Consortium, it featured Dr. Richard Bedlack, director of Duke University's ALS clinic. The event did not disappoint.
The webinar began with a description of the ALS Clinical Research Learning Institute. The genesis for the clinic was the relatively poor enrollment rate observed for ALS clinical studies. Initially modeled after a similar effort for Parkinson's disease, its mission is to empower attendees to be advocates for ALS clinical research. Once "graduated," the hope is that each ALS Research Ambassador will become more active in the effort to find a cure for ALS.
In the webinar, Dr. Bedlack gave an update on ALSUntangled, a program for the tabulation, prioritization, and review of alternative and off-label ALS treatments. Composed of more than 120 expert reviewers from 11 countries, the program is a deep dive into the safety and efficacy of the suggested interventions. To date, 50 reviews have been published, with another 400 treatments nominated. While no breakthrough has been confirmed, the initiative provides an excellent resource for anyone interested in alternative therapies for ALS.
Who knows? A self-healing approach may even lead to an infinitesimally rare ALS reversal. In the webinar, Dr. Bedlack stated that he had examined 43 authenticated cases of regained "significant" or "complete" motor function in those who had previously received an ALS diagnosis. Dr. Bedlack explained how, in conjunction with CReATe (the Clinical Research in ALS and Related Disorders for Therapeutic Development Consortium), a team from Duke University would be exploring the genetics of those with ALS reversal. Under the same program, titled "Study of ALS Reversals," microbiome and environmental exposures also will be studied.

In advance of that scientific analysis, a cursory comparison of the reversal population offered an interesting similarity. Three had taken curcumin, a compound in the spice turmeric, as well as other supplements. Curcumin also hypothetically is a mechanism of action against four theorized causes of ALS. As a result, Dr. Bedlack is directing a curcumin study in the hope that the knowledge gained might inform a treatment that could replicate the reversals.
Dr. Bedlack intends to explore two other novel treatment concepts. One involves clenbuterol, a beta agonist approved outside the U.S. for asthma. It is also known as a banned substance for athletes due to its performance-enhancing effects. A small study of clenbuterol for ALS published in 2006 showed encouraging results, including over 20 percent improvement in manual muscle tests.
Another creative avenue that Dr. Bedlack is looking at involves filtering spinal fluid. Studies have indicated that the spinal fluid of those with ALS contains pro-inflammatory substances. The medical technology company Minnetronix has developed a device that filters blood from spinal fluid. Dr. Bedlack hopes that if the device can remove the microscopic toxins present in the spinal fluid of those with ALS, therapeutic benefit may follow. If he is successful with his proof of concept, he intends to seek approval for a small pilot trial in 2020.
The webinar closed with a slide stating, "No need to think outside the box, simply realize there is no box." That's refreshingly welcome thinking in the steadily shrinking box that ALS can often feel like for those of us with the disease.
Or, as the serpent in George Bernard Shaw's play "Back to Methuselah" said: "You see things; and you say, 'Why?' But I dream things that never were; and I say, 'Why not?'"

A cure for ALS? Why not?
***
Note: ALS News Today is strictly a news and information website about the disease. It does not provide medical advice, diagnosis, or treatment. This content is not intended to be a substitute for professional medical advice, diagnosis, or treatment. Always seek the advice of your physician or other qualified health provider with any questions you may have regarding a medical condition. Never disregard professional medical advice or delay in seeking it because of something you have read on this website. The opinions expressed in this column are not those of ALS News Today or its parent company, BioNews Services, and are intended to spark discussion about issues pertaining to ALS.