Chasing Down My 'Someday-itis'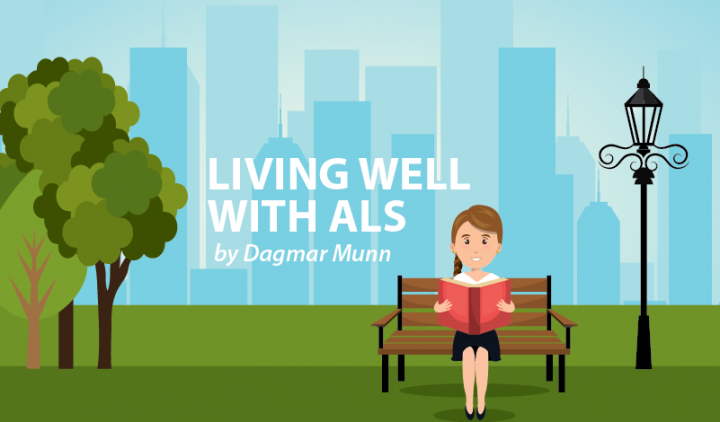 My husband is one of those people who attacks projects from beginning to end with a laser-like focus. Me? Oh, I get things done — well, eventually. Distractions, the tendency to overcommit plus a curiosity to follow "the next big thing" all contribute to my meandering approach. Really, I do plan to finish things — well, someday.
However, since being diagnosed with ALS, I've been trying to adopt my husband's approach. Because with ALS, time is no longer a limitless commodity and safety concerns are a constant priority. Do it now, get it done, is my hope and aim.
Taking care of my future self
A while ago, I noticed myself struggling to pull a shirt off its hanger in my closet. That prompted me to become proactive and reorganize my entire closet area and clothing choices with the goal of creating accessibility — for me right now and for the future when someone else is dressing me. It took me about a week and when it was all done, items that I'd never use again were in donation bags ready to be dropped off. I even added a chair nearer to the closet to safely sit on while dressing.
Similar projects were tackled with the same tenacity, including clearing out the bathroom medicine cabinet and decluttering my computer workspace, along with a collection of books and magazines. Convinced that there were no more big issues to confront, I heartily congratulated the new, efficient Me.
Outdated dreams
But just last week, a midnight leak in our refrigerator's water line revealed a few more previously hidden issues.
We woke up to water covering the kitchen floor and creeping into a small adjoining room — my craft room. Languishing in that room was an embarrassing amount of yarn, fabric, and leftover craft supplies. Granted, since the onset of my ALS I've spent less and less time in that space. But I always promised myself that someday I'd go in and finish knitting that sweater. Someday I'll sort through the paintbrushes. Someday I'll rewind the ribbons. And on and on.
The room exposed my "someday-itis."
Surveying the water damage, my husband and I agreed the immediate need was to move everything out. In shock, I muttered, "This will take a few days." But my husband's expression plainly said, "Now!"
So there I sat with three large plastic bags in front of me, making split-second decisions. Keep? Throw? Donate? I pretended I was a declutter ninja. Yet worries bubbled up. Would I regret giving this item away? Would I need it later? Would I end up having nothing at all?
But as each bag left the room, my task became easier and easier. A weight was lifted from my brain. All those mental promises I'd been holding onto of finishing something I probably wouldn't wear anyway, or a craft project that didn't hold my interest anymore, slowly disappeared. I felt appreciation for the experience of having learned that craft, but at the same time an immense been there, done that sensation.
Plus, I felt relief that I had the opportunity to do the sorting and donating myself. I wasn't leaving the task for someone else.
A happy ending
The carpet and wall have since been repaired. I'm happy knowing my donations will be enjoyed by other crafters. I'm happy I have a small container of a few manageable projects that I can get to guilt-free, whenever I choose. And I'm happy the whole experience is behind me.
I know I may always have a little "someday-itis" hiding in me. But with patience and diligence, I also know I can continue to live well while living with ALS.
***
Note: ALS News Today is strictly a news and information website about the disease. It does not provide medical advice, diagnosis, or treatment. This content is not intended to be a substitute for professional medical advice, diagnosis, or treatment. Always seek the advice of your physician or other qualified health provider with any questions you may have regarding a medical condition. Never disregard professional medical advice or delay in seeking it because of something you have read on this website. The opinions expressed in this column are not those of ALS News Today or its parent company, BioNews Services, and are intended to spark discussion about issues pertaining to ALS.