ALS: The Musical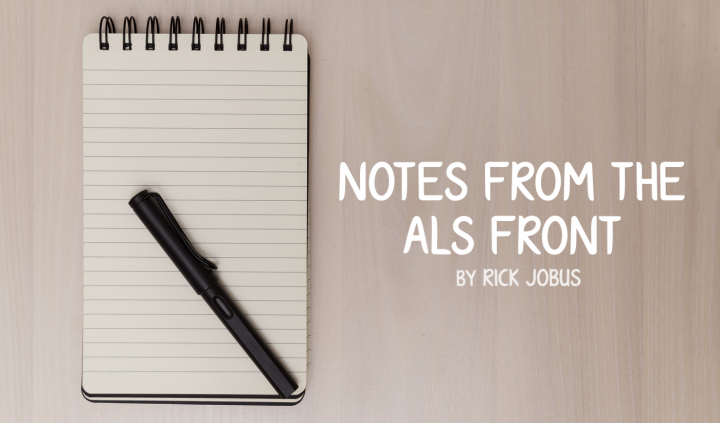 The spark of inspiration for column topics sometimes comes to me from surprising sources. Last Saturday, with my submission deadline looming, I had nothing … nada … bupkis. Fearing I would to have to forgo my weekly passion, I passed the time reading, with some music playing in the background. Suddenly, inspiration jumped out from an Elvis Presley hit. I realized that my ALS saga could mostly be retold by borrowing from song lyrics. 
One day I noticed:
My hands are shaky and my knees are weak / I can't seem to stand on my own two feet
I finally sought medical attention:
I said "Doctor (Doctor), Mr. M.D. (Doctor) / Now can you tell me what's ailin' me?" (Doctor)
His answer: 
The end / Of our elaborate plans, the end / Of everything that stands, the end / No safety or surprise, the end.
My initial reaction:
When logic and proportion / Have fallen sloppy dead / And the White Knight is talking backwards / And the Red Queen's off with her head
Then, I wept:
Tears of rage, tears of grief / Why must I always be the thief? / Come to me now, you know we're so alone / And life is brief
Anger took over, and I wanted to mount a fight by borrowing Maxwell's Silver Hammer or employing Roland the Headless Thompson Gunner.
If I had a rocket launcher…I would not hesitate
Expert response to my rage:
Why are you obsessed with fighting / Times and fates you can't defy?
In that instant, I considered that: 
I don't want to start any blasphemous rumours / But I think that God's got a sick sense of humour
That dark moment was interrupted by an angel:
She walked up to me so gracefully and took my crown of thorns / Come in, she said / I'll give ya shelter from the storm
I resolved to:
Wake up from an elusive dream / You've got to change the scene / It's getting so hard to see to the end / Break down, all of the walls you can
I've tried to avoid the trap:
Don't it always seem to go / That you don't know what you've got till it's gone
I began capturing mental Kodachrome images:
They give us those nice bright colors / They give us the greens of summers / Makes you think all the world's / A sunny day
I tried to see the glass as over half full:
Grab your coat and get your hat / Leave your worries on the doorstep / Life can be so sweet / On the sunny side of the street / Can't you hear the pitter-pat / And that happy tune is your step / Life can be complete / On the sunny side of the street
Physically, I am increasingly limited, but emotionally, I would remain unshackled:
Give me my freedom for as long as I be. / All I ask of living is to have no chains on me. 
Realizing that:
It's a hard life to live, but it gives back what you give
Throughout the ALS journey my faith — belief plus trust — in God has steadily grown:
But my hand was made strong / By the hand of the Almighty / We forward in this generation / Triumphantly / Won't you help to sing / These songs of freedom? / 'Cause all I ever have / Redemption songs
Whenever The Long and Winding Road of life manifests itself as being a Road to Nowhere, I remind myself that: 
When I die and they lay me to rest / Gonna go to the place that's the best / Prepare yourself you know it's a must / Gotta have a friend in Jesus / So you know that when you die / He's gonna recommend you / To the spirit in the sky
This ALS ordeal has had a silver lining for me. Love of God and fellow man have finally become my rightful priorities:
Some may come and some may go / We shall surely pass / When the one that left us here / Returns for us at last / We are but a moment's sunlight / Fading in the grass / Come on people now / Smile on your brother / Everybody get together / Try to love one another / Right now
My mom, whose name was Mary, occasionally comforts me in my dreams — particularly after a bad day with ALS. She offers her brand of wisdom, which always adds up to:
After all:
Que será, será / Whatever will be, will be / The future's not ours to see / Que será, será / What will be, will be
***
Note: ALS News Today is strictly a news and information website about the disease. It does not provide medical advice, diagnosis, or treatment. This content is not intended to be a substitute for professional medical advice, diagnosis, or treatment. Always seek the advice of your physician or other qualified health provider with any questions you may have regarding a medical condition. Never disregard professional medical advice or delay in seeking it because of something you have read on this website. The opinions expressed in this column are not those of ALS News Today or its parent company, BioNews Services, and are intended to spark discussion about issues pertaining to ALS.