Listen! Can You Hear Me Now?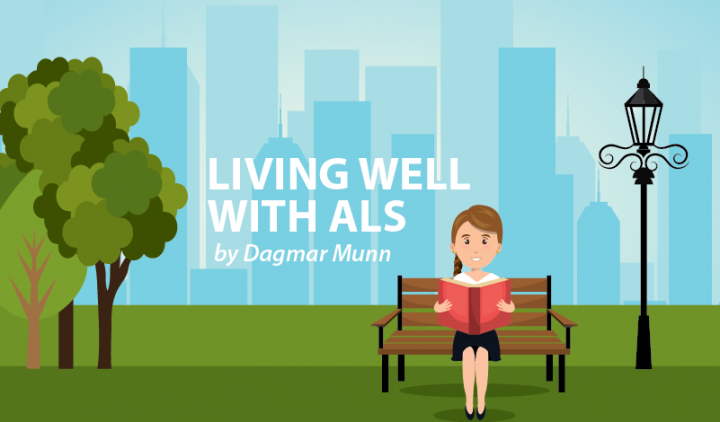 Living with ALS has taught me to adapt, adapt, and adapt. Because ALS symptoms tend to change, change, and change. And one of the symptoms I've been learning to adapt to is dysarthria, or losing the ability to speak.
Dysarthria feels like having a bad case of laryngitis and a lazy tongue that is two steps behind what my mind wants to say.
Exploring my options
In the beginning, I poked fun at my "angry pirate" voice. Having spam callers hear my gruff "Har-row?" and hang up on me felt like a victory of sorts.
But long, in-person conversations with friends became tiring. And I knew that even though they nodded politely, they weren't always understanding me. Like every other ALS patient with dysarthria, I was told by my medical team that eventually I would lose the ability to speak and that assistive technology would speak for me.
Out-of-the-box thinking
I didn't want to give up so easily. Two years ago, I wrote about how I was using Andrea Caban's innovative techniques to help save what little voice I had.
The techniques included sitting up tall, speaking with a higher or lower pitch, moving consonants to the front of the mouth, and using the diaphragm like an opera singer while speaking. I was happy with the results and could produce longer sentences with each breath.
Being on a roll, I explored YouTube videos for beginning singers. Turns out there are lots of helpful lessons for "fragile voices."
I learned the value of humming, memorized several easy vocal warmups, and improved my diaphragmatic exhalation so that I could recite 30 words in one breath!
A clinic discussion
During a recent visit to my ALS clinic, I proudly shared everything with my speech-language pathologist. She happily acknowledged my improvement and said she was satisfied with my vocal status.
"But," she added, holding a finger in the air, "what you need is a personal amplification device. You know, a portable microphone!"
Hmmm. Why didn't I think of that?
She turned to the computer in the room, called up a website, and showed my husband and me the screen.
My mind flashed to the possibilities. No more straining to be heard in noisy restaurants. No more frustration in crowded social gatherings. No more hollering across the house when my husband forgets how to copy and paste on his computer. (I'm sure we're the only couple that sits in two different rooms while on our computers and hollers our conversations!)
I could immediately visualize the advantages.
Next steps?
My personal microphone is on order and it should arrive soon. I'm looking forward to testing it out in all kinds of situations and sharing my experiences in a future column.
Remember: Always be open to new ideas, be willing to adapt, and live well while living with ALS.
***
Note: ALS News Today is strictly a news and information website about the disease. It does not provide medical advice, diagnosis, or treatment. This content is not intended to be a substitute for professional medical advice, diagnosis, or treatment. Always seek the advice of your physician or other qualified health provider with any questions you may have regarding a medical condition. Never disregard professional medical advice or delay in seeking it because of something you have read on this website. The opinions expressed in this column are not those of ALS News Today or its parent company, BioNews Services, and are intended to spark discussion about issues pertaining to ALS.