How I Stop Feeling Overwhelmed by ALS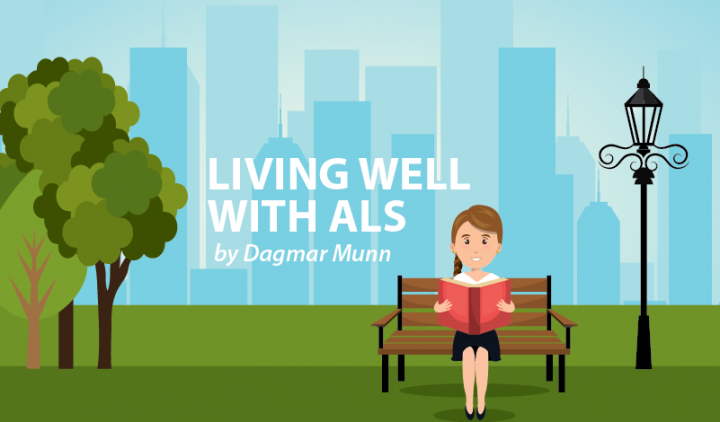 It doesn't matter if you are a patient living with ALS, or the person who provides care, ALS can feel overwhelming. Too many changes, too many decisions, and our own energy ups and downs can make us want to throw in the towel and holler, "I give up!"
One way I bring balance back into my life, especially now that I live with ALS, is to pay attention to my daily life routine.
How does ALS overwhelm us?
ALS brings unwanted changes to our bodies. Moving, eating, talking more slowly, and feeling fatigued are all common symptoms for people living with ALS.
We face mounting decisions about our healthcare and worry about the future. We dwell on the things we can't do anymore and put ourselves in what I call the "ALS waiting room."
Medical appointments and home-care needs disrupt our day while the fun things we used to do get pushed aside. Normal isn't normal anymore.
Loathingly, we call it our "new normal." But wait, I believe we can turn our new normal into a good normal.
Revise and declutter
For me, it boils down to decluttering my entire day. In the first year following my diagnosis, I found myself trying to keep up with my pre-ALS life while accommodating the things that had changed because of ALS.
Just like cleaning out a closet, I examined my daily activities and chose what to keep and what to get rid of. I looked for time-wasters, energy-wasters, and things that were no longer important to me. For example:
Swimming at the local pool was my favorite pre-ALS activity. But with ALS, it took me longer to get ready to go, and once in the water, my movements weren't as effective. Now I exercise at home, dividing it up by doing several short bouts throughout the day.
My hands soon grew tired from using a hand-held toothbrush three times a day. Now, I use an electric toothbrush. It is easier to hold and does a better job, too.
Once I began using a rollator, I realized how essential it was to my health and safety. I now own three. One is designated for indoor use only, another sits on the back porch, and the third is stowed in our van for on-the-go use. The entire setup makes for seamless travel from one end of the house to the other — my own "pony express of rollators."
My husband (who is also my caregiver) and I take time to compare our calendars. We talk through my social and medical appointments, pre-planning what I'll need to get ready or bring with me.
Accept and work with change
Even though I follow a daily life routine, holidays, visitors, or travel can throw me for a loop. Or my ALS is the cause. Either way, I don't see it as failure; it's a signal that I have a new, new normal, and it's time to revise and reevaluate my day.
Every journey with ALS will be unique. However, we can share ideas and learn from others. One great resource is the new ALS News Today Forums. It's a space designed to give our readers an easier way to connect with each other, share comments, and ask questions related to ALS. It is open to all in the ALS community — patients, caregivers, family, and friends.
Together we can learn to live well while living with ALS. 
***
Note: ALS News Today is strictly a news and information website about the disease. It does not provide medical advice, diagnosis, or treatment. This content is not intended to be a substitute for professional medical advice, diagnosis, or treatment. Always seek the advice of your physician or other qualified health provider with any questions you may have regarding a medical condition. Never disregard professional medical advice or delay in seeking it because of something you have read on this website. The opinions expressed in this column are not those of ALS News Today or its parent company, BioNews Services, and are intended to spark discussion about issues pertaining to ALS.