Is It a Jinx or a Sphinx?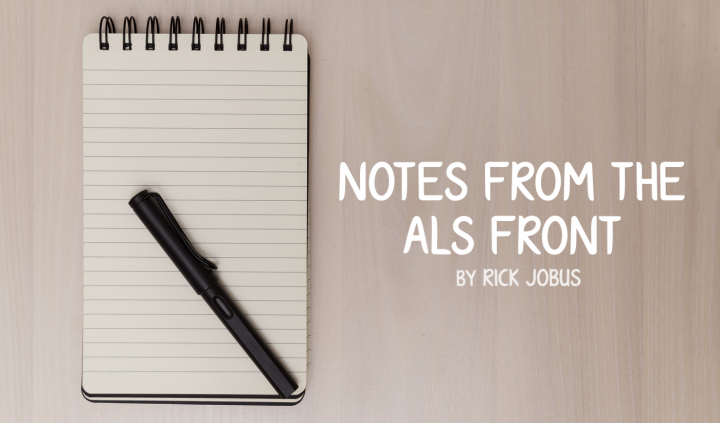 "You don't tug on Superman's cape,
You don't spit into the wind,
You don't pull the mask off the old Lone Ranger,
And you don't mess around with Jim."
Based on recent events, I might add poking fun at ALS to Jim Croce's list of lyrical no-nos. 
Last month, I shared that in the face of the absurdity ALS propagates, my self-trained response is to attempt to find humor. Like Carl Spackler of "Caddyshack" fame, I adopt an I-have-to-laugh mentality. Coincidence or not, the day after that column published, my life became — searching for the appropriate word — absurd!
The oddities began the next morning at breakfast. Dysphagia, a problem with the esophagus safely moving food and liquids from the back of the mouth to the stomach, is a common ALS symptom. To minimize the risk, we're often advised to avoid certain problematic food choices, in favor of ones known to be less of a swallowing burden. After a swallowing study, a speech-language pathologist included eggs on my shrinking list of relatively "safe" options.
Imagine my surprise when a bit of scrambled egg triggered a prolonged choking episode. Although my air supply was never fully compromised, it was more than a garden variety occurrence. The blockage took 16 hours to dislodge, during which time no solid or liquid passage was possible, and my oxygen saturation sank.
Its merciful conclusion left me with a ringing headache and a 10-alarm sore throat, I was dehydrated and ravenous. It turns out the primary culprit was a pocket of suspended mucous that had snared the egg, forming an unimaginably formidable viscous barrier. 
After that mini-drama, I settled in for what I hoped would be some welcome restorative sleep. But the onset of a burning pain in my left ankle precluded that. Some six hours later, my morning aide noticed a new bloody sore on the underside of my lower left leg. I was left to surmise that my choking-related convulsing produced enough friction, via contact with my leg rest, to wear away several layers of skin.
After consultation with a nursing friend, my aide dressed the wound. I was instructed to seek a doctor's input and leave the dressing alone until a treatment plan was in place. 
The last three years, I have been under the care of a physician who makes house calls. It's a simple matter of emailing the office to request an appointment. Which, that afternoon, I dutifully did. Nothing could have prepared me for the answer — my doc had suddenly and unexpectedly died a few days earlier.
After the conveyance of that shockingly sad news, I was presented three alternatives to seek care. One, wait on the imminent takeover of my incumbent primary care network by another physician. Two, contact a recommended replacement general practitioner who conducts home examinations. Or three, go to an urgent care center for treatment.
While pondering that choice, the pain escalated to a point in which it made the decision for me: I would venture out. Except that I couldn't. Adding insult to injury, neither my power wheelchair nor my van with ramp access had a hint of battery life. I had no choice, emergency room visit excluded, but to wait for a home appointment.
When finally, five days later, a physician's assistant removed the original dressing, it revealed a festering mess. Visually, it resembled three craters formed at different times by different impacts. Two of the craters were concentric, with the outer one being deeper than the inner one. The third was irregularly shaped, shallower than the others, and off to the side, intersecting the circumference of the dancing pair.
Worse by far than the imagery was the pungently foul odor emanating from it. Sight and smell predicted infection. A culture confirmed that it was a beast of one, formidable enough to warrant triple-play attention — three wound-care visits a week, and three antibiotic capsules, three times a day.
I am prone to facetiously characterizing ALS as a cognitive, nearly supernatural, force possessing malevolent intent, in pursuit of sadistic pleasure. My string of adverse happenings had me briefly reconsidering the plausibility of that narrative. Maybe ALS really is a life form. If so, perhaps I jinxed myself by publicly mocking it. Or, much like the Sphinx, ALS deemed my column as an incorrect riddle response.
Then sanity prevailed. I regrouped my usual way: I prayed. I found peace. I grinned and bore it.
Ultimately, I found myself agreeing with Stevie Wonder's conclusion that "superstition ain't the way." All the same, I won't be recounting with humor my 10-hour birthday celebration spent helpless on the floor, or how I rode out Hurricane Irma, anytime soon.
***
Note: ALS News Today is strictly a news and information website about the disease. It does not provide medical advice, diagnosis, or treatment. This content is not intended to be a substitute for professional medical advice, diagnosis, or treatment. Always seek the advice of your physician or other qualified health provider with any questions you may have regarding a medical condition. Never disregard professional medical advice or delay in seeking it because of something you have read on this website. The opinions expressed in this column are not those of ALS News Today or its parent company, BioNews, and are intended to spark discussion about issues pertaining to ALS.