Talking My Way Through 2020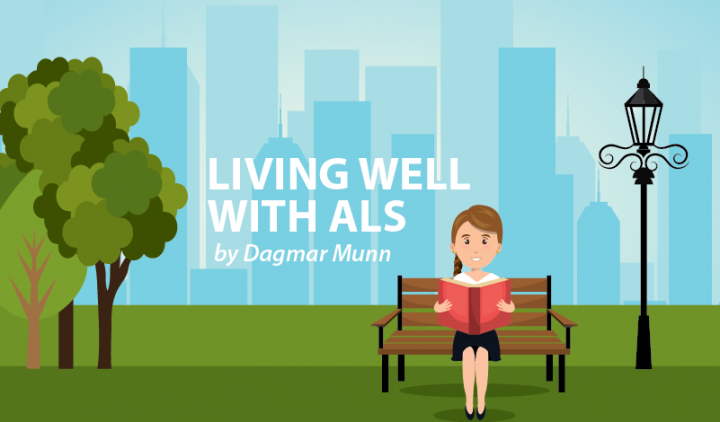 One of my personal traditions at the end of the year is a quick flip through my desk calendar to review the events and milestones that took place. Only this year, the world crisis overshadowed just about everything. "What's to review?" I thought.
But as I pondered the question a bit more, a surprising thought bubbled up in my mind. Despite the many challenges and restrictions we all lived under, I managed to keep talking all the way through 2020.
Let me explain: At the start of 2020, I was continuing on my personal quest to prevent my ALS-related dysarthria from robbing me of my ability to speak. Dysarthria feels like having a bad case of laryngitis and a lazy tongue that is two steps behind what my mind wants to say.
In February, I wrote about my new voice amplifier and how in a crowded room, others could hear what I was saying. I wore it to several meetings, and giddy with joy, looked forward to more opportunities coming up in the months ahead.
But the world and life as we knew it changed. We sheltered at home, events were canceled, and my little microphone sat idle near my computer. Plus, I was surprised to discover how little I was talking, even at home.
Then came face masks. For me, wearing a mask muffled my words. Using my little microphone didn't help, as it only made my mumbling louder, not easier to understand. I worried that all of my previous efforts to save my voice would be wasted. And how long was this new way of living going to last, anyway?
The challenge began, and I searched my past strategies for one that could help me now. The one that seemed to fit was breaking the problem down and focusing on one thing at a time. I wrote about it in my column "Tap into Your Inner Astronaut for Resilience."
Using this approach, I needed to focus on three areas to maintain my speech:
My ability to breathe well and keep my diaphragm strong.
Properly warming up my vocal cords and avoiding any strain.
Keeping my mouth and tongue relaxed, yet able to pronounce a variety of words.
Although I was motivated, who wouldn't be with the loss of speech ever-present in my mind? I did have waves of procrastination, mostly brought on from the isolation and the negative news on TV.
How did I succeed? By doing the following:
Build it into my daily routine. I added special mouth and jaw exercises to my regular set of chair exercises.
Look for more opportunities to use my voice. I attended Zoom meetings, joined a voice study, and made sure my husband and I had real conversations, not just the "yes, no" conversations that most couples have.
Be open to unique places to practice. Often when I accompany my husband on his errands, I wait alone in our van while he runs into the store. That created my perfect space to practice counting, humming, and even singing out loud. Don't mind that lady singing in the van, she's happy and on a mission!
Now reviewing the past year doesn't feel so grim. I can look back with pride that my time retaining my ability to talk was well spent. It boosted my confidence, too.
Have you faced a similar challenge this past year? Try my tips and tap into your resourcefulness, resiliency, and positive attitude. You have the ability, you just have to use it! Because I believe that even during a year like 2020, we can live well while living with ALS.
***
Note: ALS News Today is strictly a news and information website about the disease. It does not provide medical advice, diagnosis, or treatment. This content is not intended to be a substitute for professional medical advice, diagnosis, or treatment. Always seek the advice of your physician or other qualified health provider with any questions you may have regarding a medical condition. Never disregard professional medical advice or delay in seeking it because of something you have read on this website. The opinions expressed in this column are not those of ALS News Today or its parent company, BioNews, and are intended to spark discussion about issues pertaining to ALS.