'What's Love Got to Do With It?'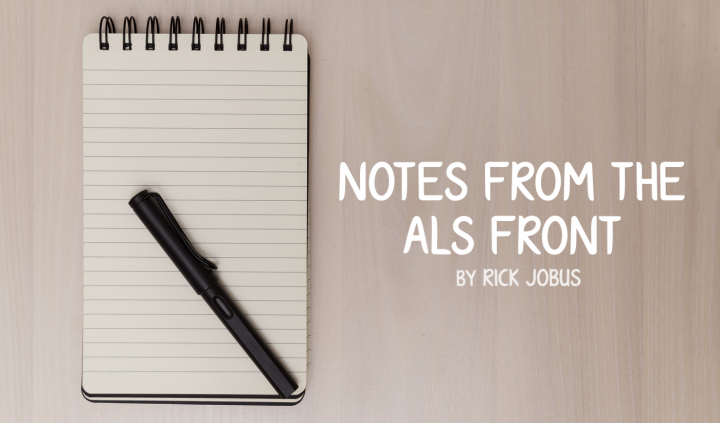 "Without your love, I'd be nowhere at all. I'd be lost if not for you."
The inspiration for that Bob Dylan song is a mystery to the general public. However, the lyrics come close to capturing my indebtedness to my wife. While Dylan's words are certainly apt in my case, they need to be strengthened. I'd be dead, if not for my bride, Catherine.
ALS does not care how it slays you. Like Machiavelli espoused, be it a sudden traumatic blow, or gradual destruction, it's the outcome that counts. Catherine has seen to it that I've averted both.
The only time that ALS-impaired swallowing completely shut off my air supply, Catherine was near enough to notice and intervene. I imagine the Heimlich maneuver to be daunting in ideal circumstances. However, when the two mission-critical factors — lung capacity and diaphragm function — are severely compromised, the obit author is normally cued. Magically, Catherine had the wherewithal to persevere and save me.
Likewise, she is salve and tonic in response to ALS' daily barrage of salvos. Catherine's touch, smile, or words of wisdom afford me buoyancy in the face of myriad indignities, pains, and dangers.
We were "introduced" 10 years ago. I had an inactive profile on an online dating site, to which she responded. My terse reply went something like, "Thank you, but I have Amyotrophic Lateral Sclerosis, and have nothing to offer." 
Shockingly, she answered, and a dialogue ensued. Its culmination was an early evening picnic on the banks of the Rock River. When first catching a glimpse of the ankle-foot orthoses encasing both of my legs, knee to foot, and my never-leave-home-without-it rollator, rather than cringing she commented on the obvious design improvements to be had. I was hooked.
We became inseparable, and wed three months later. The only prenuptial condition she insisted on was that I remain ever defiant in the face of the ALS onslaught. So our journey began.
Consistent with my promise, I actively sought anything having the slightest hint of slowing ALS down. Catherine was equally proactive, suggesting both Thai massage and acupuncture. In fact, when we bumped up against financial constraints, she obtained an apprenticeship of sorts in both, and performed them on me in her scant spare time.
Insistent that I remain vital, Catherine has led me on adventure after adventure. From a honeymoon at Niagara Falls, to a five-week vacation spree in her home country of France, to the occasional big-city or oceanfront weekend getaway, we sampled sites, culture, history, and cuisine. In Dixon, Illinois, her diverse troupe of friends became a quintessential support group for me.
Out of necessity, her role in our outings was exceedingly hands-on. Catherine had to do all of the driving. If stairs had to be ascended, she would trail me, at the ready in case my legs needed assistance in clearing the height. Often she would push me in a wheelchair. Even mealtime offered no rest for the weary. Catherine cheerfully cut my food into safe-size morsels, and tended to the cleanup of any stray food or beverage. Once a stranger approached after we had eaten and remarked that he had "never seen such a poignant display of love." 
Sadly, owing to the increased complexity associated with readying me for an excursion, these days we are fairly selective about venturing out. A visit from family members may entice us. As will any public opportunity to raise ALS funding or awareness. At one such event, I was asked to commence the event by cutting the ribbon. Fittingly, we did it together.
Beyond the wondrous impact of Catherine is the lottery-like bounty that her family showers on me. Her children, Lou-Anne and Max, completely erased the profound regret I once had in not having kids of my own. They routinely put attending to my needs above all of the diversions available for young adults to pursue. 
Each has stepped out of their comfort zone to read my words at an ALS charity event. I live vicariously through their tales of triumph and setback. The promise of witnessing their future milestones fuels my resilience.
Catherine's parents' given names are Christiane and Christian. Which is perfect since they are integral to my three-generation gift from God. Christiane is my second mom. Christian is my life coach. Their joy in sharing perspectives about politics, history, and art keep me mentally agile. 
This band of five angels doesn't view me like a piece of decrepit furniture only retained for sentimental reasons. Instead, they see a man, a contributor, someone of value. They are an ALS retardant.
Initially, Christian warned Catherine, as any protective dad would, against deep involvement with me. His words were, "I don't believe in miracles." 
Ironically, he fathered mine.
***
Note: ALS News Today is strictly a news and information website about the disease. It does not provide medical advice, diagnosis, or treatment. This content is not intended to be a substitute for professional medical advice, diagnosis, or treatment. Always seek the advice of your physician or other qualified health provider with any questions you may have regarding a medical condition. Never disregard professional medical advice or delay in seeking it because of something you have read on this website. The opinions expressed in this column are not those of ALS News Today or its parent company, BioNews Services, and are intended to spark discussion about issues pertaining to ALS.