Viewing Life and ALS Through a Lou Gehrig Lens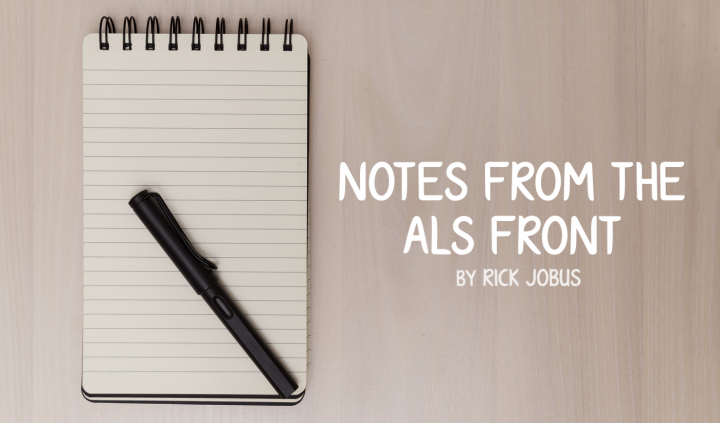 "For the past two weeks, you have been reading about a bad break. Yet today, I consider myself the luckiest man on the face of the earth." —Lou Gehrig, July 4, 1939
Lou Gehrig was my father's favorite baseball player, which for a fair bit of my youth, made him mine. The movie "The Pride of the Yankees," depicting Gehrig's story, moved me to tears the first time I saw it. Ironically, it also prompted nocturnal horror, via a recurring dream in which the disease that felled the "Iron Horse" also struck at me.
Gehrig is famous for a plethora of notable baseball exploits. He is remembered equally — if not more so — for his famous speech of 80 years ago. By what logic trail, in the face of an ALS diagnosis, did he judge himself uncommonly blessed?
Gehrig went on to cite the constituent elements of his unmatched luck. He pointed to the dedicated family members who showered him with unconditional love. He paid homage to the world-class teammates who made him better. He praised the astute managerial hierarchy that guided him. He lauded the supportive fans who cheered him on. He applauded the fastidious support staff that ensured that no critical detail was overlooked. He even acknowledged his adversaries who conveyed appreciative respect.
Gehrig concluded that his inventory of blessings trivialized his devastating prognosis. I will attempt a similar comparative exercise.
ALS certainly falls under the category of "bad breaks." Without argument, it ranks in the upper percentile in terms of severity. But it's not the worst. Every news broadcast features tales of folks harder hit by calamity. Whenever I mentally canvass my social network, invariably there is someone facing a tribulation more daunting than my own. My circumstance could always be more dire. The fact that it's not may be termed, among other words, "lucky."
If I liberally expand Gehrig's inventory categories, an analogous analysis is possible. Of course, "family" requires no translation, but his "teammates" become my fellow ALS sufferers. My "managerial hierarchy" consists of those guiding my care. "Fans" refers to my friends, "support staff" to the cadre of daily caregivers. "Adversaries" will be people suggesting a course of action that I decide against.
My family, both by birth and by marriage, is my bedrock. They celebrate my meager achievements, downplay my dependence, and always provide shelter from the storm. They ensure that I never feel like furniture. In short, they humanize my inhumanity. I would not be alive today if not for them.
I am constantly in awe of the courage, persistence, resilience, and compassion of the patients who populate the ALS community. The communal "all for one, one for all" attitude is pervasive and palpable. The free exchange of information, conveyance of empathy, and unsolicited guardianship are Utopian. I am a better man because of them.
I cannot tally all of the professionals who have had a hand in directing my care. I can, however, point out some common threads among that multitude. One, they share an absolute disdain for the plague that is ALS. Two, without exception, they strive to ease my burden and improve my quality of life. My lot in life has been enhanced due to their guidance.
My friends have overlooked my shortcomings, seen me through some dark days, and brightened up the rest of them. They donate on my behalf. Their prayers, affection, and frequent contact keep me vital. I draw on them as a wellspring of buoyancy and strength. They encourage, inspire, and enable me to continue fighting the good fight.
My team of caregivers selflessly performs the blocking and tackling tasks that allow me a civilized existence. They meticulously tend to my sustenance and hygiene needs with grace, concern, and aplomb. Their efforts render normalcy. I can approach each day like an unafflicted person, content in the assumption of 24-hour safe passage.
In the course of my struggle with ALS, I have sought input from various and sundry sources. Advice is never withheld. It is thoughtful, well-intended, and based on some evidence of efficacy. I sometimes decide not to integrate a recommendation. When I opt out, there is never rancor, only offers of continued counsel and respect for my choice. As a result, my anti-ALS toolbox is more diverse and powerful, with plenty of implements in reserve.
Applying "Gehrig calculus" to the above factors, I admit that I have been exceedingly lucky. And if I factor in my belief in God's eternal covenant, I conclude, as Gehrig did, that my luck is unsurpassed.
As Bing Crosby crooned in the movie "White Christmas," I can even "fall asleep counting my blessings."
***
Note: ALS News Today is strictly a news and information website about the disease. It does not provide medical advice, diagnosis, or treatment. This content is not intended to be a substitute for professional medical advice, diagnosis, or treatment. Always seek the advice of your physician or other qualified health provider with any questions you may have regarding a medical condition. Never disregard professional medical advice or delay in seeking it because of something you have read on this website. The opinions expressed in this column are not those of ALS News Today or its parent company, BioNews Services, and are intended to spark discussion about issues pertaining to ALS.