Breaking Even with ALS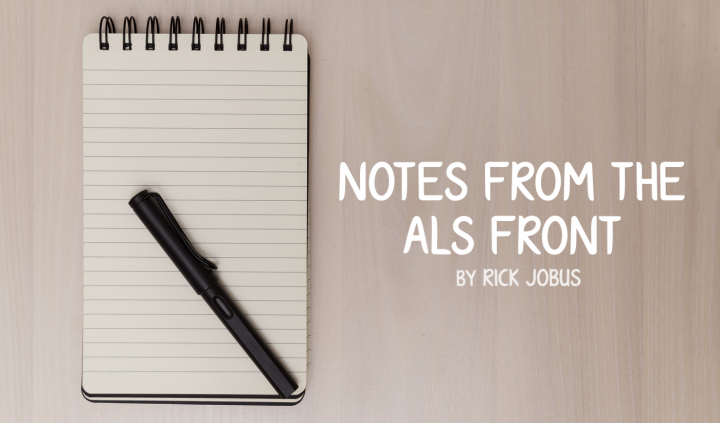 A zero-sum game is a situation in which the accumulation of gain is accompanied by a sum of loss of equal value. The net result is always zero. From the get-go, ALS seeks to make that outcome an impossibility. It strives to force a plunging and irreversible deficit.
In the aftermath of my ALS diagnosis, I fitfully mourned all of my predicted functional erosion. So much so that, for a time, I could not bring myself to watch the two sports that I participated in right up to the onset of symptoms: basketball and golf. The pain in viewing others enjoy my forever purloined passions was simply too much for me to bear.
This left a huge void in my spring calendar shortly after learning my fate. Annually, the convergence of college basketball's "March Madness," golf's Masters Tournament, and the advent of the NBA playoffs occurs. I replaced this visual gourmet smorgasbord with movies. Many trips to the cinema enabled me to maintain a zero-sum in terms of time spent. Satisfaction, not so much.
It wasn't until I received a crucial tutorial that zero-sum, post-ALS, became viable. The improbable setting for the lesson — an outpatient physical therapy center — was more than matched by its unlikely instructors — disabled preschool children. My regular therapy sessions coincided with the treatment of many stricken youngsters. Despite having no semblance of normalcy, these intrepid warriors persevere, speaking volumes about determination and resiliency, and forever canceling all my future self-pity parties. More importantly, the sheer joy with which they took in the world around them was testimony that debility needn't be consuming. From that point forward, I've endeavored to find enough aggregate small delights to exchange for every large debit that ALS creates.
In one circumstance, the minus that ALS applied made the compensatory plus obvious. As my ability to talk devolved, my only recourse to remain an integral part of my family's and friends' lives was to practice all of the types of purposeful listening. Now I listen to the emotions that reveal themselves in words, intonation, and body language. I listen to notice the choice of words and think about its significance. I listen to detect fears and concerns. I listen to what's not said. I listen to help. I listen to remember.
Acknowledging those takeaways via a smile, nod, expression, or guttural attempt at a simple vocalized sentence engenders additional priceless interactions. I am a far more productive communication element as a mostly passive receiver than I ever was as a dominant transmitter. Plus, it serves others, which clearly is a positive on the zero-sum ledger.
Coincidental with the ravages that ALS has imposed have been the enlargement and enrichment of my interpersonal globe. I have been introduced to many new folks and reconnected with a fair number of out-of-touch relations. Strangers have become acquaintances. Acquaintances are now friends. Friends have grown into best friends. Best friends have taken on family-like importance. No matter the upgrade, all are treasures.
I have also been touched by the awareness of the thoughtful regard that some folks have for me. Case in point: A number of years ago, my cleaning lady invited me to attend her baptism. This was after a few of what I judged to be casual, non-topical conversations. I gladly went. At the church, I bumped into a woman whom I would periodically encounter while at physical therapy. We had only engaged in brief, non-substantive banter afforded during the five minutes of side-by-side, recumbent bike warmup prior to our respective physical therapy sessions.
After the service, we were idly chatting when the baptized made her way over to us. Much to my surprise, both women tried to introduce me to the other. I went from surprised to dumbfounded when one observed, "You mean that my Rick is your Rick, too?" All unsolicited upgrades from bit player to a more substantial role easily make up for a long stretch of ALS tribulation.
All that said, my go-to asset in the zero-sum challenge has been my faith. Prior to ALS, I was a "census" Christian. When asked directly or prompted by a choice on a form, I would acknowledge the affiliation. But I was neither engaged nor active. Behaviorally, I exhibited little outward evidence. Much like the noble gases, I was inert spiritually.
Then an unsought epiphany occurred. The cumulative effect of the credit column on my zero-sum balance sheet had me craving answers and meaning. Was it truly possible that intangible gains could be worthy substitutes for visible loss of precious function? Over time, my pondering became a catalyst for the rekindling of my belief and steadfast replanting of my faith. I now regularly interact with God. Some may call it deep meditative thought. Either way, it's what separates us from all other species. Availing myself of this uniquely human gift converts zero-sum into a permanent surplus.
***
Note: ALS News Today is strictly a news and information website about the disease. It does not provide medical advice, diagnosis, or treatment. This content is not intended to be a substitute for professional medical advice, diagnosis, or treatment. Always seek the advice of your physician or other qualified health provider with any questions you may have regarding a medical condition. Never disregard professional medical advice or delay in seeking it because of something you have read on this website. The opinions expressed in this column are not those of ALS News Today or its parent company, BioNews Services, and are intended to spark discussion about issues pertaining to ALS.