My Diagnosis Anniversary: Revisiting the Start of My ALS Journey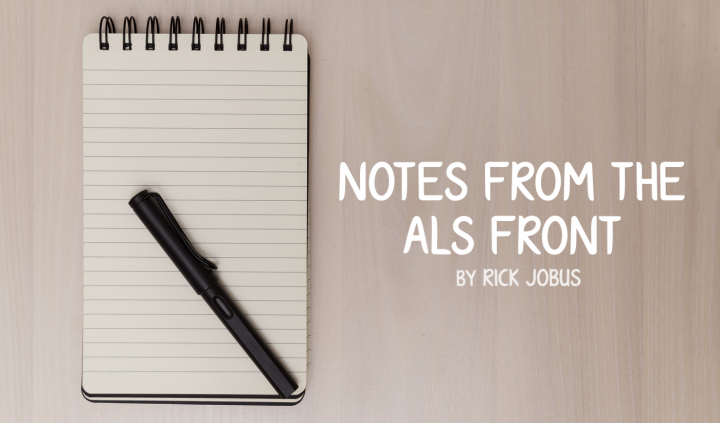 "Lately it occurs to me what a long, strange trip it's been." –Grateful Dead, "Truckin'"
Last month, I quietly acknowledged the 13th anniversary of my ALS diagnosis. As in years past, I mentioned the occasion's passing to no one. Instead, the day was spent, as it typically is, in silent contemplation of some longevity-related topics.
In recent years, that reflection has included a variation of "survivor's guilt." Clinically, that condition is often triggered by the unexplained and seemingly random survival of a shared traumatic event in which others perish. In my case, guilt may be too strong a word. Perhaps bewilderment is more apt. Irrespective, the question "Why me?" is the impetus.
Without much hesitation, I have thrown most everything at ALS that my financial means have allowed. However, there is no way of surmising if any countermeasure has added a single day to my lifespan. Certainly, there can be no meritocracy system in place, for I fail that test in dramatic fashion. In that causality vacuum, I am left to puzzle over the lottery-like fortune of my continued existence.
But guilt is a deft navigator. It finds an alternate route to menace me. It approaches via my love-of-family portal. The spillover effect that terminal illness has on family members is painful, often chronic, and it can be debilitating. Family members who see me regularly have been forced into a caregiving capacity, their lives indefinitely limited on account of my handicap. Those living remotely fret about me, much like concerned folks awaiting news of a stay-of-execution. Either way, my uncharacteristic survival imposes a mounting burden on the people I love the most. That is an inescapable reality.
I have absorbed other, less bitter realities thanks to the ALS journey. I now know of many more of the antagonists opposing motor neuron function. I can recite an exhaustive list of substances offering antioxidant benefits. I am familiar with the nuances of both Medicare's home health coverage and the U.S. Food and Drug Administration's drug approval process. I remain current on a plethora of experimental initiatives aimed at isolating a contributing cause of ALS and arresting its progression.
I view food not as a sensory delight, but rather as a necessary and priceless fuel. I am preoccupied with its safe ingestion, maximum efficiency, and the timely elimination of its waste byproducts. I have been deeply moved by the kindness, generosity, compassion, and affection bestowed upon me by individuals. Conversely, I am dismayed by the institutional apathy, neglect, and greed that I've encountered.
Of course, the elephant in the room is the matter of "What if?" If I had not spent the last 21 percent of my life with ALS as a constant companion, what would it be like? What would I have accomplished? Who might I have helped? How and where would I be living? 
On a day chock-full of ruminations, the only purely joyful one concerned the indirectly catalytic part that ALS has played regarding rekindling my faith in God. 
By the onset of ALS, I mostly had jettisoned any semblance of active Christianity. An assumption people tend to make is that the ALS diagnosis was the fulcrum responsible for my "reconversion." The tale is actually more involved than that. Post diagnosis, I became inundated with numerous mentions of God's role in my fate. Partly as an expected means of informed rebuttal, I decided to do some cursory research into the origins of Christianity.
What began as a shallow dive — fueled by partial incredulity — became a deep plunge, stoked by fascination. Only the deeper I am immersed, the more I believe in the Gospel and its redemptive power and saving grace. Whatever inherent intellect I have been gifted with, coupled with ample and ongoing due diligence, have produced an unshakable faith. 
I wear a bracelet on my left wrist. It was a gift from my precious Aunt Barb. Unbeknownst to her, she gave it to me just one week prior to my recent anniversary. On it is an inscription from the Bible, Philippians 4:13: "I can do all things through Him who gives me strength." That mantra has been part of countless preferred outcomes over the past 13-plus years for me. More importantly, those words are my assurance that ALS will not be my end.
***
Note: ALS News Today is strictly a news and information website about the disease. It does not provide medical advice, diagnosis, or treatment. This content is not intended to be a substitute for professional medical advice, diagnosis, or treatment. Always seek the advice of your physician or other qualified health provider with any questions you may have regarding a medical condition. Never disregard professional medical advice or delay in seeking it because of something you have read on this website. The opinions expressed in this column are not those of ALS News Today or its parent company, BioNews Services, and are intended to spark discussion about issues pertaining to ALS.