Painting Broad Brushstrokes from ALS to COVID-19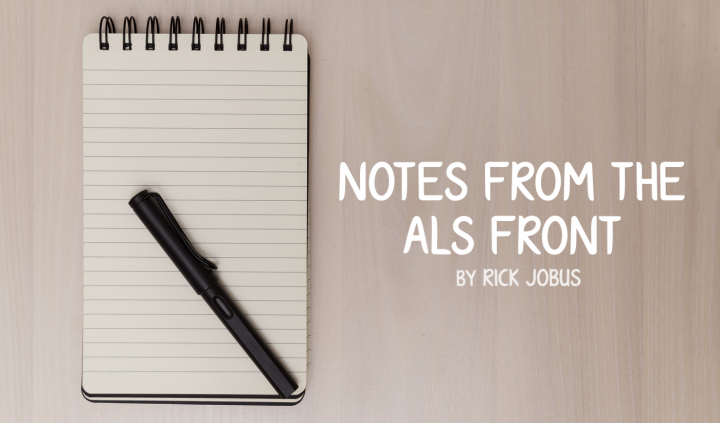 Recently I chanced upon a re-broadcast of an entrée from the PBS series, "American Masters." As the subject, Andrew Wyeth, was one of my late dad's favorite artists, I enthusiastically opted in. It did not disappoint. Beyond inspiring a mental dialogue with my father, the documentary surprisingly lent some coping mechanisms relative to ALS, any dire illness, and even life in the midst of the coronavirus.
Wyeth is characterized as an American regionalist painter. That implied scope may be overly generous. The PBS episode inferred that Wyeth painted what he observed in his "backyard." That was a breakthrough distinction for me.
I have a backyard. We all do. While the extent of my painting résumé is confined to interior and exterior wall impressionism, and the current state of my fine motor skills preclude a late-in-life stab at capturing anything on canvas, I can still attempt to see my world as an artist might. Now, having done just that, I can attest that the exercise makes isolation more tolerable.
Whenever I'm confronted with mind-numbing monotony, I need only shift my gaze, and let my eyes randomly alit — roulette-wheel like — upon a diversionary vista. Light, shadows, shapes, color, time of day, weather, seasonality, foreground, subject, background, my head angle, and bodily incline are among the variables to be toyed with. It's said that "a picture is worth a thousand words." My backyard yields countless potential pictures — becoming intimate with my immediate surroundings produces a bounty to be savored.
Wyeth once said, "I dream a lot. I do more painting when I'm not painting. It's in the subconscious." That makes sense. A study on implicit memory predicts better performance on perceptual and conceptual tasks during the periods of low arousal within our circadian rhythm. Indications are that creativity is better served during periods of low alertness. Likewise mental impasses may be circumvented, and "aha" moments experienced. 
Disrupted circadian rhythms are implicated — both as a result and also a possible contributing factor — of neurodegenerative diseases. Certainly, the stress produced by the specter of COVID-19 is wreaking similar havoc on our body clocks. That results in more frequent daily episodes of circadian suppression for me. In a silver lining sort of way, I intend to exploit the additional creative peaks.
Arguably Wyeth's most famous work was "Christina's World." The painting depicts a solitary woman, half-crawling on the ground in a treeless field. She is viewed from behind as she looks upward at the horizon where a house and some outbuildings sit on a hilltop.

The backstory was that the inspiration was Anna Christina Olson, who suffered from a degenerative muscular disorder believed to be Charcot-Marie-Tooth disease. The condition prevented her from walking. Rather than use a wheelchair, Olson crawled around her home and the surrounding grounds. 
Wyeth's take was, "The challenge to me was to do justice to her extraordinary conquest of a life which most people would consider hopeless… limited physically but by no means spiritually." The same may be said of ALS, and now my existence in a self-isolated, if not quarantined, subsystem that COVID-19 has mandated. 
The artist reveals nothing of Christina's demeanor, as might be indicated through a facial expression. He leaves that to the viewer's interpretation. I envision a telling countenance exhibiting a yearning for what is in the distance, a realization of the hardship the journey will inflict, a dogged determination to get there, and a strident optimism that she will.
Whether our goal is safe passage to tomorrow, a return to normalcy, heaven — or a trifecta of all three — my imagined perspective of Christina is worthy of consideration. That is true in any case in which privation is grinding us down, or setting us back — just like with ALS and a worldwide pandemic.
I am always struck by the Bob Dylan song, "When I Paint My Masterpiece," which suggests that struggle can have redemptive value and a way to endure is to envision the byproduct being one of brilliance:
Yes, it sure has been a long, hard climb / Train wheels running through the back of my memory / When I ran on the hilltop following a pack of wild geese / Someday, everything is going to be smooth like a rhapsody / When I paint my masterpiece.
***
Note: ALS News Today is strictly a news and information website about the disease. It does not provide medical advice, diagnosis, or treatment. This content is not intended to be a substitute for professional medical advice, diagnosis, or treatment. Always seek the advice of your physician or other qualified health provider with any questions you may have regarding a medical condition. Never disregard professional medical advice or delay in seeking it because of something you have read on this website. The opinions expressed in this column are not those of ALS News Today or its parent company, BioNews Services, and are intended to spark discussion about issues pertaining to ALS.